Author: Beach Combing | in : Contemporary , trackback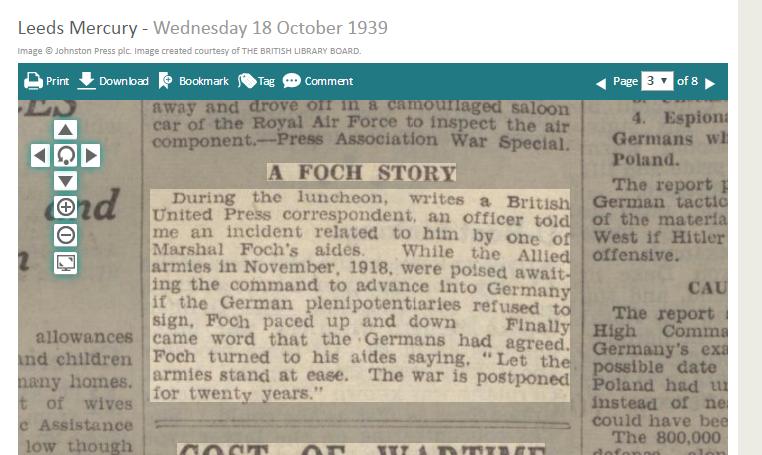 It is one of the most famous sentences of the twentieth century. Marshal Foch on being told of the final conditions of the Paris Peace Conference stated: 'This is not a peace treaty, it is an armistice for twenty years' (Ce n'est pas une paix, c'est un armistice de vingt ans). The Oxford Dictionary of Quotations assigns it to Paul Reynaud's Mémoires published in English in 1963 (and in French in 1960). Foch's quotation certainly has the best kind of wisdom: but is it genuine? Beach wonders because he can find nothing prior to Paul Reynaud. However, he did come across this cute little story from October 1939, at a date, of course, when Britain and France were, again, in a life and death struggle with Germany, when there was still reason for cautious optimism.
During the luncheon, writes a British United Press correspondent, an officer told me an incident related to him by one of Marshall Foch's aides. While the Allied armies in November 1918, were poised awaiting the command to advance into Germany if the German plenipotentiaries refused to sign, Foch paced up and down. Finally came word that the Germans had agreed. Foch turned to his aides saying, 'Let the armies stand at rest. The war is postponed for twenty years.'
Leeds Mercury (18 Oct 1939, 3
There are two obvious ways of dealing with this tale. First, Foch had an obsession about the refusal of the Allied leadership to 'do in' Germany once and for all and this was repeated endlessly in different forms: the twenty year armistice or the twenty year rest are really just part of the same tendency. The second possibility is that the luncheon story is the original (be it genuine or invented) and this story got polished through the Second World War and had reached a more perfect form by the later 1940s when Reynaud heard it. Certainly the twenty-year armistice is the more effective version.
Can anyone help with this quotation? Drbeachcombing At yahoo dot com
SJ writes in, 31 Jul 2016: You wrote Monday about the well-known comment attributed to Marshal Foch about the treaty of Versailles (1919). It happens I have with me a book written by one Commandant Charles Bugnet who was Foch's aide-de-camp entitled En écoutant le maréchal Foch (Listening Marshal Foch) published in 1929. Based on this book, it seems the story of the comment as traditionally told is wrong:
– first, Bugnet doesn't mention it;
– second, the 28th of June 1919 Foch was in Kreuznach (today Bad Kreuznach https://en.wikipedia.org/wiki/Bad_Kreuznach), a kind of German Vichy (I mean a spa town with a lot of hotels) which had become in 1919 the headquarters of the Armée du Rhin (the French occupation army of Rhineland) – a way to show his displeasure with a treaty he refused to sign as France didn't annex Rhineland as he wanted;
– third, there is no way Foch told it the 11th of November 1918 as that day he got what he wanted: the French Army all along the Rhine.
However, the sentence captures well what Foch thought: the quotations made by Bugnet show Foch believing France had squandered her victory and the author wrote without precision that Foch was "one of the first to criticize the treaty". So, we may imagine a conversation between Foch and Weygand – not necessarily in June 1919- and Weygand reporting it in the 1930's when speaking with French politicians. Or it was his way to summarise Foch's sayings.
Frank P. writes 30 Dec 2017: I read with interest your blog entry (11 July 2016) regarding the widely-quoted prophetic remark attributed to Ferdinand Foch after the end of the First World War. Like you, I was hoping to verify this quotation, and cannot entirely do so. However, I can provide an earlier source than Paul Reynaud's 1963 memoir for the "twenty-year armistice" wording. It is quoted in Winston Churchill's History of the Second World War, volume 1, The Gathering Storm (1st ed., Cassell & Co, 1948), page 7. He describes how Foch, following the Armistice in 1918, was deeply unhappy that Germany was to be left largely intact, and that the French frontier would not be extended to enable a defensive position on the west bank of the Rhine. Churchill then writes: "When Marshal Foch heard of the signing of the Peace Treaty of Versailles he observed with singular accuracy: 'This is not Peace. It is an Armistice for twenty years.' " He does not, unfortunately, provide any provenance for this remark, whether he or someone else heard it directly, nor where or exactly on what date it was supposedly uttered. But it shows that this form of words, extremely close to the way Reynaud would record it later, was current in 1948.