Author: Beach Combing | in : Modern , trackback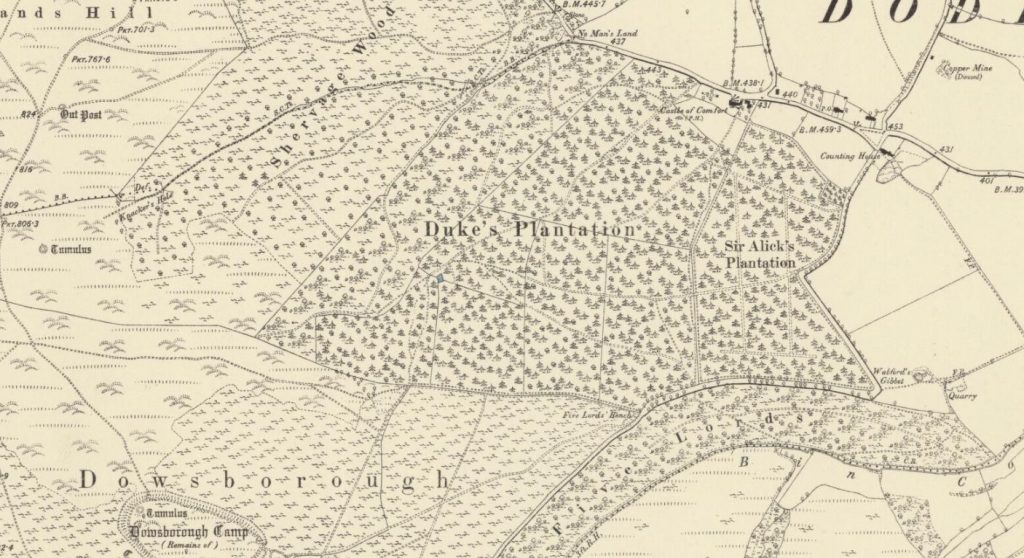 This is one of those short but really quite terrifying nineteenth-century supernatural stories: the account is very raw. The person who sent in this story reckoned that the adventure had taken place about 1850. We are in Somerset in south-west England.
Miss Williams of Over Stowey was returning home from Watchet late in the evening, and near…. her pony fell and hurt his knees so badly that she was obliged to walk. After proceeding some distance, finding it was growing dark, and being still 7 or 8 miles from home, she engaged a young countryman at Putsam to accompany her. It soon became very dark, and as they were passing through a thick wood and the ground was very wet, and she felt very tired, when she found her pony become suddenly restive, trembling exceedingly and trying to push sideways through the hedge as if to avoid something. Every effort to make him go on was useless. After a little while, a crashing sound was heard, lasting only a second or two (a kind of clatter like the trunks in Bristol loaded with iron rods). After a few minutes the noise was repeated, still more loudly. The pony was now so ungovernable that Miss W, was obliged to ask the man to hold him by the head. On being asked what the noise was the man seemed much frightened, and said he had never heard any thing like it. The noise was repeated a third time, and with such an overwhelming crash, that Miss W. Felt unable to bear it, and stopped her ears. The man was perfectly overpowered with alarm, and sunk on the earth in an agony of fear. Miss W. then observed something black approaching which passed close to her, having the appearance of a hearse drawn by four horses, but no one with them and not the slightest sound. On Miss W. asking the man what he had seen, he described exactly the same. After this they neither heard nor saw anything, and the pony went on freely, indeed seemed to hurry homewards. In about half a mile they came to the public house, called the 'Castle of Comfort' where several men were sitting outside the house smoking. Miss W. then asked if they had seen anything pass. They said they had not, though they had been sitting there more than an hour, and that there was no other way through the wood. They reached OverStowey about 11, and the young man declared nothing should induce him to pass through that wood again at night, so he remained till morning. The story soon got wind, and some of the older people of the neighbourhood 'wondered how Miss W.could venture to pass through that wood at night' it was so noted for extraordinary noises &, 'ever since a dreadful murder of a woman by her husband, who was hung on a gibbet near the spot. This happened about 11 or 12 years since.
As to location:
There are places on the map called Walford's Gibbet, near or in 'Skerage Wood', not very far from Danesborough Camp; possibly that is the Gibbet and Wood referred to.
The OS map (1887, 49.NW) at the top has several interesting features including a Knacker's Hole, often associated with the supernatural.
Source: Somerset and Dorset Notes and Queries 2 (1891), 242-243
The Faery Folklorist writes, 29 Aug 2016: 'Hiya, just saw your blog post about the hearse near Shervage wood, was researching this area recently! That location does make sense, there's stories of John Walford murdering his wife and being hung at Walford's Gibbet. This area is also said to be haunted by the wild hunt, running on the ancient trackway between Danesborough and Cannington, with tales of packs of black hounds with fiery tongues and a gentleman riding a great black horse with no head. (More info on this in Whistler's The Quantock Hills: Their Combes and Villages (1904) and Local Traditions of the Quantocks (1908)). There's also modern mentions online of Shervage Woods having a reputation of being otherworldly, and Wayland's pool where Wayland the smith cooled the horseshoes he made for the wild hunt. Local Traditions of the Quantocks (1908) mentions Wayland's pool as being on the intersection of four ancient boundaries but doesn't seem to mention a story behind the name, and The Quantock Hills: Their Combes and Villages (1904) mentions a blacksmith at Keenthorne corner who shod the wild huntsman's horse, but this is a fair way to the East towards Cannington. Ruth Tongue also mentions horses standing still at Wayland's Pool waiting to be shod. Haven't found any older sources giving the story of Wayland's Pool, though haven't had a chance to research this further yet, so the source might be out there, or the Keenthorne corner story was relocated to Shervage! So perhaps the black hearse and horses in the story you found were part of the wild hunt, stranger things have happened, especially in Somerset! 🙂