Author: Beach Combing | in : Modern , trackback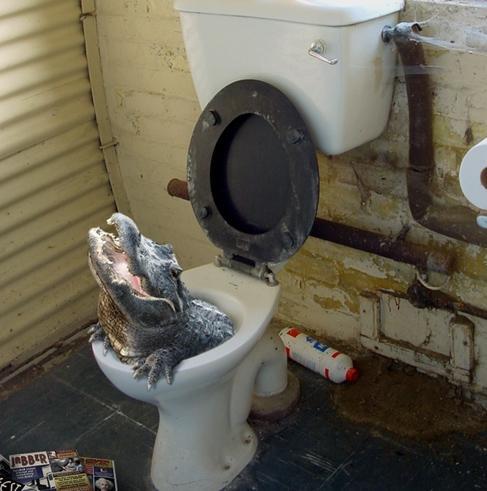 This story is quite exciting because it is a possible source for the famous crocodiles in the sewer tale. There are reports from the early 1870s about crocs associated with drainage in the US. However, they rarely involve danger or fun. We are in Hamburg, Germany:
The police authorities of this city have issued a formal notice warning the public of the escape of crocodiles from an African sailing vessel into the Elbe, and are cautioning all persons against bathing in the river. The number of crocodiles which have got away is considerably larger than first reported. Altogether, we are informed, that no fewer than twenty-one of these formidable creatures, ranging from five to six feet in length, have escaped. Wednesday's Standard says : 'At this moment the citizens of Hamburg are enjoying, as best they can, the knowledge that twenty-one crocodiles, ranging from five to six feet in length, are at large in the Elbe. This circumstance is not due to any of those misdirected efforts at acclimatisation, for which some of our Colonies are moderately grateful, but to the clumsiness of those who had imported the reptiles for sale to various Zoological Gardens, Hamburg being the great European centre for this peculiar trade. No doubt the crocodiles will in a very short time be duly killed or captured. But, meantime, a fresh zest will be imparted to life Blankense or Nienstedten by the sight of a crocodile basking on the strand in uncomfortable proximity to the bathers' clothes, thought which suggests the painful possibility that before the brutes are secured, appetites sharpened the voyage from Africa may be satisfied in a manner too horrible to contemplate. In any case, the densely-populated shores the Elbe are among the last localities in which anyone would wish to cultivate the acquaintance of these African reptiles. Their existence in the lower Elbe, however, is not likely to be either long or merry one. Even should they escape the rifles of the sport-loving lieutenants of the Hamburg garrison, the climate would speedily put an end to them, or render their movements so lethargic that it improbable the reptiles will be dangerous.
Yorkshire Gazette (25 August 1888), 7
By the first of September several newspapers were revealing that the story had been a fake. Spoilsports…
Other crocodiles on the loose: drbeachcombing At yahoo DOT com
First this article inspired Robert Labanti to write an article, well worth reading, in Italian
Filip, 31 Aug 2016 We had a non-fake crocodile (or rather alligator) in the Vistula river in 1897 (the animal had escaped from a "menagerie"):
http://useless-polandfacts.tumblr.com/post/127967575664/useless-polish-trivia-a-dragon-hunt-in-1897
An interesting thing is that a number of local bigwigs took part in the hunt.
Susan M points us in the direction of http://www.sewergator.com/welcome/welcome.htm a crocodile sewer resource!