Author: Beach Combing | in : Modern , trackback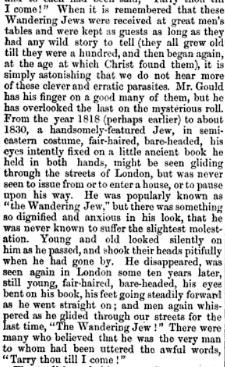 Beach has recently been interesting himself with sightings of the Wandering Jew in modern times. A friend of this blog Filip Graliński has been himself looking and has found a remarkable Polish record relating to sightings of the Wandering Jew from just before the First World War. Beach, stung by his failure to find anything so good, went back looking through Victorian and Edwardian sources and found several more from Britain and Ireland, though nothing so late. Here is a Cockney Wandering Jew published in 1866 in the Athenaeum, the famous British periodical. It appeared in a review of Baring-Gould's Curious Myths but relates to the Regency.
From the year 1818 (perhaps earlier) till about 1830, a handsomely featured Jew, in semi-eastern costume, fair-haired, bare-headed, his eyes intently fixed on an ancient little book held in both hands, might be seen gliding through the streets of London, but was never seen to enter a house or pause upon his way. He was popularly known as the Wandering Jew, but there was something so anxious and dignified in his look, that he was never known to suffer the slightest molestation. Young and old looked silently on him as he passed, and shook their heads pitifully when he had gone by. He disappeared, was seen again in London some ten years later, still young, fair haired bare-beaded, his eyes bent on book, his feet going steadily forward as went straight on and men again whispered as he glided through our streets for the last time, 'The Wandering Jew'! There are many who believe he was the very man to whom had been uttered the awful words, 'Tarry till I come!'
Beach wouldn't mind a contemporary record of this cockney Wandering Jew, but this is the best he has so far found. Any other nineteenth century Wandering Jews: drbeachcombing At yahoo DOT com
PS This extract was taken up by Notes and Queries in 1866, but apparently no answer was given. Was the cockney Wandering Jew the invention of a reviewer?
Invisible writes in with this stuff 29 Jan 2016:
Not exactly a non-fiction Wandering Jew story, but this novel, published in 1928: My First Two Thousand Years: The Autobiography of the Wandering Jew
It was followed in 1930 by Salome, Salome, The Wandering Jewess, My First Two Thousand Loves
Here's a note about a Rider Haggard story of the Wandering Jew from Kansas City [MO] Star 24 November 1932: p. 18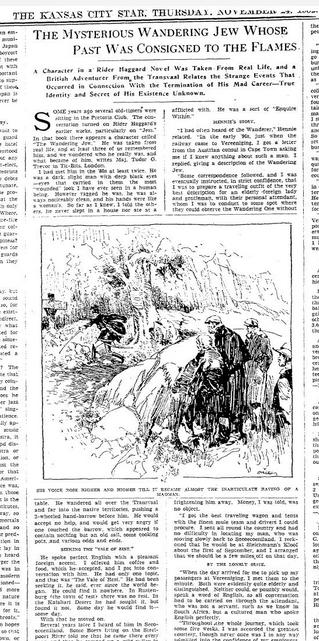 KMH, 29 Jan 2017: The phrase 'tarry thou till I come' apparently comes from John 21:22 'Jesus saith to him, If I will that he tarry till I come,what is that to thee? Follow thou me.' This was said to Peter concerning John, the disciple  whom Jesus loved (22:20). It probably referred to the fact that John was the only apostle who lived to old age before being martyred.