Author: Beach Combing | in : Actualite , trackback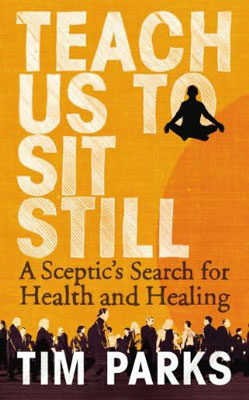 Tim Parks, Teach Us to Sit Still
Tim Parks is an acerbic and to this blogger's tastes over-intellectualised British writer based in Verona northern Italy. He writes novels and, much more enjoyably, books explaining Italy to Anglo-Saxons: TP is one of those very rare foreigners who neither patronises nor idealises the bel paese.  Teach, however, is none of these things. It is, instead, the autobiographical account of a health crisis and a kind of redemption and its subtitle 'A Sceptic's Search for Health and Healing' gives a fair sense of the author's journey.
TP goes into extreme and often unwelcome detail about his particularly health problem: it involves the prostate and a special kind of crippling agony. There then follows a phenomenon that affects perhaps ten percent of those of us living in the industrial west. A visit to the doctor to put things right leads to a failure, then another failure, then another failure… To the rational like Beach and TP the inability of doctors to solve or even satisfactorily identify a condition is like poison ivy climbing up a fairy tale tower: it threatens our world view.*
TP eventually finds a solution to his problem (that works) involving relaxation techniques and he is soon spending time in mediation retreats. Yet reading Teach the real answer is surely not gurus or eastern religion, let alone the supernatural. Conventional medicine had no key. TP did the only thing that he sensibly could. He went out and found his own: though it is one, deep breathing, that could be added to the present list of medicines, doled out by white coats, without a radical change in world view.
For Beach the single most interesting thing in this book is that TP had a problem that had effectively been solved by a couple of maverick US doctors who had saved scores of lives. The real failure was that their ideas have not been absorbed into the mainstream: memories of prematurely born babies. We luckily live in the internet age when even small minorities (like ambitious males with life inhibiting urinary tract problems) can form communities on the internet and swap notes and learn to sleep and thrive again.
Beach is always looking for great books: drbeachcombing At yahoo DOT com
*When this blogger had his own health crises it was the fourteenth neurologist who finally worked out what was happening.  Nothing else in my adult life has changed how I see the universe than the failure of the first thirteen. This, for me, represents not the failure of reason, but the failure of most human attempts at reason.