Author: Beach Combing | in : Modern , trackback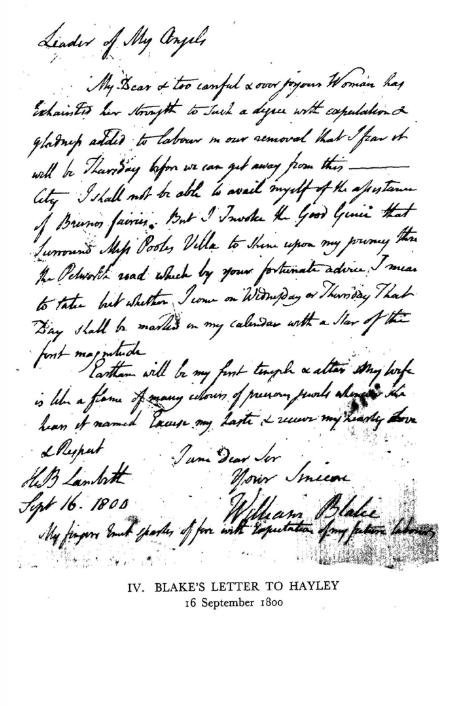 It is well known that William Blake drew and painted fairies and it is also a matter of record that Blake saw fairies. Blake, allegedly, described to a flabbergasted contemporary how he has witnessed a fairy funeral. Beach has looked in vain for other references to Blake kicking it up with the fairies and he has found just one from a letter. The problem is that it is not at all clear what Blake means in this epistle from 16 Sep 1800. Readers should not be surprised by Blake's elevated style: WB was in no sense and at no time a normal human being.
Leader of My Angels [William Hayley],

My Dear & too careful & over joyous Woman has Exhausted her strength to such a degree with expectation & gladness added to labour in our removal that I fear it will be Thursday before we can get away from this City. I shall not be able to avail myself of the assistance of Bruno's fairies. But I Invoke the Good Genii that Surround Miss Poole's Villa to shine upon my journey thro the Petworth road which by your fortunate advice I mean to take; but whether I come on Wednesday or Thursday That Day shall be marked on my calendar with a Star of the first magnitude. Eartham will be my first temple & altar. My wife is like a flame of many colours of precious jewels whenever she hears it named. Excuse my haste & recieve my hearty Love & Respect.
Some background here. Blake was a Cockney born and bred and spent almost all his life in the capital. However, from 1800 to 1804 he lived in an idyllic village in Sussex, Felpham. The Petworth Road is en route to Felpham (about half way from Blake's London home). He seems not to be able to avail himself of Bruno's fairies then on the journey? But who are they. Well, the editor had scratched his head and wrote one of the most beautifully useless footnotes Beach has ever read:  'Could this be a reference to the writings of Giordano Bruno (1548-1600), Italian heretic? There was also a pony named Bruno, which Blake afterwards rode.' Our money is on the pony: though the reference to genii is also interesting. Blake had a quite sophisticated urban view of fairies. He refers to them as elementals and masters of the vegetable kingdom. Most of Britain would have to wait to the theosophists for this.  Here is some more on Bruno, the pony.
Davis, William Blake, 96.
Any other Brunos for the fairies: drbeachcombing At yahoo DOT com