Author: Beach Combing | in : Modern , trackback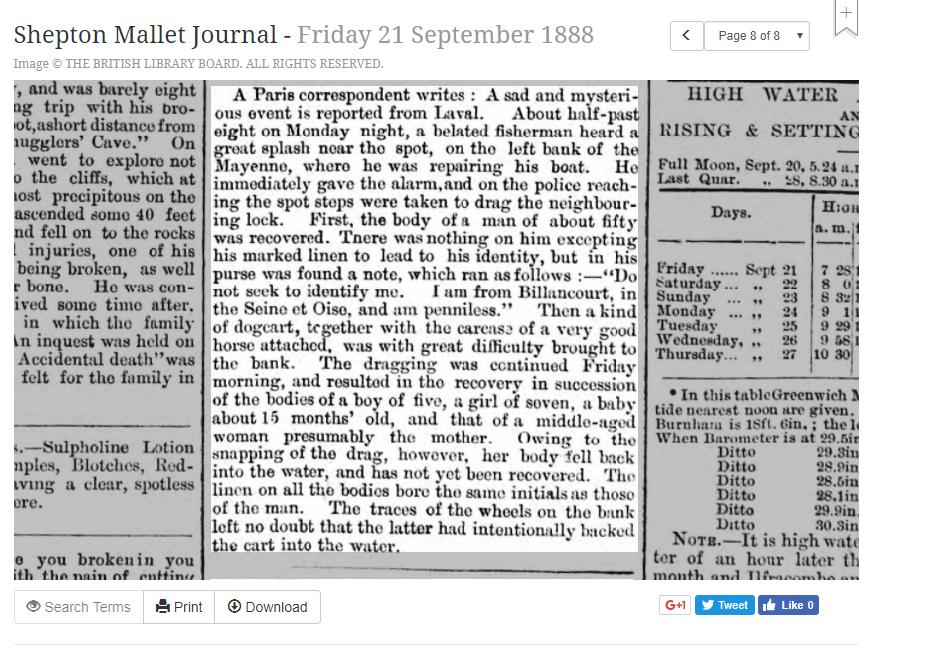 Beach read this story, tried to forget it but couldn't. There are two questions. First, did it really happen? 19C British newspapers are usually quite reliable, but 19C French newspapers are not. If this had been clipped from a French newspaper it could have been a complete invention, it would be interesting to see whether there are other similar nineteenth-century tales in the databases – drbeachcombing AT yahoo DOT com. Note particularly the 'penniless' father with a dog cart and a good horse. Second, was it a murder-suicide? If we take the tale at face value the father had planned to kill himself and take his pauper family with him. The backed cart sounds horribly credible.
A sad and mysterious event reported from Laval. About half-past eight on Monday night, a belated fisherman heard a great splash near the spot, on the left bank the Mayenne, where he was repairing his boat. He immediately gave the alarm, and on the police reaching the spot steps were taken to drag the neighbouring lock. First, the body of a man of about fifty was recovered. There was nothing on him excepting his marked linen to lead to his identity, but in his purse was found a note, which ran as follows 'Do not seek to identify me. I am from Billancourt, in the Seine et Oise, and am penniless.' Then a kind of dogcart, together with the carcase of very good horse attached, was with great difficulty brought to the bank. The dragging was continued on Friday morning, and resulted in the recovery in succession of the bodies of boy of five, a girl of seven, a baby about 15 months' old, and that of a middle-aged woman presumably the mother. Owing to the snapping of the drag net, however, her body fell back into the water, and has not yet been recovered. The linen on all bodies bore the same initials those of the man. The traces of the wheels on the bank left no doubt that the latter had intentionally backed the cart into the water.
Of course, there are many postwar stories of families in cars…
Sept 1888.