Author: Beach Combing | in : Modern , trackback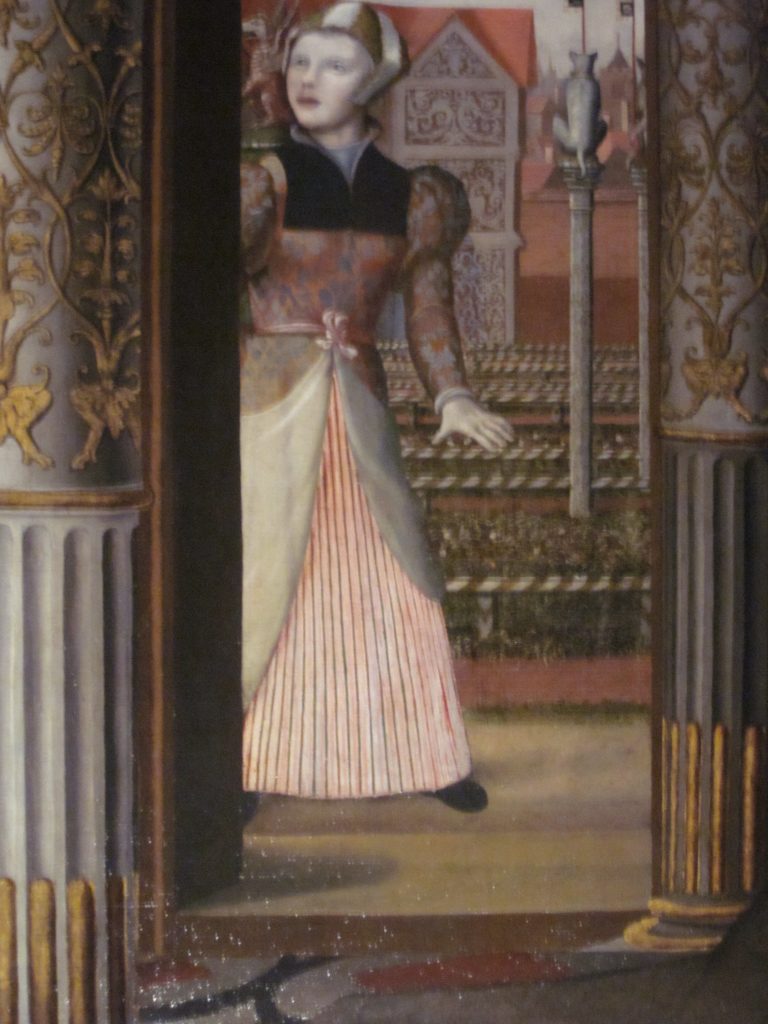 In the famous image of Henry VIII's family from 1545 there is a mysterious figure walking on the left in the background. The woman apparently has no hair (note the back and front of her head and compare with the princesses in the picture) and she seems rather lost, perhaps even confused.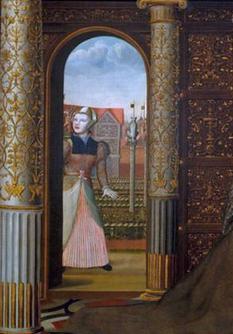 Different theories for her identity have been advanced, but by far the most popular is that this was 'Jane Fool', a jester at the Tudor court. Jane is, it is claimed, the only recorded female fool to have served a European royal family, but she was evidently well liked. She was brought into the court by Anne Boleyn. She was then inherited by Catherine Parr and looked after by Princess Mary who then employed her throughout her reign. She is identified with the woman in the picture for three reasons: her apparent lack of hair (Jane as all fools had shaved heads – we have the records of payment to barbers!); on the opposite side of the picture, walking towards her, is Will Sommers, Henry's fool; and because of her rather forlorn expression.

It has sometimes been claimed that Jane was mentally disabled: the proof for this seems to be almost vanishingly slight. Another legend is that Jane was married to Will, but the only 'evidence' for this is that they are positioned together in the painting: something easily explained by the fact that they were both fools. (One story suggests that Will's wife may have been 'simple', make of that what you will). Jane was certainly well cared for by the Tudors, at least materially: she received shoes, horses, and clothes. Some of these clothes were ornamental: they matched the clothes given to one Lucretia the Tumbler. Other items of clothing though seem to have been chosen to guarantee Jane's comfort: Mary also paid for treatment for an eye condition. We know what it was like to listen to Will Sommers because some anecdotes survive. We know nothing of Jane. Did she have witty zingers? Did she do prat falls? Was she really constantly in a 'simple' daze? We'll never know, though the picture, if it is Jane, does not suggest genius.
Anything else on Jane the Jester: drbeachcombing AT yahoo dot com
There is a fabulous account of the search for Jane here.
30 Jul 2017: Invisible, 30 Jul 2017, 'I'm afraid I'm a bit skeptical about the bald-head idea. Are there actual accounts for payment to "shave the head of Jayne ye Foole"? Or are there just accounts that a barber was paid to attend her person? He might have been bleeding her as a medical treatment. I don't know if hair was shaved when a person of the Tudor period had a fever as was done in the 19th century–I suppose that is another possibility for a barber payment. But the woman in that painting has hair.  You can see a touch of color in front of the forehead cloth or under-hat she is wearing.  She has either a gabled hood or an oorijzer cap over that.  It's common to have a forehead cloth worn under another headdress.  It does not mean she is bald.  The princesses in this painting show more hair because they are young, unmarried women.  The Queen is wearing a head cloth also, if I remember this painting correctly.  It's too small here to see the detail. Here is a picture of Queen Jane Seymour, who has her forehead hairline plucked. If you didn't know that was the convention, one might think she, too, was bald.  And here is a similar cap This portrait, of Margaret Roper, shows a fancier version of the cap