Author: Beach Combing | in : Contemporary , trackback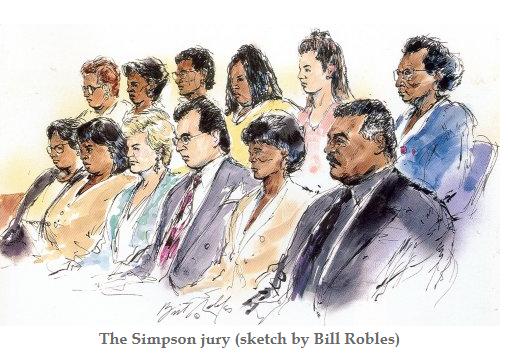 Beach has previously, on this site, looked at truly awful jobs (the Worst Career in History tag): including Japanese Prime Ministers, Knocker ups, Scottish Kings and Water Thief Watchers. However, he has recently come across, with some excitement, a new chamber in hell: namely, jury duty on the O. J. Simpson trial, Jan 25, 1995 – Oct 2, 1995. There are no heroes that emerge from those eight months, but if there were any victims, other than the Nicole Brown and Ron Goldman, it was the jurors.
Twenty four men and women were chosen after eleven weeks and a series of bizarre questions (e.g. 'Have you or anyone close to you undergone amniocentesis?'): twelve as jurors and twelve as alternates. Perhaps the single most striking data point of the trial is that ten of the twelve originals would be replaced by alternates before the trial had run its course. Jurors would be thrown off for offenses including book writing, lying to the court and frightening other jurors.
Jurors often get fatigued. Prosecutors and defenders know, like university teachers, that they will get more attention early in the trial and early in the day. That is thinking of trials, though, that last three days or two weeks. What about a trial, like this or the Manson one, that lasts months and months and where 'the People' brought 58 witnesses, 488 exhibits, and produced 34,500 pages of transcript? Attention starts to wander: one of the most striking memories of the O.J. case in 1994 was that the jury simply stopped taking notes.
The jurors had two places in their lives: the hotel and the courtroom. They were effectively prisoners of the judicial system. Every night at 11 pm a sheriff came to the door of each room and locked them in: apparently to prevent jurors visiting each other's rooms. They were allowed conjugal visits once a week from 7.00 pm to midnight.  They could not exercise properly and many put on weight as they ate their way to solace with junk food. The food provided, by the way, was described by one juror as: 'Same thing, repetitious, too many particles, walking, crawling, talking in the food'.
If a juror was dismissed they were given no chance to say goodbye and no explanation was given to the other jurors about why they had gone: forensic Hunger Games. Judge Ito, clearly a decent sort, living his own hell, tried to be attentive. He made sure that two rooms were put aside for videotaped films: the jurors argued among themselves about the choice of film and one juror's smelly feet. He tried to mediate in the inevitable conflicts between jurors: one juror claimed that she had been hit by several of her fellows. There were also trips out including a boat-ride where everyone got sea-sick.
After their jury duty one juror tried to commit suicide and another was taken to hospital with what was apparently an anxiety attack.
Other terrible jobs: drbeachcombing AT yahoo DOT com
(Inspired here by Jeffrey Toobin's very good The Run of His Life)
There is a novel in this. Magic Mountain but in a courthouse-hotel, no reference ever to the trial, just to the jurors as their lives unwind.