Author: Beach Combing | in : Contemporary , trackback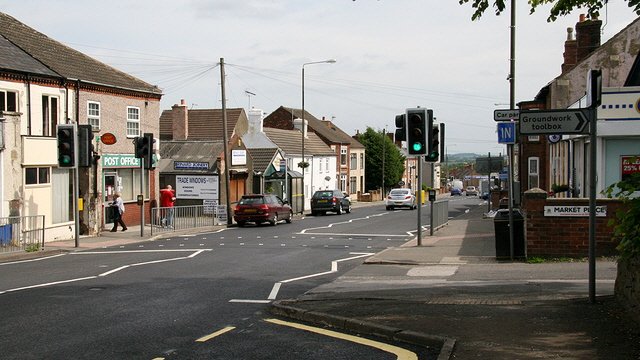 An interesting ghost scare from 1930. Somercotes is a village in Derbyshire. The first report is from 9 Jul 1930.
The Somercotes ghost, which caused a big scare four years ago, has apparently not been laid.
This early report has proved untraceable, though in the midst of the following crisis a local confesses to having faked the first ghost to scare some miners. Can anyone help: drbeachcombing AT yahoo DOT com
The apparition is now giving the Couplandplace district residence much uneasiness o' nights, and at least 20 people are stated to have fled from it. Hundreds of people from the villages around, armed with sticks and accompanied by dogs, invaded the scene two or three nights a week in an effort to lay the ghost. It is elusive, however. Those who have seen it swear it is real enough.
Now the witness accounts.
Yesterday, Mr. Tom Davidson said: 'I was standing with four other miners near house late in the evening, discussing a complaint about coal stealing. Tom Ladyman, who was with me, suddenly exclaimed, 'Look, there's a woman coming up the garden.' I was not afraid, and when I got down the entry the figure had disappeared. I looked over my shoulder as I was returning, and saw the figure come out of the wall of a house. I tried to move away, with my face towards it, but it followed steadily. I was almost paralysed with fear, and when I got to the top of the entry I stopped. could not believe my own eyes. I am quite sure it was no trick. All five us ran away, and we were joined by two others. Seven of us went back, and a man named Taylor dare not go down the entry to his home. He said, 'Let's go to Alfreton (a mile away) out of the way,' and we went and sat in a hayfield praying for daylight to come. Mr. Davidson added: It was a misty figure, about 5 ft. 9in. in height, had a box-like head, with glaring eyes. It was white when I first saw it, and then seemed to be dressed to the ground in black. I saw the figure again when I had gone to bed. I was sleeping alone in the back bedroom when I heard a sound. I went to the window and looked over the sill. At first I saw nothing, but glancing to the left I saw the same figure near the coalhouse. I fled to my father's bedroom, and told him, and he returned with me, but he could see nothing. I had another look, and it had moved eight yards between two pigeon houses, and finally glided into them. Every night since I have gone to bed with a light, and lie awake until daylight. I have no idea who or what it is, but would swear on oath it is no human being.'
We now move from scary provincial ghost to something like bad science fiction.
Mr. Leonard Selby, of Coupland-place, has also seen the apparition. He said, 'The first time saw it I was alone, and the second time 15 companions were with me. It has eyes like electric bulbs.' The 15 young men decided they were not afraid of ghosts, and Selby, who was one of the company, boldly went down the entry to have look. He ran back and shouted, 'Come on, it's here!' The men, armed with sticks, persuaded Selby to return promising they would support it. Selby saw it again, and the 15 forgot their promise and fled, falling over one another in the entry their flight.
Fear was generalized.
Wives will not let their husbands out at night, and children will not to bed. All the Coupland-place residents ask for is peace and quietness, and as one of them said, 'We want someone responsible, who understands these things, to help us.' The police think it may be the work of a practical joker. Coupland-place only wishes could share that view.
The witnesses:
The ghost has been seen by the following: Thomas Ladyman, Fred Ladyman, of Birks-terrace; Walter Fantom [!], his brother, Leonard Selby, and Tom Davidson.
Interestingly a report 10 Jul has a local resident claiming he hadn't seen any men with dogs or sticks. Most residents, the visiting journalist wrote did not believe in the ghost. That night the police tried to break up crowds that had come as they were disturbing a sick child who could not sleep.
By 11 Jul 1930 we reached peak ghost:
The story of the ghost of Somercotes has resulted in some exciting scenes. Crowds from far and near have invaded the village, but the spook seems to have stayed at home. One night there was crowd estimated at 200 people in the vicinity of the wall through which the apparition is supposed to have come when seen by one of the five miners. People arrived in motor cars from as far afield as Nottingham, Derby, and Sutton-in-Ashfleld, and included two photographers from Derby intent on snapping the spectral quarry, if possible. There was some amusement In the early hours of the morning when a white cat was seen to walk along the notorious wall, but residents In the vicinity are bitterly complaining about the nuisance of those nocturnal visitors, and the effect which the stir has on the children living in the district. Extra duties are thrown on the local police who report that visitors actually lingered in the vicinity of the wall until as late as 2 o'clock in the morning.
By the 17 Jul there were just one or two people left to watch the ghost. The scare was over.