Author: Beach Combing | in : Modern , trackback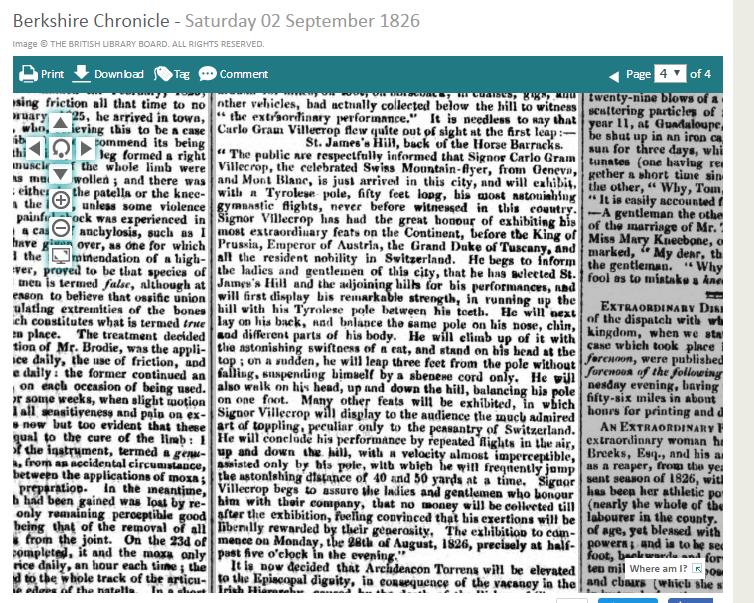 Beach recently came across this remarkable hoax from Norwich UK from 1826.
The public are respectfully informed that Signor Carlo Grain Villecrop [these sound like foreign names made up by an English writer], the celebrated Swiss Mountain-flyer, from Geneva, and Mont Blanc, is just arrived in this city, and will exhibit, with Tyrolese pole, fifty feet long, his most astonishing gymnastic flights, never before witnessed in this country. Signor Villecrop has had the great honour of exhibiting his most extraordinary feats on the Continent, before the King Prussia, Emperor of Austria, the Grand Duke of Tuscany, and all the resident nobility [!] in Switzerland. He begs to inform the ladies and gentlemen of this city, that he has selected St. James's Hill and the adjoining hills for his performances, and will first display his remarkable strength, running the hill with his Tyrolese pole between his teeth. He will next lay on his back, and balance the same pole on his nose, chin, and different parts of his body. He will climb up of it with the astonishing swiftness of a cat, and stand on his head at the top hidden, will leap three feet from the pole without falling, suspending himself by a shenesee cord only. He will also walk on his head, up and down the hill, balancing his pole on one foot. Many other feats will be exhibited, which Villecrop will display to the audience the much admired art of toppling, peculiar only to the peasantry Switzerland. He will conclude his performance by repeated flights in the air, up and down the hill, with a velocity almost imperceptible, assisted only by his pole, with which he will frequently jump the astonishing distance of 40 and 50 yards at a time. Villecrop begs to assure the ladies and gentlemen who honour him with their company, that no money will be collected till after the exhibition, feeling convinced that his exertions will be liberally rewarded by their generosity. The exhibition to commence Monday, the August, 1826, precisely at half past five o'clock in the evening.
20,000 people came to watch Villecrop's non appearance at Norwich! This gathering was still celebrated as a mythic event in the press in 1865 when one Edward Hart wrote a letter about it to the Norwich Post and  'the modern Icarus who was to fly from St James Hill into Norwich Barrack Square'. The Norwich hoax seems though not to be alone. Beach recently came across this story of a London flight hoax from 1828.
 Yesterday a crowd composed of the most credulous in London, was formed on Westminster Bridge and Palace Yard. In the course of the day some wag had posted hand bills, giving notice that an Italian would fly from Lambeth across the Thames, and alight near Westminster Hall. The time fixed for the flight of this modern Icarus was half-past two; the spectators having remained until four drenched in rain, began to suspect the whole was a hoax and walked off. Morning Post 17 Apr 1828, 2.
There were generally speaking two motives for this kind of nastiness. One was, as the journalist suggests here, for general hilarity. The other was an investment by the pick-pocket fraternity who could work the crowds whose eyes were fixed on the place of activity (be it a non-existent flier or a non-existent ghost). Other flight hoaxes for gatherings crowds together: drbeachcombing AT yahoo DOT com