Author: Beach Combing | in : Modern , trackback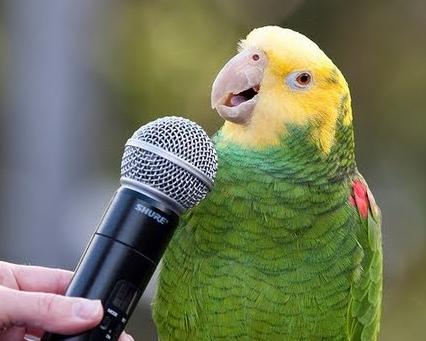 A busy day in paradise, so Beach thought he would limit himself to sharing this charming parrot story. Mr Braham was John Braham (obit 1856), an early nineteenth-century opera singer: 'he sang before Napoleon's Josephine and gave lessons to Nelson's wife.' Part of the charm of the story is the parrot in the presence of two great singers.
Parrots, like cuckoos, form their notes deep in the throat, and show great aptitude in imitating the human voice. A most remarkable instance I met with at Mr. Braham's villa at Brompton. A lady, who had great admiration for his talents, presented him with a parrot, on which she had bestowed great pains in teaching it to talk. After dinner, during a pause the conversation, I was startled by a voice from one corner of the room calling out, in a strong hearty manner, 'Come, Braham, give us a song'. Nothing could exceed the surprise and admiration of the company. The request being repeated, and not answered, the parrot struck up the first verse of 'God save the king,' in a dear, warbling tone, aiming at the style of the singer, and sang it through. The case with which this bird was taught was equally surprising with the performance. The same lady prepared him to accost [Angelica] Catalani [celebrated opera singer], when dining with Mr. Braham, which so alarmed Madame, that she nearly fell from her chair. Upon his commencing 'Rule, Britannia' in a loud and intrepid tone, the chantress fell on her knees before the bird, exclaiming in terms of delight her admiration of its talents. [Gardiner, Music of Nature]
Perhaps it is the choice of songs that is so evocative. Other parrot stories (there must be so many good ones) drbeachcombing AT gmail DOT com Remember the parrot of the Atures.