Author: Beach Combing | in : Modern , trackback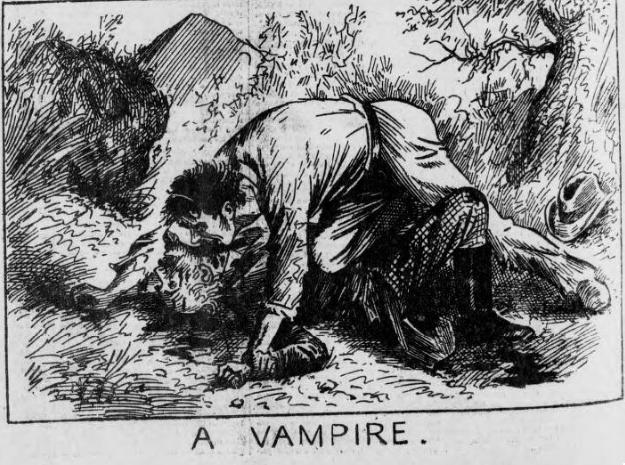 Beach has recently been looking for 19C images of vampires and strayed across this extremely unpleasant image. Unpleasant because it is based on a real life episode, the exploit of the Iowa vampire.
A wealthy rancher named Converse met a horrible death at Sioux City, Woodbury co. Iowa on Wednesday [pub Sat 25 Apr 1895, Illustrated Police News]. There is a maniac confined in the Sioux City Lunatic Asylum who imagines himself a vampire, and is considered excessively dangerous. A close watch was kept over him, but he managed to elude the vigilance of the guards, and escaped on Wednesday morning. Not long afterwards he met Mr. Converse on the high road. He sprang at him in a fury, bore Converse to the ground, and literally tore him to pieces with his teeth. When Converse ceased to struggle the maniac fastened on his neck and sucked the blood from a gaping wound. He then returned to the asylum, where his shocking appearance showed the asylum officials that something dreadful had happened. Search was made, when the mangled body of the maniac's victim was discovered, mutilated almost beyond recognition.
Gulp. Other 19C vampire images: drbeachcombing At gmail DOT com Love the hat by the trunk.
30 Dec 2017: Ruth in OK 'I wonder if this was just a case of someone who was nutty, on drugs, or what? There was a recent case in the US, either earlier in 2017 or in 2016, of a young man who was on drugs and thought he was a werewolf. He killed a neighbor in a similar manner to this. I wonder if the man in Iowa had eaten some mushrooms or possibly other tainted food like the fungus on rye that cause hallucinations in the middle ages. Guess we'll never know as facts in these cases tend to be sparse, if the story was even true.'
Beach fails to find the story, but there is this one about someone who thought he was killing werewolves and vampires…. Or is it this one from Australia…?