Author: Beach Combing | in : Contemporary, Modern , trackback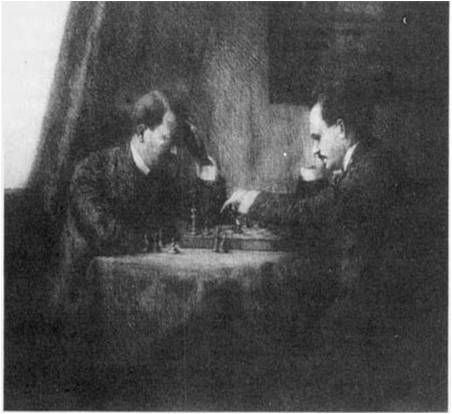 Chess is sometimes called the 'Game of Kings'. In modern times, at least, it would be truer though to call it the 'Game of Dictators'. Such unsavoury individuals as Lenin, Napoleon, Fidel Castro, Colonel Gadaffi and the appalling Che Guevara – coming soon to a dress or a tee-shirt near you – all enjoyed the mystique of the pawn and knight. Stalin played but seems not to have been particularly able: he did, however, make sure that official Soviet publications showed him winning the KGB's own Jeschow.
Beachcombing suspects that chess appeals to the dictator in us all, providing the awesomeness of destruction without the tiresome details: bloody hands, murdered children, mass graves and letters to the Times.
This brings Beachcombing nicely to Hitler…
There are hints that Hitler flew too close to the flame of chess in his early twenties. Herbert Grasemann (obit 1983), author of Schach ohne Partner für Könner (1982), relates, at fourth hand, a story that the young Hitler had fallen in love with the game, but that, finding it all consuming, he had given up chess to concentrate on his political career (as you do).
References and rumours like this might contextualise or, Beachcombing fears, explain a picture that has just recently come to light and that has been auctioned off in the British county of Shropshire.
The picture in question shows a figure, who looks uncannily like Hitler, playing chess with an opponent who looks a little like Lenin. This same picture is signed on the back by a man called Hitler and a man called Lenin in 1909 and was supposedly drawn by Emma Löwenstramm, a Jewish artist based in Vienna at that time who may have been associated with Hitler.
Is this all too good to be true?
Well, as Beachcombing knows history is often too good to be true: 'you couldn't make it up', 'if they put this in a novel they wouldn't believe you' etc And he has also alluded on other occasions to Hitler's ability to attract the strange to his peculiarly vacuous personality.
But there has to be a suspicion that this particular object is an act of (inspired) fantasy rather than an artefact of twentieth-century nastiness.
Beachcombing notes the following points.
Hitler looks a little too, well, Hitler-like – the Hitler, in fact, that we are used to seeing in later post-war pictures. Lenin, on the other hand, seems to have rather too much hair. The young Lenin was already bald save a hippy-like fringe.
Beachcombing can just about take on trust the fact that two (then) unimportant men might be drawn together playing chess – crazy things happen – but not that they would be asked to sign the sketch's behind by the artist.
Then finally this is allegedly a work by the minor Jewish artist, Emma Löwenstramm, a Jewish artist. Oh, come on…
Someone is enjoying a practical joke at the expense of Beachcombing and other survivors of the world that Lenin and Hitler created. Make no mistake it is a good joke, even a symbolically valuable joke. And the creator certainly deserves a medal. But it is a joke nonetheless.
If anyone can get the three-hundred page dossier in German by Felix Edenhofer defending the picture' authenticity to Beachcombing then he would love to read it through. He would also be interested to know for how much the picture was sold when it went under the hammer in April 2010. Then are there any other dictatorial chess players: Beachcombing has heard rumours about Tito and Franco and did Mao play Go before invading Tibet? drbeachcombingATyahooDOTcom
Finally what about, Beachcombing asks himself getting all lyrical, a school of historical fantasy art? A racy poem describing a duel between the young Duke of Wellington, then on the Grand Tour, and a pushy Corsican oik named Napoleon. A red attic vase with Plato tanning the schoolboy Aristotle's hide. A missing chapter from Casanova' Histoire de ma vie relating the time that he bedded Marie Antoinette and a score of Jacobins etc etc.  The possibilities are endless and if only we could get some auction houses interested…
***
There were several emails over this not least from Richard Westwood-Brooks at Mullock's Auctioneers. Richard – Beachcombing had got in touch – kindly noted that the picture was not sold in the end and that he hoped to auction it later this year. He also made two points in defence of its authenticity:  '1. Lenin was a wanted man who was tracked throughout Europe and therefore travelled a great deal in disguise. 2. That it is known he was in Paris and also in Germany and that it was only a matter of a few hours train ride to Vienna from either location – so he could easily have slipped away for a few days.' 'Tolpuddle' helped Beachcombing see another side of this debate. The choice, she wrote, is not between an extraordinary historic artefact and a dastardly fake. The picture could have been drawn up as a very enjoyable intellectual game in the 1930s by a third party – or by Emma Löwenstramm!? – put in a box, forgotten about and then rediscovered as a genuine piece by unwitting relatives or friends. Beachcombing wonders if there is not something in this. Beachcombing doesn't know why but he keeps coming back to the fact that Hitler is playing white. Thanks to Richard and Tolpuddle.