Author: Beach Combing | in : Modern , trackback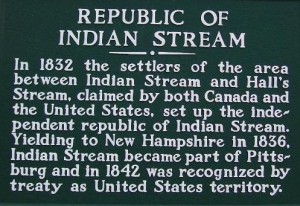 Beachcombing has an entire filing cabinet given over to the theme of 'Forgotten Kingdoms': a name that is fairly self explanatory, and that, in the last years, has come to include Forgotten Republics as well.
This brings Beachcombing to one of the most unlikely and sparsely populated states of the past, the Republic of Indian Stream.
Indian Stream, like the Republic of Madawaska, which Beachcombing will revisit on a future occasion, was born out of British and American incompetence and opportunism.
Despite the Treaty of Paris in 1783, there were several pockets of land along the US-Canadian border that were contested by both sides. Indian Stream – centering on Pittsburg (today New Hampshire) – was one of these.
Territorial ambiguity has historically often been a good thing. Rival states keep a contested territory at arms length while things are sorted out and the 'abandoned' populations reap the beneft in uncollected taxes and revenues.
Unfortunately, things did not work out this way for Indian Stream. In the early nineteenth century the territory was sometimes taxed by both the United States and Canada. And in 1832 the three hundred or so citizens of the region took matters into their own hands and declared the Republic of Indian Stream to avoid depredations.
The elected assembly that ruled the territory seemed never to have had any illusions that it would eventually be eaten up by the American eagle or the Canadian moose. And most of the Streamers, if pushed, had a preference, meaning that there were pro-British (i.e. Canadian) and pro-US elements in the tiny rural community.
The Streamers resisted officials from New Hampshire, threatening the same with fines of a hundred dollars if they served 'unlawful writs' in the Republic. But then the British stepped in arresting a Streamer and causing a raid by pro-US streamers into Canada!
The mouse that roared…
Wars have been started over killed pigs, cut off ears and games of football. There was no reason then why these apparently minor goings on in Little Stream and its environs should not spark off a continent-wide conflict between two world powers.
As it was the British, in a craven style typical of all their dealings with the US in the nineteenth century, backed away from confrontation, abandoning pro-British elements within the Republic. By November 1835 the New Hampshire militia had put down the insurrection and annexed Little Stream to their state. By 1842 Britain had recognised the annexation and there was no going back…
The sentimentalist in Beachcombing cannot help wishing that Little Stream had survived with a plague on both neighbouring states.
But then thinking of some 'luckier' European equivalents it would likely today play host to dodgy internet providers and several multi-million pound casinos. Perhaps New Hampshire was the best option after all…
North American forgotten 'kingdoms' are always of interest to Beachcombing. drbeachcombingATyahooDOTcom