Author: Beach Combing | in : Contemporary , trackback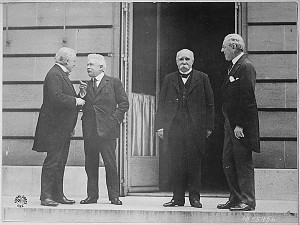 Beachcombing often misses major historical anniversaries on his blog or only cottons on a couple of days too late. Certainly he is off in raising the white flag to celebrate the last German payment of First World War reparations. For, yes, so it was that, on Sunday, 3rd October 2010, the German government put its last 59.5 million in a big brown envelope and sent it in the direction of the First World War allies: should be good for building a motorway through a nature reserve or two…
Of course, the figure that Germany finally paid was not what had been initially intended by the vengeful French and the craven British and Americans.
In 1919 German was told, after the Treaty of Versailles – see picture, that it would be expected to come up with 269 billion marks pronto.
Germany though was already defaulting in the early 1920s, despite France's occupation of the Ruhr in 1923.
And this continued to be the case after the debt was reduced to 112 billion marks in 1929.
In 1931 payments were suspended in the aftermath of the Wall Street Crash by US diktat.
Then Hitler refused to start payments again when he came to power and, indeed, began – according to certain interpretations of European history – to reclaim what Germany had already paid with panzer divisions.
Beachcombing cannot resist walking out into the historiographical minefield here and remind his readers just how foolish these reparations had been.
Numerous historians have established that Germany could have paid the reparations and that the reparations did not cause the economic weakness of the Weimar republic. However, the reparations created something far more dangerous. They gave Germany its potato-sack size chip on its shoulder over the First World War. They also led to the curious if infantile eloquence of Hitler's acts of revenge after the Fall of France in 1940: e.g. demanding that France should sign for peace in the same railway carriage where the Germans had signed the armistice of 1918.
The Second World War Allies by some miracle of wisdom – difficult to attribute to the statesmen involved – avoided this mistake in 1945 when Germany was pampered and financed into change.
Indeed, by the time that Germany reunified in 1990 there was only a handful of millions left that the old allies felt like enforcing, interest on interest, rather than the reparations themselves.
The latest drop in the fiscal ocean is then just a symbolic bit of book-keeping. After all, Germany has long since become a force for good and for boredom – the two most useful characteristics of any self-respecting modern European democracy.
Other strange fiscal hangovers? Beachcombing would love to know more – drbeachcombing AT yahoo DOT com