Author: Beach Combing | in : Ancient , trackback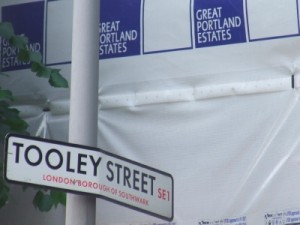 Beachcombing is having fun this week looking for off-the-beaten-track places in and around London for Canadian History Student. And this morning he is out on Tooley Street in Southwark seeking London and, indeed, Britain's oldest pub, the Isis Arms.
The pub in question was built in the first generation of Roman London, say, c. 70 AD and was doubtless a place where uppity natives trying to lose their tattoos, hobnobbed with desperate Roman officials who had been sent to the Empire's most challenging province.
We know that the Isis Arms existed because a flagon was dug up on Tooley Street – miraculously in one piece – dating from the second half of the first century. And scratched on this foot high and rather rough container are the words Londini Ad Fanum Isidis 'From London at the Temple of Isis'.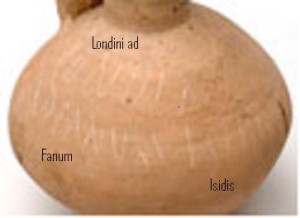 The flagon is a real bit of London history not least because this is the first time that the word 'London' appears: and – pace Lugh, Lud and Coates – philologists still have not the slightest idea what London – a British-Celtic word – means.
The flagon will have been used for an expensive liquid, presumably wine and the scratched writing on it seems to refer to its home address – 'next door to the Isis Temple': in the same way that supermarket trolleys are marked all over so that, in the end, they'll make it back to Wallmarts or Tesco.
We have then evidence for what Beachcombing likes to think of as the Isis Arms standing next to the Temple of Isis, an exotic cult for first-century Britain. Not only would those in this early London watering hole have been able to drink British beer and Spanish wine. They would also have laughed at the anemic, vegetarian types coming in and out of Isis' temple.
But where was what Beachcombing calls the Isis Arms to be found in London? Well, there is only one other piece of evidence for a temple to Isis in the metropolis and that is an inscription from the late third century, referring to the temple (presumably the same one) being rebuilt. It was found, unlike the flagon, to the north of the river.
There are no other clues: though Beachcombing quotes as a minority opinion the claim by London psychic John Crow that he has detected the presence of Isis at a disco under London Bridge station!
Beachcombing makes his pilgrimage to Isis at the Kings Arms on Tooley Street itself where he downs a glass of cider and thinks about that poor Egyptian girl putting her brother Osiris back together as if he was so many Lego bricks.
Or if you are really desperate you could go to the London Museum and see the flagon itself: no Cromwell's Cider there though…
Any other opinions on the location of the Isis Arms? Let Beachcombing in on the secret: drbeachcombing AT yahoo DOT com