Author: Beach Combing | in : Contemporary , trackback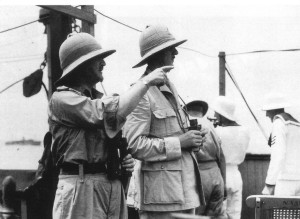 Beachcombing has a soft spot for Charles De Gaulle. Indeed, he often thinks of old lemon face on the balcony in Mostaganem in 1958, denying that the twentieth century had happened. Or the good General pissing off the Canadians in Quebec in 1967. Then there is de Gaulle's comment on the death of his daughter, Anne, with Down syndrome: 'now she is like all the others'. Or what about Pompedou's dirge in 1970: 'La France est mort'?
But the scene that stands out more than all these is 17 June 1940 – one of Beachcombing's WIBT (Wish-I'd-Been-There) moments – when De Gaulle jumps onto an already moving plane and flies into the history books.
17 June 1940 was the climax of a decisive month in De Gaulle's life. In the previous weeks he had watched the French army and the French government collapse as Hitler's blitzkrieg smashed into northern France. For a man who felt France within him as many monks feel God it must have been a painful time.
In this month, De Gaulle – then a minor minister – was talent-spotted by the British as their best bet for keeping France in the war. In fact, already in early June, De Gaulle was fantasising about moving the French government to northern Africa or establishing a Breton redoubt, the kind of mad cap idea that was bound to excite Churchill.
And, suitably enough, it is Churchill who gives us the most succinct and perhaps the most touching description of de Gaulle's flying escapade. The British prime minister had been speaking to his personal liaison officer with the French, Edward Spears… [Spears is pictured above with de Gaulle]
On the morning of the 17th I mentioned to my colleagues in the Cabinet a telephone conversation which I had had during the night with General Spears, who said he did not think he could perform any useful service in the new structure at Bordeaux [where the French government was re-establishing itself]. He spoke with some anxiety about the safety of General de Gaulle. Spears had apparently been warned that as things were shaping it might be well for de Gaulle to leave France.
In Spears' own account it transpires that it was de Gaulle himself who had confided that Weygand would have de Gaulle arrested. Churchill continues:
I readily assented to a good plan being made for this. So that very morning – the 17th – de Gaulle went to his office in Bordeaux, made a number of engagements for the afternoon, as a blind, and then drove to the airfield with his friend Spears to see him off. They shook hands and said good-bye, and as the plane began to move de Gaulle stepped in and slammed the door. The machine soared off into the air, while the French police and officials gaped.

De Gaulle carried with him, in this small aeroplane, the honour of France.
'The honour of France'…? Beachcombing is not so sure. But de Gaulle's flight certainly made the bleaching of Vichy from French memory a good deal easier after the war.
Even now it is not clear to what extent the British really wanted de Gaulle. Churchill seems to have had his doubts, perhaps sensing later troubles – though he ordered a special mission to bring the general's family to Britain. Spears received a signed photograph from de Gaulle after the flight, but then later, after arguments with de Gaulle in the Levant, noted that 'my cross is the cross of Lorraine'!
Beachcombing would like to get all weak at the knees about the General's leap: and he does, in truth, find the account extraordinarily moving – perhaps because of his unaccountable affection for de Gaulle. But de Gaulle's supporters' proper sense of the General's importance has meant that Churchill and Spears' retelling have been fiercely contested.
After all, it is bad enough that 'the English' were rescuing de Gaulle: something that de Gaulle would later thank the Brits for by keeping them out of the Common Market with his veto. But what really seems to have offended the Gaullists' sensibility was the circus-like trickery of the great one hopping onto a moving aircraft. The rarely smiling, living incarnation of La France just didn't do scenes from Marx brother films. His hagiographers have been then understandably miffed, something made even worse in Spears' description, where de Gaulle is 'pulled' onto the aeroplane!
Stepped, pulled, dragged, hopped… In any case, Beachcombing suspects that there was little conversation on board as the British aircraft wheeled up towards the Atlantic and de Gaulle took what would be his last look at France for almost five years.
Was de Gaulle thinking about his wife and children, still in France? Was he thinking of the broadcast speech he would make that night to France from London? Or was he already wondering how he would explain this embarassing exit? Beachcombing would put all his francs on the last.
Any more de Gaulle stories, particularly bizarre ones? drbeachcombingATyahooDOTcom