Author: Beach Combing | in : Modern , trackback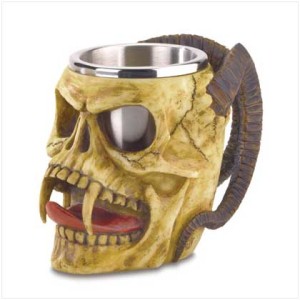 Beachcombing promised just over thirty days ago to avoid the whole subject of decapitations for 'at least a month'. A month having passed though he is determined to squeeze just another one in and then leave heads on necks until Epiphany.
Beachcombing begins his decapitation story with Nathaniel Hawthorne's visit to Lord Byron family residence sometime in the 1850s (1854-1858). The English romantic poet had died a generation before and his home had become a place of pilgrimage for the glittering literati of the age. The American writer describes a particularly bizarre find there.
Here, I think, the house-keeper unlocked a beautiful cabinet, and took out the famous skull which Lord Byron transformed into a drinking goblet. It had a silver rim and stand, but still the ugly skull is bare and evident, and the naked inner bone receives the wine. I should think it would hold at least a quart – enough to overpower any living head into which this death's-head should transfer its contents; and a man must be either very drunk or very thirsty, before he would taste wine out of such a goblet.
Beachcombing immediately thinks of Gaulish chieftains using Roman skulls as drinking vessels.
I think Byron's freak was outdone – continues NH – by that of a cousin of my own, who once solemnly assured me that he had a spittoon made out of the skull of his enemy. The ancient coffin in which the goblet-skull was found was shown us in the basement of the Abbey. (350)
Beachcombing has a huge folder on head-hunting more generally and quite a bit on head keeping, but he has an almost complete lack of nineteenth-century cases from Europe. So what is going on here? Did Byron just feel the urge to desecrate a Christian grave? And what about Nathaniel H and his cousin (which cousin)? In both cases this was clearly strange behaviour, but the by-the-by tone suggests that it would not have been as unheard of as such an encounter would be today. Any information on either individual would be most gratefully received. drbeachcombing AT yahoo DOT com
Beachcombing can't resist noting that there is some justice in the world for Lord Byron's body had a rough time of it post mortem. After making the mistake of dying in Greece in 1824 the ne'r-do-well was gutted and his body was sent to England from Greece in two parts: a container with his body pickled in alcohol and several large jars containing his innards. Byron had written explicit instructions that he was not to be 'hacked or sent to England', words that Beachcombing will soon have put in his will, but this was ignored at the time. After all, Byron was finally buried in 'the green and pleasant land' and he arrived in several parts – a foot was also sawn off.
***
15 Dec 2010: Joe Marfice kindly wrote in with the following story relating to Byron's penchant for skulls: 'I remember reading that, when Byron attended the funeral pyre of Percy Blysse Shelley, he cried out something about not wanting 'that great head' to go to waste, so he knocked it off the burning pile, and took the skull home, declaring he'd make a cup out of it. Mary Wolstonecraft Shelley sued Byron, and got her hubby's brainbowl back. It sat on her desk while she wrote a little thing about a golem.' Beachcombing did some more digging and found that Byron certainly had a skull cup (O'Brien 31) and possibly even skull cups (plural). As to Shelley, Trelawny in his Recollections, 1161, recounts how he refused to hand over Shelley's skull to Byron! The story of Mary Shelley and the skull is in contradiction with Trelawny's description of the skull fragmenting on the funeral pyre and, towards the end of his life Trelawny gave a small piece (from the brow) to Michael Rossetti. Did MS perhaps have a fragment as well that she kept on her table? Thanks to Joe for taking the quest in this unexpected direction. (Joe wrote subsequently that he thought it might be Shelley's heart that Mary took – certainly the heart was handed over to her.)