Author: Beach Combing | in : Contemporary , trackback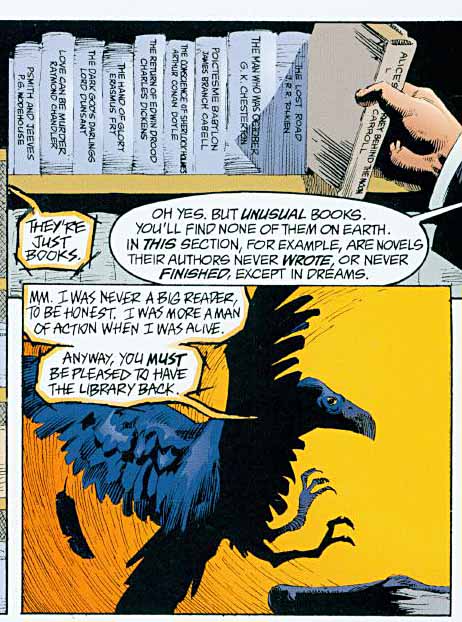 Beachcombing has, on previous occasions, enumerated some of his preferred invisible libraries: books or collections of books that never existed save in the imagination of fantasizing authors. And he could hardly overlook a notable recent contribution to the genre, the Library of Dreams by Neil Gaiman.
For those who don't know NG is an author of graphic novels and novels. Among his many works he has written a series built around the figure of Dream, a being ('god' doesn't really do him justice) who controls the imagination (dreams, fantasies etc) of the universe.
Now in Dream's realm there is a library and in this library are the books that great authors only dreamt, but never had a chance to actually write.
Beachcombing enjoys the other invisible collections that he has presented to date but, to his mind, Gaiman's dreamt library beats them all, being just a little below, in wit and breadth, the Musaeum Clausum of Sir Thomas Brown.
In what follows Beachcombing has avoided Dream's geographical works – Hotels on the Moon and the like – and concentrated on his literary collection glimpsed in the Sandman collection.
Anyone, The Bestselling Romantic Spy Thriller I Used To Think About On The Bus That Would Sell A Billion Copies And Mean I'd Never Have to Work Again  
Baum, Frank Road Trips to the Emerald City
Bramah, Ernest The Death of Kai Lung
Burroughs, Edgar Rice Tarzan in Mars
Cabell, James Branch Poictesme Babylon
Carroll, Lewis, Alice's Journey Behind the Moon
Chandler, Raymond Love Can Be Murder
Chesterton, G. K. The Man Who Was October
Dickens, Charles The Return of Edwin Drood
Doyle, Arthur Conan The Conscience of Sherlock Holmes
Fry, Erasmus The Hand of Glory  
Gaiman, Neil Rooms
Ian and Ann's Book of Days
Jones, Diana Wynne The Last Witch But One
Kelly, Walt Go-Go Pogo  
Lewis, C.S. The Emperor Over the Sea
Lofting, Hugh Puddleby Papers
Lord Dunsany The Dark God's Darlings
Marlowe, Christoper The Merrie Comedy of the Redemption of Dr. Faustus
Mirrlees, Hope Chanticleer's Dance
Matheson, Richard In Times Like These
Moore, Alan Xenon
Peake, Mervyn, The Fall of Gormenghast
Swift, Jonathan The Last Voyage of Lemuel Gulliver
Tolkein, J. R.R. The Lost Road
Various People, The Real Hitchhikers Guide to the Galaxy  
Webster, John A Banquet for the Wormes
White, T.H. Arthur in Avalon
Wodehouse, P.G. Psmith and Jeeves
Zelazny, Roger Beyond Chaos
Some of these books are already a little dated. Gormenghast has crumbled to dust in this world and the world of dream.
Some titles are a little self referential: Neil Gaiman and Erasmus Fry (a Gaiman character).
Some fall flat: Beachcombing would have preferred Jeeves and the Nazis (remembering Wodehouse's WW2 brushes with notoriety) to the weak Psmith.
And some are – at least to Beachcombing – utterly mysterious: who are Ian and Ann?
However, most are  simply fabulous.
So the idea of that fascist teddybear, T.H. White describing an elderly Arthur shuffling around Avalon in 'a cat knap of old age' pleases: perhaps the problem, if any, is that it is too credible and would see THW overindulging himself (just for a change).
Chandler's Love Can be Murder works better because it is the book that Chandler could never have written in his waking hours, though his therapist and the local barman would have dearly wished him to.
The Man who was October is presumably a pagan version of Chesterton's The Man who was Thursday: Gilbert set loose from the Catholic asylum.
Pace NG, Sherlock Holmes showed that he had a conscience time and time again. But Beachcombing likes the idea of the detective worrying about how  he has almost ruined Watson's marriage, until of course the cocaine takes hold and then oblivion…  
Beachcombing's absolute fave though is Frank Baum's Road Trips to the Emerald City. Half Kerouac, half Yellow Brick. The Tin Man smoking pot and the Lion living like a glorious Roman Candle, while Dorothy writes bad Beat poems.
God preserve us!
Beachcombing is going Invisible Library mad at the moment as he is considering painting a composite invisible library onto the door of his library in imitation of Dickens. Any other suggestions, do please, then rush them in. Drbeachcombing AT yahoo DOT com
Beachcombing has been playing around with a Shakespeare title He was only a Stratford Lad or a Milton poem, Jehovah in Chains? He can't quite get them right though.
***
15 Dec 2010: Some wonderful 'invisible titles' have already been sent in including Alighieri, Dante Hot Nights with Beatrice (SY); Charlemagne, Life of Einhard (JT) (Beachcombing loves this one); Churchill, Winston Look at me now! (SY); Dux, Arthur Six Months in the Lowland British Forests and the Cavalry Charge at the Hill of Badon (JT); Grimm, Jacob, Lies My Brother Told Me (SY); Hergé Tintin and the Nazis (SY); Plato, The Closed Society and its Friends (anon); and Smith, Joseph Making Religion: A Sociological Study (Fresh Mor).
17 Dec: A second round – Polo, Marco Into Africa (Dreamon); Hanno, Dread at the Chariot of the Gods (Draemon); Christie, Agatha 1926: Harrogate Diaries (Beachcombing); Columbus, Christopher Before the Peacock Throne of the Indian Emperor (Beachcombing); Higgins, Godfrey Anacalypsis: the Missing Chapter on Christianity  (Beachcombing inspired by RR); and Casaubon, Dorothea The Key to All Mythologies (Old Timer). Mrs B is giving some serious thought to one from the gospels but could only come up with the fairly weak  (Beachcombing thought) Augustine, City of Sin – still she was eight and a bit months pregnant.