Author: Beach Combing | in : Medieval, Modern , trackback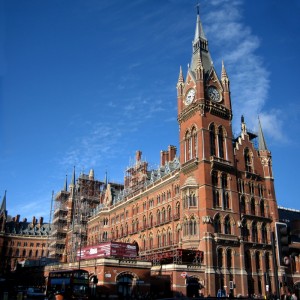 Beachcombing is rapidly coming down with flu at the moment and so will have to satisfy himself with a short post today. He will, in fact, take the reader to nineteenth-century central London, at a time when St Pancras Station (opened 1868) was being built up and connected. Beachcombing – sick or well – loves stations because they are vortexes of anarchy and hence history in our cities. Most major stations have a couple of important arrests, a suicide or two and, if the traveller is lucky, an assassination connected with them.
Beachcombing is also struck by how often – for very obvious reasons – things are dug up under or around station sidings. But, still, a Buddha in the mud of medieval London?
It is not unlikely [that there was Chinese penetration of ancient and medieval Europe], and I am reminded of it by the fact that I was very recently  shown a Buddhistic image found in digging for the St  Pancras Railway above Midland Yard, about the month of December 1872. It was discovered at a depth of  fifteen feet, nine feet of which consisted of loose soil  or debris of a recent character, but the remaining six  feet were hard, solid earth. The character of the latter,  and comparisons with similar excavations, judged by the ages of coins found, indicate a probability that the image may have been left where it was discovered 1000  years ago, or more. I regret that it was impossible for me to obtain this relic for some national museum or other institution, and also that it had been broken, by being ignorantly used as a child's toy,  though it was quite perfect when first discovered.  The man who dug it up spoke of fragments of similar images having been found; but owing to his ignorance,  nothing whatever can be inferred as to whether they were Buddhistic or not.
The following passage appears in one of the countless books by Charles Godfrey Leland (obit 1903), folklorist and jack of far too many trades. Just to give the reader some idea, GCL's publications include The English Gipsies (1873), Algonquin Legends (1884), Have You a Strong Will? (1899) [well? ed.], Leather Work, A Practical Manual for Learners (1892), Hans Breitmann's Ballads (1871) and Abraham Lincoln (1879)! Beachcombing likes CGL. He was a good writer who sometimes gave off sparks. But, though Beachcombing, has never found definite evidence, he sometimes wonders about CGL's honesty – forgive Beachcombing, Charles! – especially when Leland was in a spiritual frame of mind. CGL wanted to drag Europe kicking and screaming back to pre-Classical paganism – an honourable enough aim – but he was a little unscrupulous about how he did it.
So what did Leland see in London?
Beachcombing has already posted on the Viking Age find of a Buddha from Sweden. The lesson from that find is that it would be extraordinary if a bit of, say, Indian religious tat had been traded all the way to Saxon London. But it would not be impossible. No history books would have to be rewritten.
Or did Leland – who liked finding strange things in strange places – mistake something else for a buddha: a crosslegged saint, for example?
Beachcombing is writing that last bit tongue in cheek, but is there any other obvious explanation? drbeachcombing AT yahoo DOT com
It goes without saying that Leland's dating could be off by many centuries…