Author: Beach Combing | in : Contemporary , trackback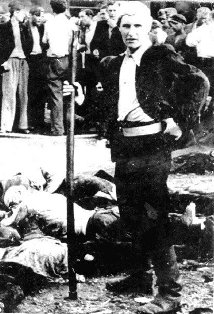 Call it the month of the massacres: Beachcombing in the past four weeks has gone knee deep in blood 'that should I wade no more, returning were as tedious as go o'er'. Even he gets a little queasy thinking about it. There was Queen Victoria drinking blood; then killer ice-cream; followed up by a horrific photo of a Soviet death factory; questions about prehistoric burial mounds and decapitation; Lancashire purring; the difficulty of running around without your head in medieval Germany; and, just two days ago, a massacre of Vikings in peace-loving Dorset. Today, to round off the series Beachcombing will bring in the Death Dealer of Kovno in Lithuania. Then enough with death and killing for at least a month…
Beachcombing came across the Death Dealer in an important new book by British author Chris Hale, Hitler's Foreign Executioners. This work is due to come out on 1 May, but Beach had the very great honour of reading it some months ago in manuscript form. Chris looks in his work at the collaborators, anti-semites and psychotics who joined in Hitler's killing spree in eastern and central Europe from 1941 onwards; and each chapter is a revelation as, often for the first time in English, details of a holocaust within a holocaust are laid horrifically bare.
Six months on, for Beach the most memorable description from this most memorable book is that of the Death Dealer alluded to above. The following report comes from a German army photographer Wilhelm Gunsilius, though a German colonel also left an eye-witness report, which agrees with what follows. Gunsilius had arrived in Kovno in Lithuania.  
Close to my quarters I noticed a crowd of people in the forecourt of a petrol station, which was surrounded by a wall on three sides. The way to the road was completely blocked by a wall of people. I was confronted by the following scene: in the left corner of the yard there was a group of men aged between thirty and fifty. There must have been forty to fifty of them. They were herded together and kept under guard by some civilians. The civilians were armed with rifles and wore armbands, as can be seen in the pictures I took.
The pictures are out there, but they are too horrific for Beachcombing to post: he got a little antsy about putting up a shot of the Death Dealer himself given what is in the background.
A young man – he must have been a Lithuanian – with rolled-up sleeves was armed with an iron crowbar. He dragged out one man at a time from the group and struck him with the crowbar with one or more blows on the back of his head. Within three quarters of an hour he had beaten to death the entire group of forty-five to fifty people in this way. I took a series of photographs of the victims.
Then after this bloodletting – that is almost Rwandan in method and intensity, the most searing detail of the slaughter:
the young man put the crowbar to one side, fetched an accordion and went and stood on the mountain of corpses and played the Lithuanian national anthem. I recognised the tune and was informed by bystanders that this was the national anthem.
WG was shocked by the behaviour of the local population, calling it 'unbelievable'.
After each man had been killed they began to clap and when the national anthem started up they joined in singing and clapping. In the front row there were women with small children in their arms who stayed there right until the end of the whole proceedings. I found out from some people who knew German what was happening here. They explained to me that the parents of the young man who had killed the other people had been taken from their beds two days earlier and immediately shot, because they were suspected of being nationalists, and this was the young man's revenge. Not far away there was a large number of dead people who according to the civilians had been killed by the withdrawing Commissars and Communists.
Chris Hale takes up the story from here (111):
We now know that the death dealer was Algirdą Antaną Pavalkįs, some of whose family had indeed been deported by the Soviets, as had many thousands of Lithuanian Jews. Later, Pavalkįs served in the Gestapo, but changed sides at the end of the war and became a Soviet agent. We have a photograph of him taken in 1950 when he was working as a rather well-paid doctor – 2,000 roubles a month.
This needs no comment…
For obvious reasons there has long been a tendency to concentrate on the rescuers of persecuted groups in occupied Europe during the war: and rightly so, we need our heroes. Think of Denmark's successful attempts to evacuate its Jewish population or even 'paradoxical Italy', where many thousands of Jews – despite harsh racial laws – found relative safety in 1943 and 1944. The very great value of Hitler's Foreign Executioners is that it takes us to another Europe where local populations were all too happy to jump in and do the Nazi's dirty work for them. How Beachcombing wishes that he had had the courage, the industry and the ability to write Chris's book.
Beachcombing is always on the look out for unusual or groundbreaking works on the Second World War: drbeachcombing AT yahoo DOT com
***
14 July 2012: The great Chris Hale shared this with Beachcombing from an east European contact: The identity of person who is in pictures of Lietūkio garazas is still unknown. The most likely according to of historian A.Anusauskas, who did the best research in many foreign archives) that his name was Juozas Surmas – a gestapo/SD agent in prewar Lithuania, who organised the pogrom together with Stahlecker's driver and interpreter. They knew each other from prewar time, both where born in Kybartai, Lithuania. Juozas Surmas was convicted after the war for participating in murder of Jews, but not for Lietūkis. Died in Gulag. He is the most probable one of the organisers.' Thanks Chris!