Author: Beach Combing | in : Contemporary, Modern , trackback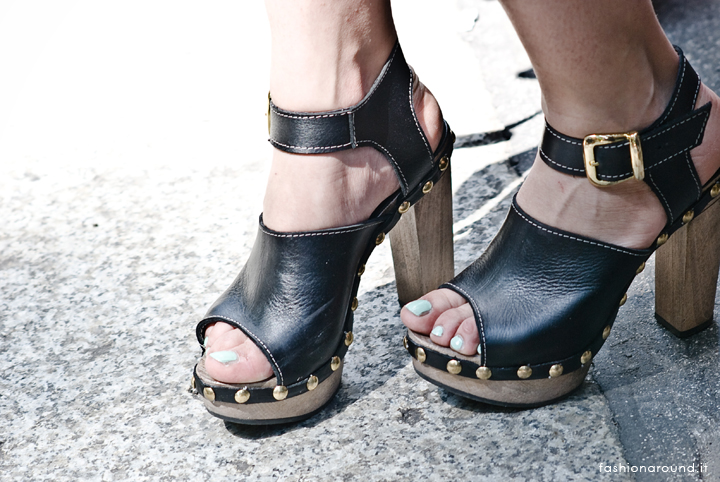 Old time readers of this blog will know that Beachcombing once expressed an interest in 'purring' or 'clog fighting' when in the nineteenth century the natives of Manchester, Preston and Liverpool in the north-west of Britain were alleged to settle their disputes through kicking contests. Back when he wrote this post Beachcombing expressed some scepticism about whether this sport was really as well established as many history books claimed and was particularly struck by how few contemporary records had survived. However, since writing this he has had time to do a little research of his own and is now a true believer. Consider this short passage dating back to 1874:
A Manchester contemporary has compiled a list of kicking cases which came before the Lancashire courts during the month just ended, and an ugly record it is. The exact number was 17. The evidence in the majority of instances disclosed the greatest brutality on the part of the offenders; whilst the fact that in two or three cases fatal results ensued tells a horrible story. The common tendency to substitute the clog for the fist in Lancashire has no parallel in any other county in the kingdom, and there is no good reason why it should not be effectually suppressed. The responsibility for its continuance rests upon the magistrates and the judges; for if they would carry out with the utmost stringency the intimation made at the late Liverpool assizes, that all cases of kicking would in future be dealt with severely, such a disgraceful record as that of 17 bad cases of 'purring' within one month would be impossible.
Beachcombing had thought that such purring as actually took place related to contests. But, on the basis of nineteenth-century legal proceedings from Lancashire most related to duels and challenges and brawls. The following dates from 1857 and could stand for many other instances.
Henry Webster, 22, boatman, was charged with killing and slaying Henry Ashton, alias Hartley at Shevington, on the 13th July, 1857. Mr Bagot prosecuted and Mr Sowler defended. Henry Ashcroft of Orrel, near Wigan, saw the deceased and the prisoner at the canal pier head, Shovington, on the 13 July. Prisoner, in his empty boat passed between the two, and they began quarrelling at each other. Deceased kicked Webster, and afterwards they fell. They then rose and agreed to fight on their feet. They went into the field and stripped; they fought three rounds. At the third round, Webster knocked deceased down, he got up, but immediately afterwards fell and never rose again. The blow given by Webster his deceased in the side. Deceased wanted to fight 'purring'. The men were both sober. Deceased was determined to fight… Sentence one month's imprisonment.
Purring then involves a certain form of fighting – essentially kick boxing. But it is striking that contemporary records also refer to kicking an opponent while he is down, something that many drunk teenagers in Britain enjoy to this day, as purring. Indeed, in Lancashire kicking of any sort became 'to purr', e.g. 'he purred her door down'!
If there were challenges and duels there were though also arranged fights. Consider the following  example dating to 1838. It is a nice question whether this kind of fighting, on this scale, survived to the later part of the century, certainly no newspaper would have reported it with these details.
One of the most savage and brutal fights of which we have ever heard took place on Monday morning last in this country. William Thornley, boatman, and James Rayner, bleacher, made a match to fight for £25 a side; and, from what we have heard, there is some reason to believe that there was an express understanding that it was to be a 'purring' fight – that is, that both savages were to have fully liberty to kick each other, and that for the express purpose they were to provide themselves with shoes or boots for the occasion. The fight took place in a field near Braudl[illegible] Hall about two miles north-west of Bury. The combatants stripped, each retaining only a piece of ragged material round his body, which in the first rush, was torn off, leaving both in a state of complete nudity, each wearing only a pair of strong shoes or quarter boots, about two inches broad at the toe, where they were bound round with iron. The soles were studded near the toe and heel with nails, having sharpened jagged, or, as our informant states, pointed heads. Thus armed with the means of brutally lacerating each other, at every stroke of the foot, they began the disgusting fight, and managed to stand up against each other , or, in the slang of the ring, to 'come to time' for 28 minutes. During the whole of this time they kicked each other with a ferocity which their armed feet prevented from being impotent, even when their physical strength was almost exhausted. According to our informant, they literally made the flesh fly from the legs and bodies of each other at every blow; and it is stated, that at the last kick inflicted by the human brute who conquered in this savage contest, his shoe was half imbedded in the groin of his victim.
Beachcombing actually doubled over when he typed out that last sentence.
Rayner, who received this blow, could no longer continue the purring; and Thornley was hailed  by the wretches around as the victor of the day. Not satisfied with this exhibition of their own brute force, the combatants next had a fight between their dogs for £10 a side. The whole of the gang of ruffians retired from the ground without the least moderation. It is stated that Rayner is so much torn and wounded that it is extremely doubtful whether he will recover.
Beachcombing would be grateful for any other descriptions of purring. drbeachcombing AT yahoo DOT com
***
20 March 2011: JCE rushed in these photographs that do far more justice to the subject than Beachcombing's amateur efforts at illustration. These are genuine nineteenth-century clogs and here you get a sense of the brutal hardware for proper purring fights… gulp. Thanks JCE!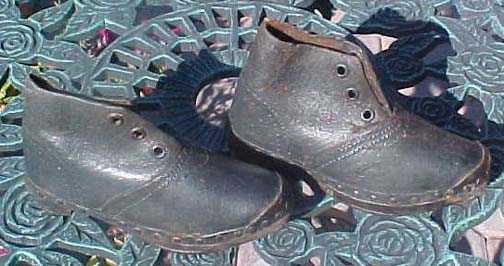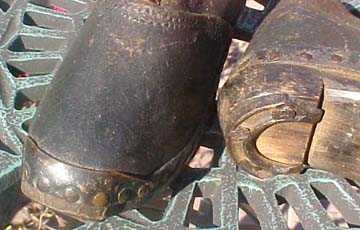 4 April 2011: Chris Brady very kindly wrote in with this reference to Devonshire kick boxing: The principal difference between these methods is that kicking the shins is a part of the Devonshire and not of the Cornish. The Devonshire men, therefore, wrestle with their shoes on, in order not to break their toes in kicking; and each takes advantage of this to bake the soles of his shoes, and thereby render his kicking as severe as possible. Thus, he who happens to have the hardest shoes has a decided advantage. Each has also the privilege of bandaging his legs, which is liable to a similar objection. It often happens, however, that after a severe match, the wrestlers leave the ring with the skin off their shins, almost from top to bottom. Tom Conroy believes that the shoed and bloody shinned kicking of Devonshire wrestling flourished from around 1800 until the last third of that century before disappearing completely. (Conroy 1981). In 1855, it was still going strong when a visitor described a visit to Cornwall and observed two Devonshire men agree to wrestle, and "true to the old Devonshire practice," they kicked each other in the shins so vigorously that the blows could be heard above the noisy crowd watching. (White 1855). Later, once the Cornish matches started, shoes and stockings were stripped and the wrestling jackets were donned.  Donald Walker. Then Chris also put Beachcombing onto this reference to a fight in 1883 in Pennsylvania: McTevish made a straight toe kick for his opponent's right knee. Grabby deftly avoided the blow by spraddling his legs far apart and brought his left foot around and caught McTevish on the outside of the right calf. The flesh was laid open to the bone, and the blood spurted out in streams. At the same instant he gave Grabby what is known as the sole scrape. Beginning at the instep and ending just below the knee pan, Grabby's left shin was scraped almost clear of skin Grabby then lost hold of McTevish's shoulder strap and while looking up, received a double-footed kick for his inattention. He quickly returned with a kick on McTevish's knee, which caused him to drop, but he pulled Grabby with him to the ground. They were separated, and the round ended, being about sixteen minutes long. Both men were a sad sight when they toed the mark for the second round, their legs had been bound in plaster, but blood still oozed out and the exposed spots looked like raw steak. Mercifully, Grabby immediately scored a straight kick to McTevish's injured knee that put him down and ended the fight for both men.' Both quotations can be found embedded in this longer and most interesting article on Purring by Jason Crouch. Thanks Chris!
22 Feb 2012: Chris B writes in with this ITV programme that touches on shin kicking. An annual event in Gloucestershire, the Olimpick Games dates back to 1612, when in the tiny village of Chipping Campden, Robert Dover held a sporting fair in honour of the ancient games of Greece. Fairly eccentric in nature, with events such as jumping in sacks, singlestick and shin-kicking, this was the pre-dawn to the modern Olympic movement. The Cotswold Olimpick Games are now held on the Friday after Spring Bank Holiday. Ade spoke to James Wiseman, a shin-kicking expert. After competing for four years, James is now a stickler, or referee. Shin-kicking has been part of the games since they first started in 1612 and has been played in Chipping Camden longer than any other place.' Chris suggests that Beach goes to check it out: and I'm sorely tempted!!! Thanks Chris!
31 May 2015: Mike writes in 'My grandfather had plenty of 'ups and downs' fights around 1905 to 1910 with other boys his age. No rules, used hands, feet, head, teeth. Purring was for the men, more stylised with rules. I remember as a child being told by a neighbour in Pendlebury of her witnessing two miners purring. Standing with their hands on each others shoulders kicking each others shins. this was on a croft near Wheatsheaf pit in Pendlebury in early 1900s. lots of men standing around them shouting and cheering. Grandad told me we were called Pendlebury Purrthies.'
Thanks Mike!