Author: Beach Combing | in : Contemporary , trackback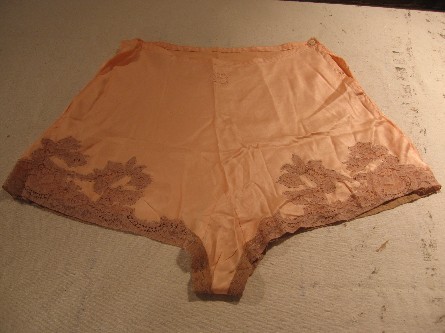 Beachcombing is still reeling from his recent medical misfortunes and, to make matters worse, he has to catch a bus in about twenty five minutes. So yet again today he will be brief. But he had to share this brilliant catch sent in by Invisible, an important ally in the fight for the historically bizarre.
Invisible came across (via a friend) Mantiques in Elmore, Ohio, an antique shop that claims to sell 'almost everything a man could want'.
Beachcombing was sceptical until he saw this extraordinary picture of their prize exhibit: a silken pair of Eva Braun's underwear (pictured above). Yes, that's right, forget Mantiques other offers: the Gilbert's Erector from 1928, an Auto Ordinance model 1927A1 Thompson Sub Machine Gun (aka 'the ChicagoTypewriter'), Beachcombing is even going to ignore the various historical electric fans (!!!), what he wants are the unmentionables.
Quite how a shop in Elmore stumbled upon such a treasure is beyond Beachcombing's ken. He's done all the calculations and he just can't work it out.
Clearly, this wasn't the pair that Eva Braun was wearing when death came knocking. There is not a burn mark on them… Did a looting Russian soldier somehow find them in the bunker, get them home and then – thanks to an unusually pliant Stalin – emigrate to the US? It seems so unlikely and yet Mantiques claim to have documentation: but can you even document ownership of underwear?
Beachcombing will be contacting Mantiques today in the hope that the documentation does not depend on purchase: this particular pair of underpants cost 7,500 dollars that would keep Beachcombing in books for a couple of years. In any case, Beachcombing wouldn't dare try and 'slip' this one past the ever vigilant Mrs B.
Beachcombing is still on his gore embargo – twenty six more days to go – but he can't resist noting that undergarments also figured on the final day of the life of Mussolini's beaux, the star-crossed and simpatica Clara Pettaci. When Mussolini and Clara were rushed out of bed by communist partisans for what was to be their last morning Clara was not given time to dress properly and put only her skirt and shirt on. Later she and Mussolini's dead bodies were exposed, hung upside down before the crowds and her skirt fell down scandalizing the Milanese, who had, though, no problem in pelting the corpses with fruit. The partisans in charge of the spectacle prudishly taped her skirt up to her leg so the desecration could continue. This was Catholic Italy after all.
Any other historically significant underwear stories out there? drbeachcombing AT yahoo DOT com
***
16 April 2011: Ernest from Mantiques kindly wrote in a few days back: 'Actually the panties were looted from 'the Eagle's Nest'…in Obersalzburg by 1st Lt. D.C. Watts from the 506th Parachute Infantry Regiment….there is a fine book on the subject by Major Charles Snyder called….'Treasure Trove: The Looting of the Third Reich'….Lt. Watts' letter is in the Appendix….also a nice picture of the matching Chemise!!!…' The mind boggles. Then comes Invisible on the cavalry: '[My underwear research] range from the sad and factual to the Sublime and doubtful.  This was probably not the chemise worn on the scaffold – accounts of the Queen's last days say that she had been hemorrhaging and, before going out to the guillotine, changed her linen to her last clean shift, stuffing the soiled one into a crack in the wall of her cell. According to  Robert K. Massie in The Romanovs (quoting the account of Yakov Yorovsky the leader of the executioners), the Empress and the Grand Duchesses all had jewels sewn into their corsets which rendered them bulletproof. Bayonet slashes apparently revealed the jewels after the bodies were taken out to be buried. Since the clothing was burnt, we have only this account of historical underwear that might have changed the course of history had one or more of the Grand Duchesses actually survived. Sort-of-underwear: Napoleon's socks!  There are a lot of petticoats and chemises and nightdresses of the Empress Josephine preserved at Malmaison. Can't find any pictured online but there are many photos in Josephine, Imperatrice de la Mode: L'elegance sous l'Empire by Claudette Joannis. Royal underwear frequently comes up at auction- Queen Victoria's in particular and, recently, a pair of Queen Elizabeth II's monogrammed knickers. (left behind on an airplane she had been lent.) And the Swedes have a positive fetish for keeping bloodied shirts of various murdered kings and nobles. (The Sture garments are a particularly grisly collection.) Another sort of King, but post WWII, and in truly bad taste.  The ultimate in historical underwear: The chemise of the Virgin Mary! Or here, scroll down for photo.  And, more on Virgin Mary chemises and the Infant's swaddling clothes and again with photos. Thanks Ernest and thanks Invisible! You have outdone yourselves.