Author: Beach Combing | in : Ancient, Contemporary , trackback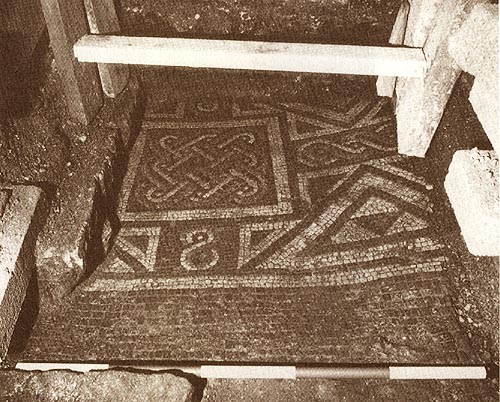 A busy day for Beach today – the hunt for mice, newspaper columns and the ongoing search for an aupair – and so he thought that he would just quote from this 1930s guide to Roman Britain for a strange archaeological visit.
Leicester, for those who don't know it, is a rather frightening English Midland town.
'Two hours later I made a halt in Leicester, whose name was Ratae Coritanorum, or more simply Ratae [in Roman times], and was what we call today a prosperous provincial city. Before the church of St Nicholas, exactly at no. 50 of St Nicholas Street, is a shop which sells corsets and brassieres. When you have made sure that nobody is watching you going in (in the provinces, alas, people are such gossips!) you cross the threshold of the shop, and when you have explained to the proprietoress of Amazonian stature, who bears most effective testimony to the efficiency of her corsets, what you want, she will emit a yodelling call. From the back parlour comes out the Herculanean consort of the prepossessing 'corsetière'; and, having exacted the fee of threepence, he will guide you through the parlour and kitchen and courtyard, down several steps, until you land in a large and spotless subterranean chamber, the walls of which are lined with shining white tiles, like a public convenience [i.e. a toilet]. But down on the floor your eyes open wide at two stupendous mosaics designed in brilliant colours, and you think of the cheerfulness of that rich flooring in the comfortable living-room of a prosperous merchant of Ratae. The white tiles and the electric light – so explains the custodian – have been added by the Town Council, which authorises him to pocket the threepence as a token of the thoroughness with which the good fellow polishes the Roman floor.'
Inevitably some remarkable archaeological discoveries are made on private property and, when they are inquisitive tourists find themselves depending on the good will of farmers or, in this case, shop-keepers.
Beachcombing has had several experiences like this himself – typically over Roman or pre-Roman remains.
One Italian city – Mrs B's home town as it happens – has some notable Roman gatehouse foundations (Beachcombing's inner geek preens himself) that can only be seen from the cellars of a private residence: unfortunately the doorman is never there when Beachcombing calls.
Then there was a Celtic settlement in a Spanish cornfield and an insanely angry dog.
And best of all, Beachcombing has a vague memory of a sozzled trip to a Midland British town – Sheffield, Nottingham, Lincoln…? – where there was a nightclub called the Wall in which revellers danced around some Roman remains that protruded from the dance floor.
Beachcombing had a misspent youth, but he's paying for it now.
Any other archaeological finds in peculiar places? drbeachcombing AT yahoo DOT com
***
23 June 2011: Ailsa writes in with Chester memories: 'Regarding archaeological finds on display in unusual places, have you visited the ones in the back of Spud-U-Like in Chester? There are a lot of Roman remains in the shops within the city walls (also with visable Roman remains) as well as a lot of medieval building still in use. Well worth a trip.' Thanks Ailsa!
22 July 2011:  This post has been going around and around in Beach's head. Is there still a bra shop? Can you still descend into the cellar and pay a shilling to see the painted floor? He got in touch with Leicestershire Information shop where DG sent in this reply. 'The corset shop is long gone, buried under the Holiday Inn, but the Roman mosaic, together with several other locally-discovered mosaics and other Roman etc artefacts is on view in the nearby Jewry Wall Museum.  The museum is open daily between February and October (entry is free) but closed between November and January, except for special events.' Thanks DG!