Author: Beach Combing | in : Contemporary, Modern , trackback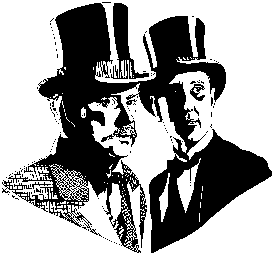 Yesterday it was flogging, tomorrow Renaissance cannibalism, so Beachcombing thought that today he would indulge in something rather more cerebral and what better than a gentle Invisible Library post? Beachcombing has introduced readers to several Invisible Libraries over the months, books that never existed except as titles in their creator's imagination. And tonight he thought he would explore the invisible library of Sherlock Holmes, cases, in short, that Arthur Conan Doyle described but never wrote. Certainly, on occasion in the  stories and less often in the novels the narrator, Watson, lists offstage cases in enticingly brief terms, cases that he never actually shared with his readers. For example, in the very first published short story, A Scandal in Bohemia:
'From time to time I heard some vague account of [Holmes'] doings: of his summons to Odessa in the case of the Trepoff murder, of his clearing up of the singular tragedy of the Atkinson brothers at Trincomless, and finally of the mission which he had accomplished so delicately and successfully for the reigning family of Holland.'
Of course, this is a brilliant narrative device. It immediately gives SH's England depth and reminds Beachcombing of that sense of being sucked into a world that he associates with the first pages of Kim.  But there is also something exquisite about these skeleton mysteries in their own right. The following is taken from Thor's Bridge and – forget the dog that didn't bark and the game being afoot – this is Beach's favourite paragraph in Doyle's opus.
'Among these unfinished tales is that of Mr James Phillimore, who stepping back into his own house to get his umbrella, was never more seen in this world. No less remarkable is that of the cutter Alicia, which sailed one spring morning into a small patch of mist from where she never again emerged, nor was anything further ever heard of herself and her crew. A third case worthy of note is that of Isadora Persano, the well-known journalist and duellist, who was found stark raving mad with a match box in front of him which contained a remarkable worm said to be unknown to science'.
It is almost as if Holmes with Watson at his side has strayed into an early H.G. Wells novel with a time machine set up to look like an exercise bike. However, there are other skeleton cases that are not to be sniffed at either:
The year '87 furnished us with a long series of cases of greater or lesser interest, of which I retain the records. Among my headings under this one twelve months, I find an account of the adventure of the Paradol Chamber, of the Amateur Mendicant Society, who held a luxurious club in the lower vault of a furniture warehouse, of the facts connected with the loss of the British barque Sophy Anderson, of the singular adventures of the Grice Patersons in the island of Uffa, and finally of the Camberwell poisoning case.'

'Of all the problems which have been submitted to my friend Mr Sherlock Holmes for solution during the years of our intimacy, there were only two which I was the means of introducing to his notice, that of Mr Hatherley's thumb [The Adventure of the Engineer's Thumb] and that of Colonel Warburton's Madness.'

'Here's the record of the Tarleton murders and the case of Vamberry, the wine merchant, and the adventure of the old Russian woman, and the singular affair of the aluminum crutch, as well as a full account of Ricoletti of the club foot, and his abominable wife.
One Sherlockian, Martin Dakin suggested that Holmes really said something quite different in the last clause of this last paragraph and was misconstrued by that dullard Watson. His true words were, of course, 'the wrinkled yeti of the club foot and his abominable life', which would bring cryptozoology and the Himalayas into the canon!
Then, of course, if Holmes-lovers can start rewriting sentences why not actually write up the stories themselves? Holmes lovers are not as geeky as Lord of the Rings or Star Wars and Star Trek fans, but they come wonderfully close.
A notable exercise in this respect was More Exploits of Sherlock Holmes (1954) written by Adrian Conan Doyle and crucially the capable John Dickinson Carr that bring to life several of these half imagined mysteries. However, so many pastiches have been written that there is actually a serious scholarly study, The Alternative Sherlock Holmes* (which Beach is trying to get his grubby hands on), a 'vulgar' collection of short stories (The Mammoth Book of New Sherlock Holmes Adventures, ed by Ashley 1997), not to mention, God alive, a Wikipedia page.
Beachcombing is always on the look out for invisible libraries: preferably ones that have not, though, become books – drbeachcombing AT yahoo DOT com
*'Between 1887 and 1927, Sir Arthur Conan Doyle wrote sixty Sherlock Holmes stories, and his great Canon has become the most praised, most studied, and best-known chapter in the history of detective fiction. Over twenty thousand publications pertaining to the Sherlock Holmes phenomenon are known to have been published, most of them historical and critical studies. In addition, however, almost since the first stories appeared, such was their uniqueness and extraordinary attraction that other authors began writing stories based on or derived from them. A new genre had appeared: pastiches; parodies; burlesques; and stories that attempted to copy or rival the great detective himself. As the field widened, there was hardly a year in the twentieth century in which new short stories or novels did not appear. Many hundreds are now known to have been published, some of them written by authors well-known for their work in other literary fields: John Kendrick Bangs, Jon L. Breen, Agatha Christie, August Derleth, Philip Jose Farmer, Maurice Leblanc, Ellery Queen, Vincent Starrett, and many, many more. Presented as an entertaining narrative, of interest to both the aficionado and the scholar, it provides full bibliographic data on virtually all the known stories in the field.'
***
5 July 2011: CCBC writes in to say, 'I am probably not the first to remind you of the Case of the Giant Rat of Sumatra, which the world is not yet ready to hear. Adrian Doyle and others have attempted to temper that tale to modern ears but… What I may be the first to mention is the astonishing playlet created around that story (wherein humour is employed to blunt horror). Also, have you discovered Ellery Queen's The Misadventures of Sherlock Holmes? Or the Solar Pons tales by August Derleth?' Beach is ignorant on all counts. KMH, meanwhile, has a more general consideration: 'The  Sherlock Holmes literature marks the beginning of a fantasy-oriented  counter-reaction to the general decline in manners and morals in the 19th century, and continuing on to the present day. One affect of this decline is the increase in crime and difficulty in convicting criminals by traditional methods, perhaps abetted by some  corruption in government and police officials.  So, in contrast to reality, we initially have a spawn of purely fictional detectives, beginning with Holmes, brilliantly solving crimes and vicariously  satisfying  the public's appetite for justice (and good prevailing over evil). Fast forward to the 20th century and justice is being given a helping hand  by even more extreme fantasy figures such as Batman, Superman, Xmen, etc. all of which possess extraordinary advantages beyond the brilliant detective talent. Of course, this is at a time when real respect for government, law and order, and justice appears to be at an historical low. The recent popularity of a number of television dramas involving forensic experts (CSI, NCIS, etc) follows this development by employing advanced scientific techniques which few, if any,  agencies have the training for, or can even remotely afford. Where does the 'justice hero syndrome' originate from? It seems to derive from the expectation of Christ's Second Coming to right all wrongs, punish all criminals, and institute a true government free of corruption, as the greatest of heroic acts.  Today this expectation is stronger than ever as evidence that we are in the 'last days' continues to accumulate. What next? Perhaps the next justice heroes could  be  aliens  or extraterrestrials landing in flying saucers to eliminate the criminal psychology and set humanity back on the right course.' Thanks KMH and CCBS!
10 July 2011: Phil P writes in: Regarding 'The Giant Rat of Sumatra', the science fiction/ fantasy author Fred Saberhagen dealt with this one and concocted an engaging tale in which Holmes and Dracula encountered one another in 'The Holmes Dracula Files'. Alternating chapters are narrated by Dr. Watson. I believe you would enjoy it.' Thanks Phil, I can't wait!