Author: Beach Combing | in : Contemporary , trackback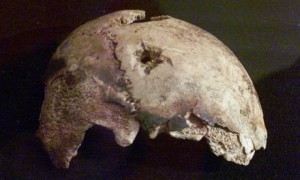 Beachcombing had two formative experiences over the last week. One was discovering that peanut, banana and honey sandwiches can be substantially improved through the use of raw ginger. The other was watching Die Untergang (Downfall) the 2004 film describing the final days of Hitler in April 1945. On balance, Beach prefers the liberal use of ginginer to biopics on bastards, though Untergang definitely begs and keeps the viewer's attention. But Hitler's death is strangely topical, particularly as two journalists have proved (to their own satisfaction) that Hitler (obit 1962) actually escaped with Eva Braun to Argentina and had two daughters!
Personally, Beach won't be holding his breath over this one. But there is no question that the evidence for Hitler's death is not all that it could have been.
The forensic evidence was  gathered by the Soviets who muddied the waters: no drawing from the spring of eternal truth for the sons of Lenin. Stalin, playing one of his long games, announced to Truman at Potsdam in 1945 that Hitler was not dead but hiding in Spain or Argentina! And the much vaunted piece of Hitler's skull in the Soviet archives actually, it has transpired, belonged to a woman.
But before we get carried away it should be remembered that Hitler's jawbone was confirmed by his dentist: imagine having that job. And the eyewitness accounts are difficult to get around, particularly that of Heinz Linge, Hitler's valet, who was responsible for the burning.
Those who argue that Hitler survived the bunker have to overcome not only jaws and memory though. There are three other difficulties. First, there is the problem that Hitler had again and again said he would commit suicide at the end: 'I have three bullets… two for you if you betray me, the last for myself'. Second, there is the problem of how Hitler could have escaped from Berlin at that late hour with Soviet troops less than a kilometre away: Bormann almost certainly died doing the same. And, third, the difficulty of how Hitler's new location in the Alps or on the Pampas or on Franco's private estate in Galicia was kept secret for another twenty years.
One or two of these could doubtless be knocked down: people lie, scientists screw up, miracles happen. But run the jawbone together with the others and you have a mountain range that make the Himalayas look like fairy foothills.
Any other opinions of Hitler's death? drbeachcombing AT yahoo DOT com
Beach prefers his dictators well done and, he should end by saying, the most memorable scene in Untergang was the burning of the bodies. It is a fine example of 'bad wiring' in a film that the diehards saluting Hitler's pyre is the most memorable single scene, notwithstanding the fact that here is the final extinction of a man loathed by this blogger, most of the modern world and the film-makers. Even Goebbels mad eyes, some silly heel clicking and Russian shells sending everyone diving cannot remove the 'magnificence' of the occasion. The Valkyries probably didn't make it  down through the Soviet artillery and the Yaks, but the director accidentally created a scene that suggests that they really should have made an extra effort.
***
23 Oct 2011: Southern Man writes in 'Beach there is a lot of rot written about Hitler and suicide, allow me to quote from an excellent piece on Axis History: 'Hitler contemplated suicide several times in his life (after the Putsch, after the death of his niece), he made speeches attesting that he would either be victorious or 'would not survive the outcome' (Reichstag speech, Sept. 1, 1939)…'Germany will find itself either reborn or us dead"…"I have three bullets…two for you if you betray me, the last for myself' (Hitler during the Beer Hall Putsch). 'Death is so easy..a brief moment of pain perhaps, then eternal sleep' (Hitler to his 'chauffeureska').' Next up is KMH with some almost metaphysical considerations about dictators: 'It is perhaps natural to believe that oppressive dictators will die in a similar way that they caused others to die – poetic justice is most satisfying. But strangely, we see it happening only with the second tier of dictators – those who only have national, not international aspirations. So Qaddafi died of bullet wounds, etc. The most important personages don't seem to die from violence or from legal proceedings (hanging, etc.). Stalin may have been poisoned by  his doctor. Napoleon died on St. Helena.  Ivan the Terrible, Oliver Cromwell and Mao seemed to have died naturally. So why would Hitler go against the grain? I believe the stories about his escape to Argentina or Antarctica not probable in his physically unhealthy condition. But he may have temporarily escaped to a secret bunker in the southern mountainous region only he knew of in specific detail. He died there perhaps due to his untreated illnesses. Dental records, the Argentina theory, etc., would be for one of his doubles. It is difficult to believe that these predestined personages are immune to a common death by violence, but their incarnation isn't  personally profitable or meaningful otherwise.' Then several a couple of comments about Downfall. DCR writes: 'Several people who were in the bunker when [Hitler] and Eva Braun killed themselves and served as technical consultants to the film. One was the radio operator who heard the shot and saw the bodies.' The historical precision behind the film was much boasted over by the directing crew. On this theme JCC points any German speaking readers to an interesting article by Wim Wenders:  thanks Southern Man, KMH, JCC and DCR!!
5 Nov 2011: Gerrard Williams has written in with some details about his book: Grey Wolf – The Escape of Adolf Hitler 'We're published in English worldwide by Sterling (wholly owned By Barnes and Noble) and have shifted almost 40,000 copies worldwide in the last three weeks. We have had extensive media coverage here on Sky News, The Sun, Express, The Mail and Western Mail as well as many articles in Foreign Newspapers and web-sites. I've been interviewed by Sir David Frost for Al-jaz's "Frost over the world", RTL 4 [about 1800], am doing a piece with ZDF in the coming weeks, talking to Dan Snow at "the One Show" and Ch7 Oz are doing an hour long piece on the book in February for their top rating Sunday Night Current affairs show, filming with me in Argentina, London and Berlin. I've also appeared on Deutsche Welle, and numerous other radio stations here and in Canada. I'm also due to do a piece with CNN(I)'s Becky Anderson in December on "Connect the World." Although the book is now available in Barnes and Noble Stores across the States I'm finding it difficult to get any mainstream coverage there.  I can promise you I haven't "lost it". This really is the exposure of one of the most incredible lies in history. There are over 500 sources in the book. There's more about me on My Author's page on Amazon.co.uk plus a video of my interview with Sky news and a clip from the film we're currently producing.  On Tuesday I did a long interview with Michael Harris at CFRA Ottowa , and today we got a full page in the Jewish Telegraph.  I've also attached a review from the 'states. Here you can find the first fifty pages or so of Grey Wolf….   and here you can find my interview with Deutsche Welle.' Thanks Gerrard and good luck!