Author: Beach Combing | in : Medieval , trackback
A day of freedom: 77 exams graded, course readers prepared, translations refined, goodbyes given… It is all over, at least, until, in January, the whole merry dance begins again. In the meantime, Beachcombing thought that he would go back to an old love of his, some of the more unusual saints in the Christian pantheon. We have previously visited in this place a saint with a dog's head and a saint who turned into a cat. But what about a grotesquely hairy saint?
Beach refers, of course, Wilgefortis, a Portuguese saint of whom Butler wrote that her Life had the 'unenviable distinction of being one of the most obviously false and preposterous of the pseudo pious romances by which simple Christians have been deceived or regaled', which is saying something!
And that story? Well, Wilgefortis is pledged by her father to a pagan king: often said to be the king of Sicily. Horrified she prays to God to get her out of this jam – would you want to live in Sicily? – and she woke up one morning to find that she had grown a moustache and a beard. Naturally when her future husband saw beneath her veil the game was up and marriage was refused. Her loving father was furious and had her crucified (as fathers of saints often did back then).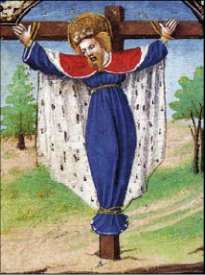 As interesting as Wilgefortis's condition is the origin of the legend is perhaps even more fascinating. It has been suggested that pilgrims from the north of Europe were confused by feminine looking Christs in the south of Europe, particularly in Italy: different expectations of beauty and clothing causing confusion, a work from beautiful Lucca (below) has been pointed to. They then explained these 'women' on the cross with the Wilgefortis legend and, in fact, the Wilgefortis legend was more popular in northern climes.
This may or may not be true: it would be presumably impossible to demonstrate. But what is certain is that Wilgefortis fits into a well established pattern of female saints making themselves unavailable to suitors thrust on them by their father. St Brigit, it will be remembered, plucked her own eye out rather than walk down the aisle and have her virginity broken by a thuggish Irish cattle lord.
Recent attempts to relate Wilgefortis to the bearded lady phenomenon or even to place her in the 'Calendar of Lesbian, Gay, Bisexual and Transgender Saints' probably miss the point: though in doing so they have the very great virtue of remaking Wilgefortis for the modern world.
Any other unusual saints: drbeachcombing AT yahoo DOT com
***
21 Dec 2011: Invisible is, as always, unbeatable: 'While I regret that I cannot find my original source, I remember a medieval account of the body of a female saint who had also grown a beard to fend off a suitor. The body was on display as a relic when a curious visitor lifted her skirts and discovered that "she" had other male attributes. When the visitor indignantly pointed this out to the custodian of the relics, the monk replied, "God be praised! When the Saint prayed to be rendered undesirable to her suitor, an even more complete miracle occurred!" There are a couple of books on the extreme fasts that many female saints undertook, inviting comparison with modern-day anorexics who sometimes grow abnormal hair (lanugo) all over their bodies, including on the face. See Holy Feast and Holy Fast: The Religious Significance of Food to Medieval Women, Caroline Walker Bynum and Holy Anorexia, Rudolph M. Bell. Possibly a fasting princess might have grown a beard…. I was also reminded of this poignant painting of a bearded woman nursing her child by Ribera:  As for strange saints, I suggest Christina of Liege?Christina Mirabilis, whom the Jesuit Father Herbert Thurston calls a "theopathic personality." Her Latin life is here   Information from Butler's Life of the Saints is here: . Another levitating saint was St. Joseph of Cupertino. He, too, perched in the tree-tops like a bird, supposedly in front of impeccable witnesses.' Thanks Invisible!