Author: Beach Combing | in : Contemporary , trackback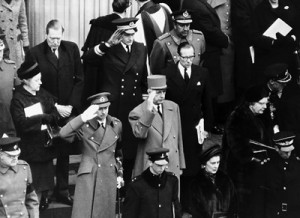 Today a bit of modern British history/myth. Beach will write it out as it was told to him. He would be interested to see whether there is any basis to the tale: it sounds very Churchillian, but it also has the exquisite stench of cobblers.
Towards the end of his life Churchill was visited by a young official to discuss the details of his state funeral. The official showed Churchill the planned route that his coffin would take from his home to London and was surprised that, though Churchill proved flexible and uncomplaining about most details, here he demurred. Churchill suggested various other routes and when the young official finally asked why Churchill tapped his fingers on the map of London and one of the capital's most important stations. 'If I outlive De Gaulle, there is no problem. But if he is still alive I want him to be part of the group that greets my body as it comes into Waterloo!'
It is a beautiful story. However, is it true? Beachcombing has found no confirming details. Churchill was one of those rare Britons, perhaps even rarer among the aristocracy, who loved France. He did though have a lasting and fond antipathy for De Gaulle who had often made his life a misery in the war years. While Churchill with an operational Empire had to creep and crawl before Roosevelt, De Gaulle, without an acre of France to his name, calmly antagonised the US at every turn with undeniable style.
De Gaulle had a similarly doubtful attitude towards Churchill. Here were, after all, two alpha males whose personalities had too many commonalities to make any form of friendship possible. And how Waterloo would have irked De Gaulle much as the general loved battlefields!
In fact, Churchill's body did come to Waterloo – on its homeward voyage – which might mark the beginning of this particular tale. One BBC report that Beachcombing has just chased down states:
The funeral cortege was accompanied by a 19-gun salute and an RAF fly-past as it began the journey to Sir Winston's final resting place. At Tower Hill, the coffin was piped aboard the launch Havengore for the voyage up the Thames. From Waterloo, it was placed onto a train drawn by a Battle of Britain locomotive named Winston Churchill. Thousands gathered to pay tribute at wayside stations. At many football matches a two-minute silence was observed. Sir Winston was finally laid to rest in the Oxfordshire parish churchyard of Bladon, close to Blenheim Palace where he was born 90 years before, with only family members present.
De Gaulle was still alive and, indeed, he was present at the funeral: see picture. But did he follow the coffin to Waterloo? Did Churchill ever insist on a Waterloo route – that seems, looking at the map to have been the obvious one? Beachcombing fears not… drbeachcombing AT yahoo DOT com
***
16 March 2012:   Wade did a lot of the necessary spade work here, though as he notes still no real sources. First website Wade links has: 'On January 15, 1965 Churchill suffered another stroke — a severe cerebral thrombosis — that left him gravely ill. He died nine days later on January 24, 1965, 70 years to the day of his father's death. His body lay in State in Westminster Hall for three days and a state funeral service was held at St Paul's Cathedral. This was the first state funeral for a commoner since that of Field Marshal Lord Roberts of Kandahar in 1914. It was Churchill's wish that, were de Gaulle to outlive him, his (Churchill's) funeral procession should pass through Waterloo Station. As his coffin passed down the Thames on a boat, the cranes of London's docklands bowed in salute. At Churchill's request, he was buried in the family plot at Saint Martin's Churchyard, Bladon, near Woodstock, Oxfordshire, England.' Beach loves the ideas of the cranes of London bowing to their dead master. And another site that is sceptical. Beach can't help but thinking someone with a good knowledge of British railways could kill this legend – not that we would want to, of course: As his coffin passed down the Thames on the Havengore, the cranes of London's docklands bowed in salute. The Royal Artillery fired a 19-gun salute (as head of government), and the RAF staged a fly-by of sixteen English Electric Lightning fighters. The state funeral was the largest gathering of dignitaries in Britain as representatives from over 100 countries attended, including French President Charles de Gaulle, Canadian Prime Minister Lester Pearson, Prime Minister of Rhodesia Ian Smith, other heads of state and government, and members of royalty. It also saw the largest assemblage of statesmen in the world until the funeral of Pope John Paul II in 2005.  It has been suggested it was Churchill's wish that, were de Gaulle to outlive him, his (Churchill's) funeral procession should pass through Waterloo Station. This is complete myth. Though President de Gaulle did attend the service and the coffin departed for Bladon from Waterloo Station, there is absolutely no connection. In fact, Churchill did not plan his own funeral as commonly believed; he made a few suggestions, but there was a private committee which made the plans, and he was not on it.' Thanks Wade!!!
17 Mar 2012: FP writes in 'Hello, After reading your recent post  "Churchill, De Gaulle and Waterloo" and particularly the line that a railway expert could kill the myth, I thought I would write in with a comment. At first sight, railway geography would seem to support the myth.  To get from London to Bladon, Waterloo would not be your first choice of station.  The obvious departure station would be Paddington, from which a train can get to central Oxfordshire very directly.  However, if the organisers definitely wanted to include a journey down the Thames, the problem is that Paddington is a long way from the river: it would be a case of a road procession from St Pauls to Tower Hill, a barge from there to the West End followed by a second road procession through Mayfair and Bayswater.  Waterloo is not only almost on the riverbank, but there is a fairly direct rail route from there to Reading, where the train can join the main line from Paddington and on to Oxfordshire. Moreover, for obvious reasons the train was hauled by the locomotive "Winston Churchill".  Although the railways were nationalised in 1947, in England and Wales the former railway companies had survived as largely-autonomous "Regions" within British Railways.  "Winston Churchill" was built by the Southern Railway, and in 1965 (although only a few months from withdrawal) was based at Salisbury, on the Southern Region's lines out of Waterloo.  It is probably safe to say that at that time there were no loco crew at all on British Rail who were qualified both to drive "Winston Churchill" and to drive trains from Paddington to Reading; on the other hand almost all Waterloo-Reading line steam crews would have been able to handle the engine.  It is also likely that special work would have been needed to make sure that a Southern Region engine would even have been able to run on the Paddington-Reading line safely.  In other words, using Waterloo solved two issues: how to get the procession from boat to train easily, and also how to ensure the right engine could be used on the train with minimal special effort. I hope the above is helpful to you.  On balance, I think it is highly unlikely that the use of Waterloo was purely to annoy De Gaulle – although I can imagine that when it became apparent that Waterloo would be the most straightforward terminus to use, it would have raised a few wry smiles on the planning committee!' Thanks FP!!!!