Author: Beach Combing | in : Actualite, Contemporary , trackback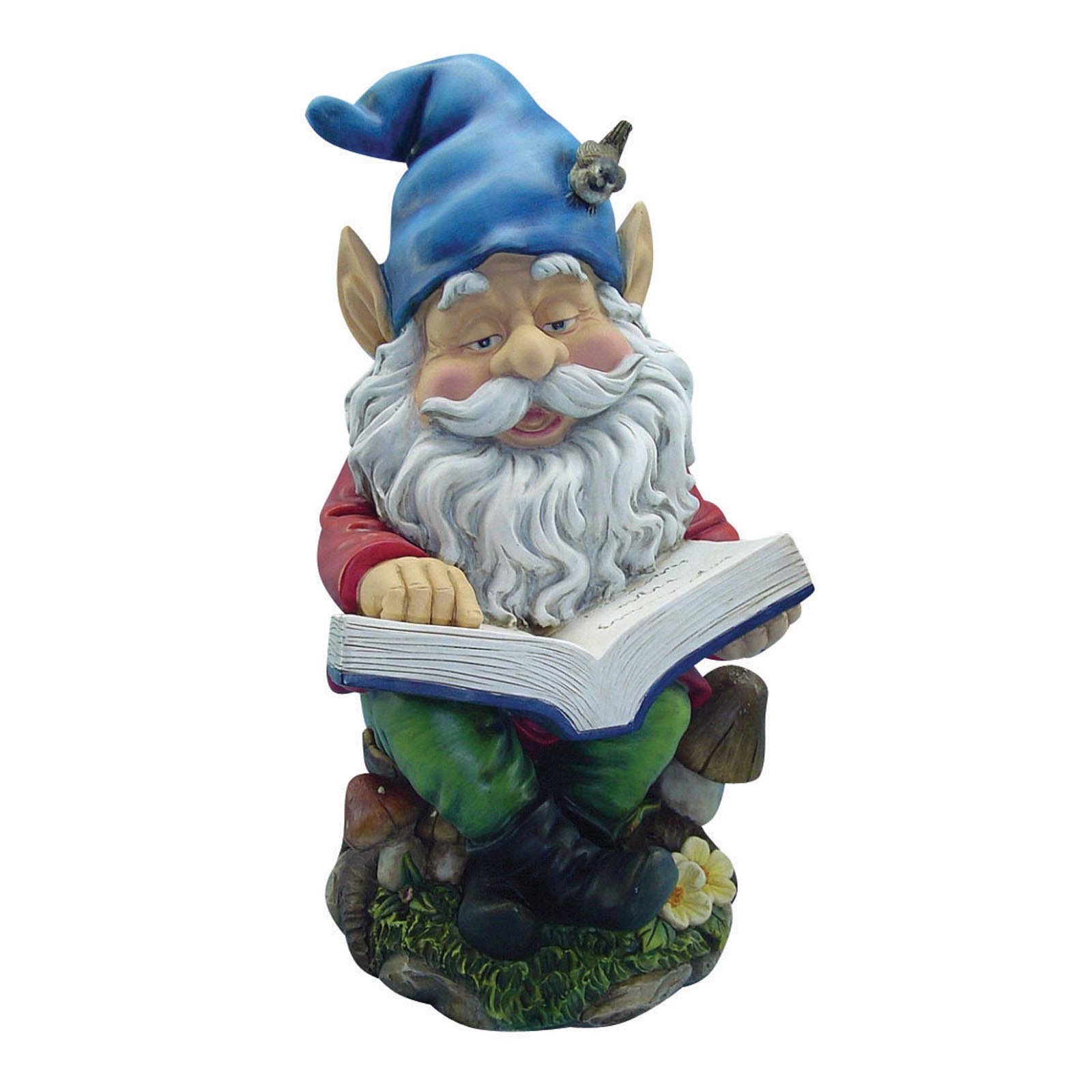 Beachcombing was in his early teens on holiday in Cornwall when he went to the Gnome Museum. There was a very likeable hippy in her early forties (?) who ran the place and showed Beach and family around a couple of rooms and the garden where she had 'seen' the gnomes: there had been some form of mystic contact. She had also come up with a brilliant marketing trick. If you joined the gnome club you were given a small gnome and then every year you renewed your subscription you received a larger and larger gnome by post. Naturally, the young Beach went away with a little plaster cast figure and then lost the kind lady's address.
In an alternative universe where everything proceeded according to God's plan, there is a six-foot gnome of gold presently being run up the hill in a postal van. Perhaps in that parallel universe the Gnome museum has expanded to Ikea-like dimensions and displaced Truro.
In our pissy little version of time and space, meanwhile,  the gnome museum has disappeared. Beach can find no proof that it ever existed. But some gentle musing this morning did get Beach thinking about other strange museums throughout the world and sent him running to his files. The vast majority, he should note, he has never been to: though he would love to visit Leila's Hair Museum if anyone has some airmiles to spare.
Stalin World: Based in Lithuania this vast park specialises in statues of Soviet leaders and particularly Uncle Joe. There are also train carriages from 'vintage' trains: the trains that carried Lithuanians to the gulags or worse fates. And rather strangely – but this is Stalin World – there is a zoo as well. What animals are kept in the Stalin World zoo? Is petting allowed? Unfortunately, Beach cannot answer these questions because he was unable to find an internet page for Grutas Park where statues are kept: likely because of his lack of reach in the Baltic languages. The wikipedia page suggests that it is still open though.
Icelandic Phallic Museum: This is one where the blurb should be enough. 'The Icelandic Phallological Museum is probably the only museum in the world to contain a collection of phallic specimens belonging to all the various types of mammal found in a single country… Phallology is an ancient science which, until recent years, has received very little attention in Iceland, except as a borderline field of study in other academic disciplines such as history, art, psychology, literature and other artistic fields like music and ballet.' Ballet?!
Cheating Museum: A museum that went the way of the gnomes. In Rome in the 1990s university students opened a centre to celebrate different methods of exam cheating. Italy is a country, it must be remembered, where cheating at high schools and universities has been brought up to the level of an art form with no sense of moral fault attached. (Though God help you if you overcook the pasta.) Mrs B spent some time in a seminary as a theology student where, in the New Testament Greek exams, future priests would jostle to sit next to her and copy from her translation, while the teacher looked benevolently on.
 Oradour-sur-Glane: This French town in Limousin was a site of a WW2 massacre and, in commemoration of the 642 people murdered there the town has been left frozen in time, recalling the events of 10 June 1944. Over several nightmare hours the men of the village were machine gunned in barns, the women and children burnt alive in the local church by German occupiers. Photographs show wrecked buildings and a car eternally parked in the village square. Went the Day Well with a snuff ending.
Leila's Hair Museum: Leila appears to be a delightful person. 'When Leila Cohoon tells people she owns a hair museum, they envision old curling irons, hair dyers, and other such tools. However, this is not the case. There are 159 wreaths and over 2,000 pieces of jewelry containing, or made of, human hair dating before 1900… According to Cohoon, 'It could possibly be the only hair museum in the United States, maybe the world'.
HezBollah's Museum: HezBollah decided to open their own museum in 2010 to celebrate (a remarkable) victory over Israel in their war in Lebanon. 'A young boy ducks under a barricade to have his photo taken next to an Israeli tank. A father puts his baby daughter's hand on the trigger of a piece of artillery. A Shiite sheikh, in full religious dress, strolls past a map of 'Occupied Palestine'. Two women silently sob at the site where former Hezbollah leader Abbas al-Musawi, now dead, was said to have prayed.' Essentially the whole site is dedicated to battle spoils and HezBollah paraphernalia. Not a place to wear your kippah.
Beach would be fascinated by any other strange museums (past and present) that are sent his way: particularly ones that have been missed by the internet: drbeachcombing AT yahoo DOT com In the meantime he would like to offer some 'internet museum' sites put together by Invisible on that old obsession of his: fairies.  The Fairy Museum (virtual), the Renaissance Faire Pictorial (mobile), the Leprechaun Museum, and the Japanese Fairy Museum. And here is one virtual museum that Beach found while looking for the gnomes: children should not visit unaccompanied… Thanks Invisible!!
***
3 April 2012: JB writes in 'Dear Beach, my guess is that you are befuddled with old age and that you are thinking of the Gnome Reserve in Devon (rather than in Cornwall). And I quote from their very entertaining website: For a completely unique 100% fun experience, simultaneously 100% ecologically interesting, with an extra 100% wonder and magic mixed in, visit The Gnome Reserve. Set amid truly rural countryside between Bideford and Bude just 7 miles from the Devon Cornwall border. the 4 acre Reserve comprises woodland, stream, 30 yard pond, meadow and garden – home to 1000+ gnomes and pixies, and about 250 labelled species of wild flowers, herbs, grasses and ferns. Gnome hats are loaned free of charge together with fishing rods, so you don't embarrass the gnomes! Take your cameras and embarrass the family with some truly memorable photos for the family album! The children will love it because there is so much for them to discover from a woodpecker in a tree to a pixie flitting over clumps of comfrey. Recommended also for adults whose sophistication can have robbed them of a freshness of vision…The Gnome Reserve will rejuvenate you!'  Thanks JB. I'll do some research, certainly some of these images seem familiar.
4 April 2012: Pam makes the same point:  'Is the gnomereserve the place you're searching for, Dr. B?  They have a Gnome Museum there. I remember driving by it on my way to and from Tintagel.  (The yard was *filled* with gnomic statuary.)  I didn't get a chance to visit the  reserve as I was with two non-gnome/fairy fetishists and they weren't interested.   Since my friends had indulged my Arthur mania, including climbing up to Tintagel Castle, I thought I should leave well enough alone. I also have a vague memory of reading something in Fortean Times about a lady who had a museum and communed with gnomes (or fairies or pixies or…), but a search of their site yielded a big zero in that regard.  Perhaps the gnomes have fogged my memory, or there's some Big Conspiracy to suppress the Truth.  It couldn't be that I have a bad memory.' The gnome reserve still hasn't written back.  Heidi Fury comes up with Marshsfreemuseum  'It's not terribly museumy, but maybe something there will catch your fancy.'  Lehmansterms writes (seconded by Dennis): It's probably not among the oddest of all museums, but it contains some of the more bizarre items in what is a decidedly bizarre museum genre, the Mutter Museum at the University of Pennsylvania's Philadelphia museum/campus has a few of the odder medical marvels Lehmansterms ever saw on public display – and in it's heyday in the 60's he saw and toured, more than once, the Army Medical Museum and Library in Washington D.C.  At one time just across Independence Ave. from the Smithsonian's venerable "castle", it was moved to a far less visible location at the Walter Reed Medical Center (and, I believe, recently closed for good). The Mutter's collection includes, among other items, the shared liver of Chang & Eng – Barnum's original "Siamese Twins", the "Soap Lady" – a saponified Colonial-era corpse unearthed in the 19th century, and an enormous collection of objects removed from the throats of choking victims rescued from the brink of death by the first revolutionary 19th century optical "endoscope"-type looker-grabber device.  There are also a few skeletons of legitimate, non-hoax, physical bones (and not concrete castings or stone carvings) of actual human giants, to refer to a subject evidently of some interest to the good Dr. B. Photos on Google from the Mutter.  A more informative, official website on the Mutter. The old Army Medical Museum –  Lehmansterms also recalls what he found to be an extremely unusual exhibit in another of his original hometown, Philadelphia's museums. Otherwise to be considered unusual only for the vast breadth and wealth of its collections (and for being the largest example of Classical Greek archtecture in the world, including Greece), this is the noted and notable Philadelphia Museum of Art.  In the mid 90's, while on a visit with his 3 daughters and a Swedish exchange student his ex was then hosting, we encountered in a back stairwell a large vitrine full of Victorian-era (lehmansterms believes he recalls) plaster casts of human genetalia.  While the "plaster-casters" were a short-lived phenomenon recording the endowments of some of the more famous musicians of the early Psychedelic rock era – and, lehmansterms supposes, could be considered "Art" in an era in which handicrafters the like of Robert Mapplethorpe, et als, are considered to be artists – these were of a different time altogether, if not of dissimilar substance.' Bennett has more on the phallic museum  Thanks to Lehmansterms, Pam, Bennett and Heidi Fury!!!
7 April 2012: Ervy sends in this classic from Alberta: 'Strange but true, Torrington is the home to the infamous Gopher Hole Museum. This attraction features stuffed gophers (Richardson ground squirrels) posed in a series of 47 anthropomorphic scenes, from a hair dresser to a preacher to an RCMP officer. Located north of Calgary, east of Olds on highway #27. Open daily from 10am to 5pm. Admission $2 for adults.'