Author: Beach Combing | in : Actualite, Contemporary , trackback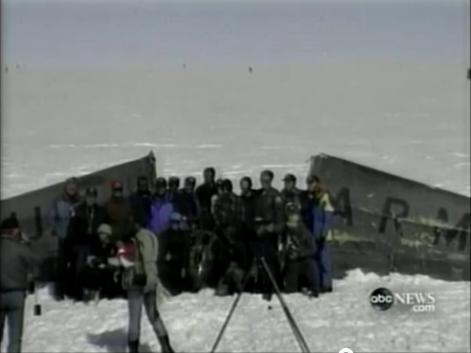 ***Dedicated to Ricardo***
Beach is properly modest about his knowledge of aeronautics – apart from perhaps the prehistory of flight. But he is as moved as the next man to see the spitfire test in First of the Few or (1.37.40)  or, for that matter, Corky sweating in Tales of the Golden Monkey as a zero races out of the sun. And, now, thanks to Ricardo, he has some new images from the annals of aviation archaeology to add to his mental collection.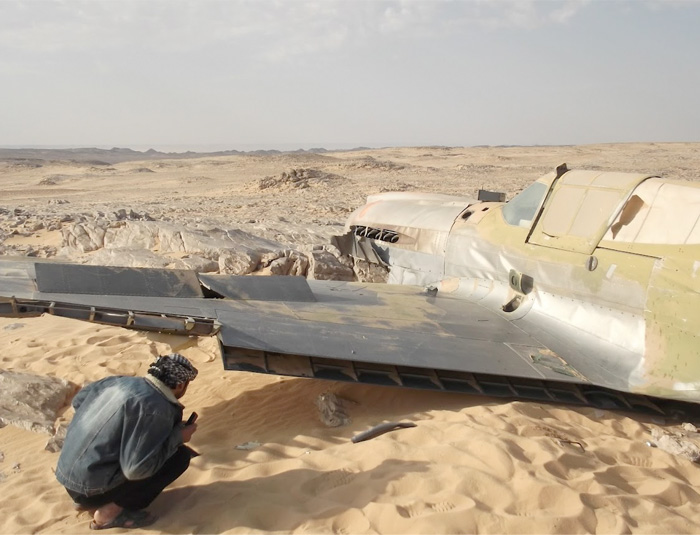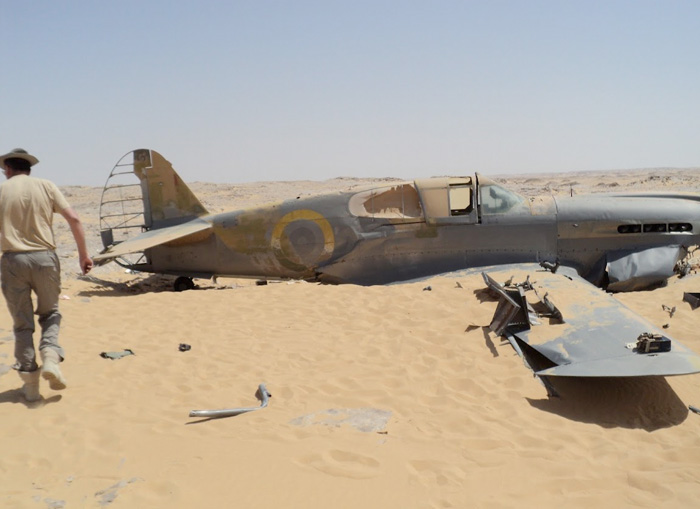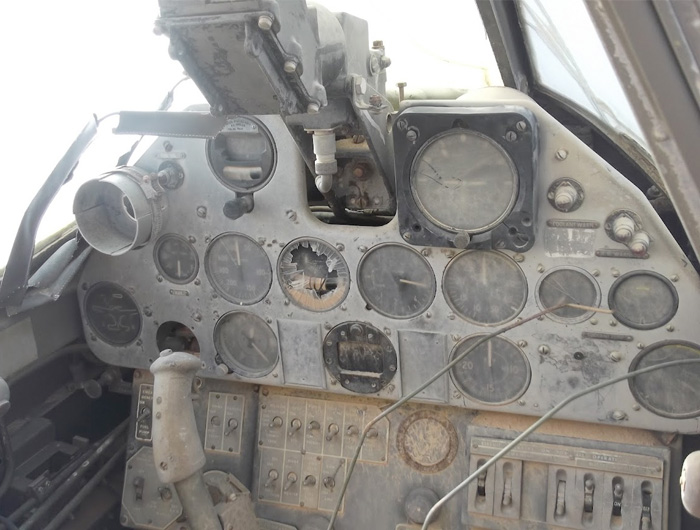 First up are these beautiful shots of a Kittyhawk that was discovered in the Egyptian desert this March (2012). The plane came down in the WW2 apparently being flown to a repair depot (this still has not been confirmed). What the sands of Egypt did to the pilot is not yet known. But there can be no doubt that, after the initial tussle of landing, they treated the plane well. The colours and the cockpit are happily preserved. And looking at them brings back, with frightening immediacy, the desert war and long distance runs over the heads of Eighth Army against Rommel's Afrika Corps.
Another 1942 wreck comes from the far north. In that year, a squadron of eight planes (six P-38s and two B-17 bombers) were forced to land in the desolation of east Greenland en route to Iceland. That all eight planes came down on the ice without a death is in itself a small miracle; that the crew members were taken out of Greenland without life-threatening frost-bite and gangrene is also pretty extraordinary. But what needn't surprise anyone who knows anything about plane nuts is that the plane was retrieved in the 1990s from 250 feet of ice, piece by piece! (see the picture at the head of this post). It was then reconstructed, named Glacier Girl and then finally in 2007 it set off on the the mission it had been sent on 65 years before, attempting to fly to the UK.
Actually it had to end its flight in Newfoundland because of a coolant leak. And Beach can't help thinking that GG just didn't want to go anywhere near that bloody ice massif again.
ù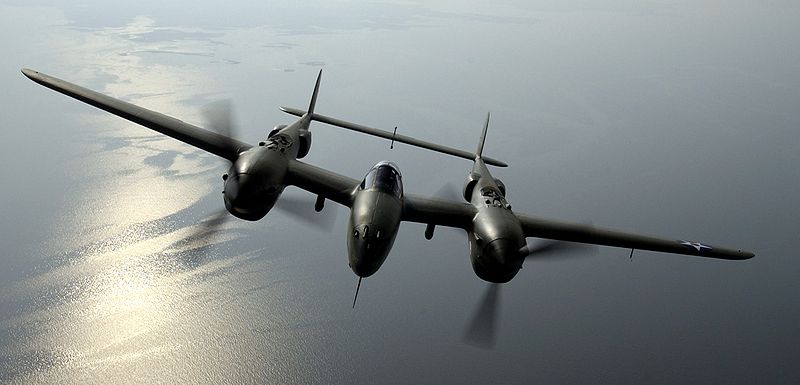 If the desert and tundra are good for preserving planes a league of salt water must be pretty handy too. But Beach hasn't found that many examples of historic underwater plane wrecks. (There is, of course, the horror in these cases that the pilot is almost certainly still sitting hunched over his instruments.) This final picture of a Japanese fighter (1942?) was taken off of Papua New Guinea. Any other well preserved planes, zombie or otherwise? drbeachcombing AT yahoo DOT com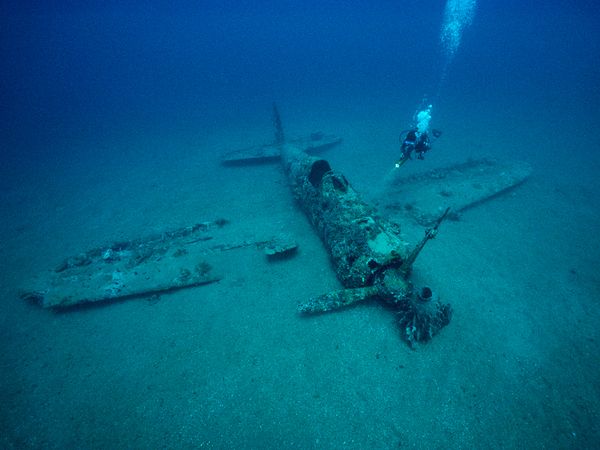 ***
4 May 2012: Southern Man writes in: Beach you forgot one of your earlier posts: the watery grave of Brian Lane. Jonathan Jarret from A Corner confesses: 'you hit on a child's interest of mine with this one [always a good sign!]. Deep water appears to be the thing; the Norwegian fjords have turned up a number of German WWII fighters in the last decade, and this YouTube video and its attached links are quite evocative. (The pilot seems to have got out, don't worry.)   The other place that I wish someone would mount some salvage in is Loch Ryan in south-western Scotland, where there was during the war a flying boat base. At the end of 1946, with the mighty `Flying Porcupine', the Short Sunderland, leaving service as land-based aircraft finally matched its range and warload, the half-squadron of them that remained on the Loch were scuttled rather than waste time scrapping them, and they're still down there. Divers report that they're deep enough that there's very little oxygen in the water and so their preservation is allegedly marvellous. There are some Sunderlands in museums but no flying ones and I for one would put up more than the usual airshow ticket price if one could be got into the air again. I can't find any footage of those, but a similar thing occurred at Pembroke Dock and there there is dive video: The other place that has turned out to be surprisingly good for warbird preservation is Siberia: a fair few little Russian warbirds have made their way west ever since the locals realised that mad Westerners would pay for them in sufficiently good condition. I can't find a good webpage on that process exactly, but if you will take my word for it that this is the story behind this machine. You will see that some of these `zombies', like the Focke Wulf in first link, may well live twice.     Googling for the Siberian stuff, by the way, also brought me this on abandoned fields which seems as if it might catch your attention.' Next up is Wade: 'You may have already seen this, but if not…in recent news, an American has researched and located a dozen to as many as twenty Spitfire Mark XIV planes with the more powerful Rolls Royce Griffon engines, still crated as they were originally shipped to Burma just at the end of WWII. Rather than having them returned to Great Britain, the decision was made to bury them at the Burmese airfield. Tacitus from Debris writes in: Look at this now on display at Chicago OHare and in swell shape.  Remarkable details of preservation, and I like the story of the faux aircraft carriers on Lake Michigan.   Then Invisible: 'You'll find many tales of zombie planes  here including the 20 Spitfires found buried in Burma [see Wade above] and the remains of an RAF pilot discovered with his Spitfire 5 metres under a French farm. Here at the National Museum of the United States Air Force, there is a poignant display, with some parts of the plane, about Lady Be Good, a B-24D Liberator (wikipedia), lost in the Libyan desert during the Second World War. Tragically, the crew thought they were bailing out over the Mediterranean instead of the desert and walked in the wrong direction, not knowing that the plane, with a working radio and some supplies, could have been reached. When found, the plane was incredibly well-preserved. The remains of the crew were not recovered until the 1960s. Thanks to Wade, Tacitus, JJ, Invisible and Southern Man!!
14/May 2011. Judith W (aka Zenobia) writes in: This just appeared, with a wee bit more information and the pilot's name….: You might well also be interested in some of the extraordinary pictures of the Kittyhawk P-40 crashlanded in the Egyptian desert  (via CassandraVivien).  They were taken by Jakub Perka, the Polish oil worker who discovered the plane.  Sadly, that was a month ago and the plane is now being stripped of its parts by locals for scrap. While this is obviously a remarkable find, I remember horseriding in the desert many years ago, not quite as far as el-Alamien, and the horse kicking up all sorts of army kit, empty food tins, spent ammunition, an amazing collection all lying under a few centimetres of sand.  I'm sure it's all still there, untarnished by time.' Thanks Judith!