Author: Beach Combing | in : Medieval, Modern , trackback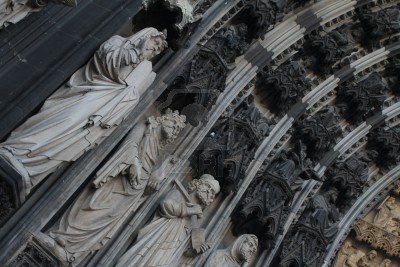 A week ago now Beach mentioned the Devon folklorist Miss Theo Brown, a great talent who published in the 1960s. He was particularly interested to read yesterday an article of hers on the effect that the reformation had on religious life and folklore in the West Country in Britain. As 'the old religion' Catholicism, got driven underground, the faithful began to integrate their old beliefs around the fringes of their new Protestantism. One aspect of this was the way that statues of the Catholic saints became magical as they ceased to be revered by the men with dog collars.
Erasmus had already referred to something similar in the Praise of Folly. Indeed, he talks of 'strange creatures who cling to superstitions that, though foolish, makes them happy. If they have been lucky enough to see a wooden statue or some other image of their Polyphemus, St Christopher, they believe they are safe from mortal danger on that day.' But this is as nothing to one story from nineteenth-century Cornwall. Beach has previously warned those of weak hearts not to read certain decapitation posts. Anyone who loves British cathedrals might do worse at this point than toddle downstairs for a cup of horlicks and not come back upstairs till its nightfall.
Still here? Well, you've been warned.
…a Teignmouth doctor was in attendance on a poor woman who suffered from an extensive sore on her breast. One day he discovered the area covered with some gritty substance. Under the bed was a lump of stone, called by the woman's husband, 'Peter's Stone'. It emerged that as the woman not showing any sign of improvement, the neighbours had persuaded the man to go by night to Exeter Cathedral – walking fourteen or fifteen miles each way – to throw a stone up at the great image-screen [this is where it starts to get painful] on the West Front until he managed to break off a piece of one of the statues [!!!], which he carried back to Teignmouth, pounded a bit of it, mixed it with lard and applied to his wife's chest.
And they blame birds, time and acid rain for the destruction of our cathedral fronts. Other good statue stories would be most welcome, Afghanistan to Zambia: drbeachcombing AT yahoo DOT com