Author: Beach Combing | in : Modern , trackback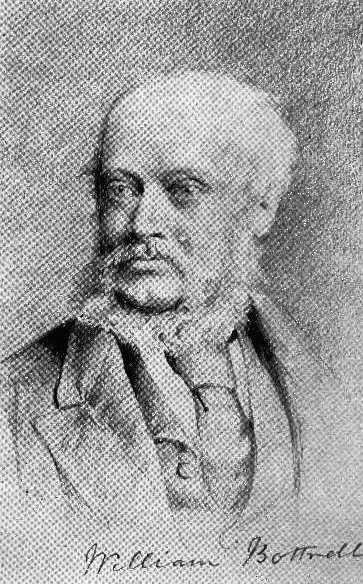 The year is 1881 and Willam Bottrell has just passed away after a horrific final illness: he lay paralysed in bed for the last year, his mind as fine as ever, his body drying up. Bottrell, for those many who don't know, was a hero perhaps the hero of Cornish folklore studies because despite having a shitty  life, he fought on through deaths and disappointments and salvaged from the wreck of time three books on Cornish folklore, just as those tales and drolls were melting away like ice-cubes thrown on the lawn on an August day. The author of this piece describes a quiet funeral but then imagines the swarms of imaginary creatures that Bottrell had immortalised coming to pay tribute. It is a beautiful passage – the most beautiful obituary Beach has ever read? – and we wonder whether a London journalist would have had the courage to write it in the 1880s.
The friends who followed him [to the cemetery] were few but sincere. If only those whom his memory or imagination, or a commingling of both, created for Cornishmen and Cornwall-loving people could but have borne him to his peaceful rest, what a throng we should have had! The giants of our cairns and castles – from seven-leagued Bolster of St Agnes to huge but gentle Denbras of Towednack, from the playful monsters of Carn Galver to the double-jointed and six-fingered heroes of Trink and Trecrobben – would be there, with moans which would reach the ear of Tregeagle of Gwenvor and be re-echoed from Whitesand Bay. The knackers from the depths of the mine and the piskies and all tribes of small people from ferny dell and furzy croft; ghosts and goblins from haunted chambers he has told us of; Trewoofe Levelis and Treen Pans, pellars and charmers, white witches and droll-tellers, demon masons and gossiping tinners; Bet of the Mill (with her silent crowde) and Duffy Trenance (of mincing gait); fair Nancy Trenoweth of Ailsia Mill, her pretty cheeks tear-bedewed and the strong man of Escols, with bent head; staid Uncle Billy and sprightly Bobby Griglans; free traders of Long Rock, privateers of Buryan and pirates of Pengersee; Uter Bosence and Pee Tregear; buccas innumerable and piskey-led travellers; Honney Chygwens, the mayor of Market Jew, who if any mourners quarrelled would make them drink it out, or fight it out or take the basting of his tough blackthorn – what a long procession of diversified Cornish characters, the whole brought up by the immortal Betty Toddy, with crape over the gown which displayed portraits of all the animals that ever entered the ark and of many that didn't.
The only parallel Beach could think of is a Woody Allen film (Deconstructing Joe?) where the bespectacled one, after alienating everyone in his life, is invited to a party by all his literary creations: how sterile is that? Beach, btw, is very curious about 'the Old Celt', Willam Bottrell, who has not even a Wikipedia page to his name, the ultimate insult for a nineteenth-century writer. Any information would be gratefully received: drbeachcombing AT yahoo DOT com Anyone who wants to read more, this is the best Bottrell site on the web.