Author: Beach Combing | in : Modern , trackback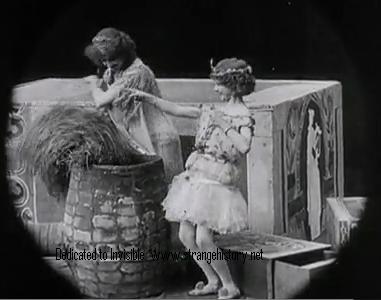 Fairies and silent films… Who would have guessed that our great great grandparents troubled to make shorts about the winged folk? But they did and some are really quite beautiful. The first one that we stumbled upon was Princess Nicotine (aka The Smoke Fairy), a classic of its kind. A smoker falls asleep and then two fairies play with his pipe, one hiding within it and suprising him when he tries to have a smoke. The fairies then retreat into the cigar box and other fey take their place and lots of hocus pocus follows. There are two ways to look at this film. One would be to get all serious about Freudian symbolism before Freud had published most of his major works. The second and the preferable one is to put this down to whimsical games with sizes. The fairies are small, the smoker big. The illusion is the kind of thing that would have set our great great grandparents on fire – a bit like the fairy under the smoker's match. It is difficult to think of any technology that could do that now, though Toy Story was pretty impressive when it came out.
Other fairy stories in the silent medium include The Realm of Fairies (Le Royaume de Fées) from 1903 which has perhaps the first fairies in cinema history. Four fairy godmothers appear on the scene with what look like fascist salutes, thirty odd years before those became associated with Rome and Berlin. Watch out too for the queen of mermaids in the second part. Then there is the Fairy and the Faune (1908) : Beach liked the music best which probably isn't the point (silent films after all). In this piece particularly we do though seem to see the last traces of the nineteenth-century tradition of fairies in the theatre (another post another day). It is exciting to see that tradition captured, however, briefly, on celluloid. Otherwise all we have are occasional etchings from the London Evening News and the excited accounts of squirearchy hicks up in the capital for the day.  Sunsets over Tower Hill, Oscar Wilde walking in Hyde Park, and Princess Mignonette at Lester's Fairy Circus…
We failed to find – can anyone help, drbeachcombing AT yahoo DOT com – La fée Printemps (Fairy Spring 1904), The Fairy and the Waif (1915), The Fairy Godfather (1913), The Fiance and the Fairy (1913), The Elf King (1908), Gift of the Fairies (1913). There was clearly a little industry going on here. Lost worlds…
Also anyone who has read this far and who finds fairies interesting might want to click on this bit of delirium with thanks to Wade and Invisible. Thanks also to Invisible for The Faune!