Author: Beach Combing | in : Modern , trackback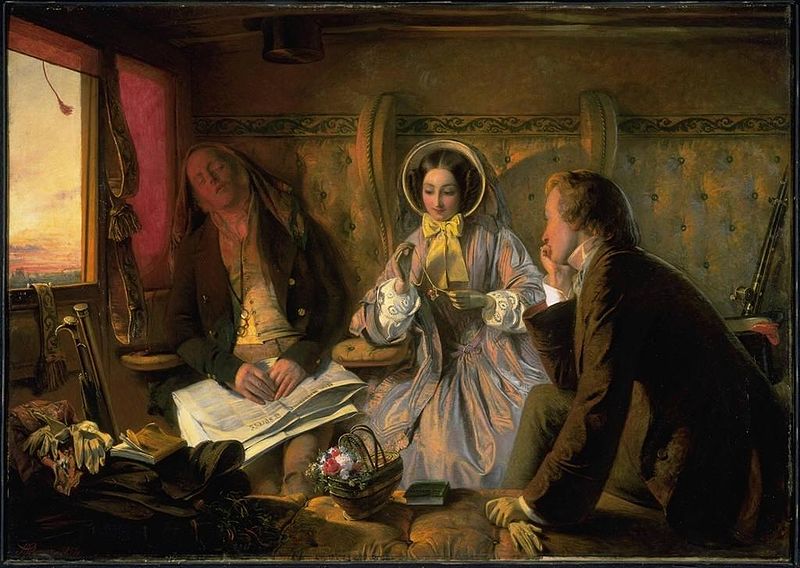 Beachcombing has a dear aged friend who left her native country and came to live in the UK in the late 1930s. On her first day in the capital she, then a fresh-faced beautiful woman, climbed onto a train at Waterloo (follow the link for the best Churchill story of them all) and settled down in a carriage opposite a young man. The young man who was in his very late teens, looked at her horrified and then, without a second glance, fled from the carriage. What was the problem, she asked herself, checking her face in a small mirror she carried? The problem, of course, was that Beach's friend had placed herself outside the bounds of late Edwardian propriety. She had sat in the carriage ALONE with a member of the opposite sex and the young cockney had known that if things finished badly it would be his head on the block.
Victorians were even more worried about unaccompanied young women finding themselves  with young men and the train was, in this respect, a nightmare. After all, if you, an unmarried girl, travelled first class then you might very well find yourself on your own, and then what would you do when a young man walked in. What indeed? You might exchange pleasantries. You might talk about Carlyle and Tennyson. And more to the point you might smoke opium! You might throw your petticoats around your head and rut like magnificent wild deer!  
If this seems all a little too much then consider the reaction when Abraham Solomon's painting The Meeting. And at First Meeting Loved (above) was unleashed on an unsuspecting public in 1854. It was greeted with praise for its art but concern over its morals. Even Punch found it a little risque…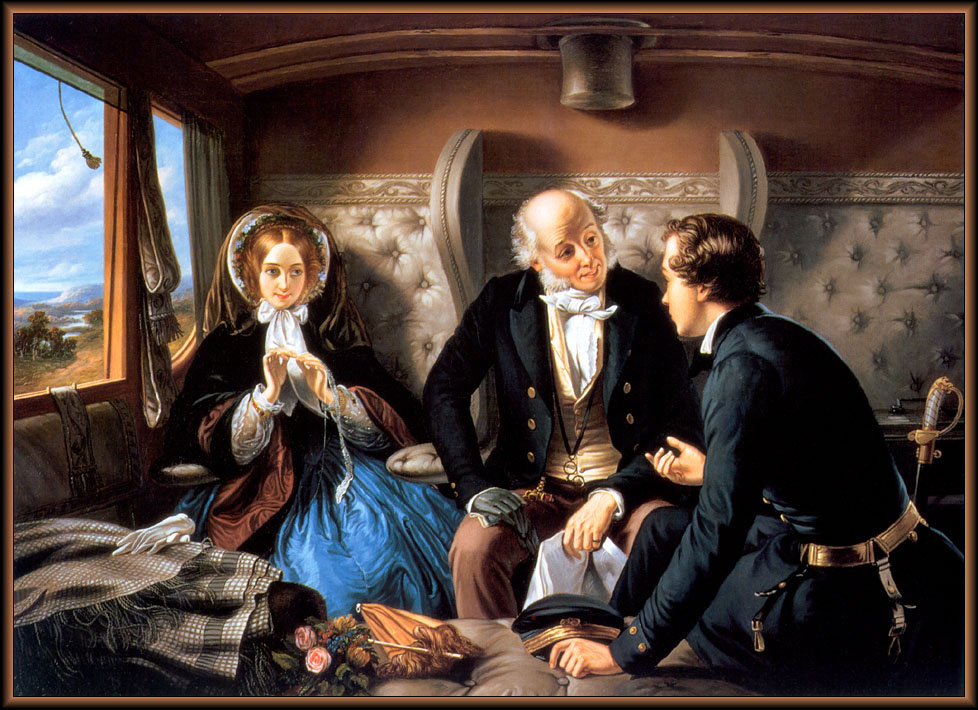 Solomon had been careful to show that the woman was accompanied, only that her father had fallen asleep: there is no pleasanter thing to do on a train. Solomon also included a second painting called 'Second Class' (not included here) showing that the whole thing ended in tears: there was a serves-you-right quality to it. But fascinated by the mixed reaction to what is, in many ways , an exceptional work Solomon brought out a second edition, the year after. This time the young man is dressed as a naval officer – in his country's senior service – and he is speaking not to the girl, God forbid, but to her father, who this time is animated and didactic: he has the face of someone who bores for Englland.  All this is a reminder that you don't need writing committees and State control to put pressure on an artist: Solomon felt the cold breath coming from the capital and reacted in a sensible fashion. It is ghastly.
Of course, we can laugh at the Victorians. But bad things sometimes happened. In 1875 Valentine Baker, a British war hero and a complete heel tried to kiss a Miss Dickinson in a train carriage near London. The matter ended in the Croydon Assizes and Baker was removed from the British army in a blaze of publicity: petitions and counter petitions flew around, dividing English society. Perhaps the most interesting part of the case though were the judge's closing comments. He noted that  women travelling alone on a train 'do incur a certain risk' and that '[there are] men of by no means weak nerves who dread being shut up in a railway carriage with a young woman'. Poor things. In the years that followed Baker's disgrace, some elderly commuters who feared being misunderstood would smoke cigars, not letting ash fall from the cigar to demonstrate that they had been quite still during alleged attacks and kisses.
And what did women think? Consider this nineteenth-century diary entry of a woman living on the outskirts of Manchester.
The businessmen travelled, of course, in the first-class carriages (…) any wife or daughter who had to travel into Manchester by one of these trains always travelled third; to share a compartment with the 'gentlemen' would have been unthinkable. Indeed the ladies always avoided the business trains if they possibly could. It was highly embarrassing, a sort of indelicacy, to stand on the platform surrounded by a crowd of males who had to be polite but were obviously not in the mood for feminine society.
'[A] sort of indelicacy'! Note that a middle class woman was clearly not at danger from the dirty hands of an Irish navvie travelling in third, but there was 'a sort of indelicacy' in meeting her social equals in a train carriage or on the station before.  Of course, a lower class woman did not enjoy any protection at the hands of a middle class rake: would Baker have got in trouble if he had put his hand on the leg of Miss Dickinson, the butcher's daughter? Here is a passage from the pornographic autobiography of Walter, a mid Victorian predator. His victim has a third-class ticket but ends in a first-class carriage.
[A]t about half past five o'clock got into a first class metropolitan railway going to the north west, where I was going to have a friendly dinner with a man. The carriages were full, in ours but one place was vacant, when just as the train started in rushed a woman and took it. She saw at once that she'd made a mistake, and smiled at no one in particular, looking anxiously, about, and as if she'd never been in such a carriage before. She then looked at every one of us in turn, with an expression on her face of, — 'You know I'm in the wrong carriage and so do I.'… I kept my eyes on her for she was coarsely handsome, was opposite to me, and our knees nearly met. Soon I put foot and knee against hers, and a thrill of desire shot through me directly they touched… She was a well grown, good looking woman about twenty-three years old, of the costermonger class. She looked like one who sold goods from a barrow, or a very small shop. She was commonly but comfortably clad, not warmly enough perhaps for well to do people, but enough so for her class who don't feel cold as we do. She had a vulgar hat — half bonnet — on, yet not a flashy one, and a good, bright, short woolen shawl, over her shoulders… Her hands were discolored with working, a color which would not readily wash off, the color of healthy labor, for she didn't look unclean at all; her nails were quite short and she'd a wedding ring on. I sat looking at her, and she at me at last, till leaning back, purposely I pushed forward both my knees, and touched hers, of which act she took notice, not being accustomed to such refinements.
Ten minutes later and, if memory serves, after an exchange of cash, the two are frantically having sex down an East End alley. Here is another episode (fantasy?) from Walter's life. Look out this time for the disapproving old lady.
Just as the train started Molly and her mother appeared; she put the girl into a third-class carriage. At the first station the train stopped at I got into the carriage with Molly, who opened her eyes wide when she saw me. We were soon in conversation. Molly was going to an aunt's in London who was to meet her at the Terminus. You may guess which way my talk ran. I kept whispering lewd things in her ear. An elderly stern-faced woman got in at a station, fixed her eyes on us, especially on me, and at length said, 'Do you know that young woman?' Her coolness nearly settled me, but I said I did, kept on talking, and was delighted when about two or three stations further on she left with the remark to Molly, 'Take care of yourself my gal, and don't have anything to say to strange men or women.'
Molly should have listened… But things would change. Note that the two girls in this famous Egg picture are far from Britain: they could be heroines in an early E.M.Forster novel. They've earned their freedom.
28 July 2013: Borky writes in: "Solomon brought out a second edition, the year after. This time the young man is dressed as a naval officer" Aye aye Beach you've led an innocent life 'aven't y'u? Note our hero's a sailor with "a girl in every port". Note Pop's attention's on Sailor Boy but Sailor Boy's attention's completely on M'Lady. Note Sailor Boy's perky and very much erect ceremonial sword. Finally note Sailor Boy's hand's pointing an invisible object directly at M'Lady artfully contrived hands almost as if he's saying "Fancy a game of trains?" and she's saying "If I'm to be the tunnel…" You Northerners… so innocent.' Thanks Borky and thanks to Stephen D for a correction to a surname.