Author: Beach Combing | in : Actualite, Contemporary, Modern , trackback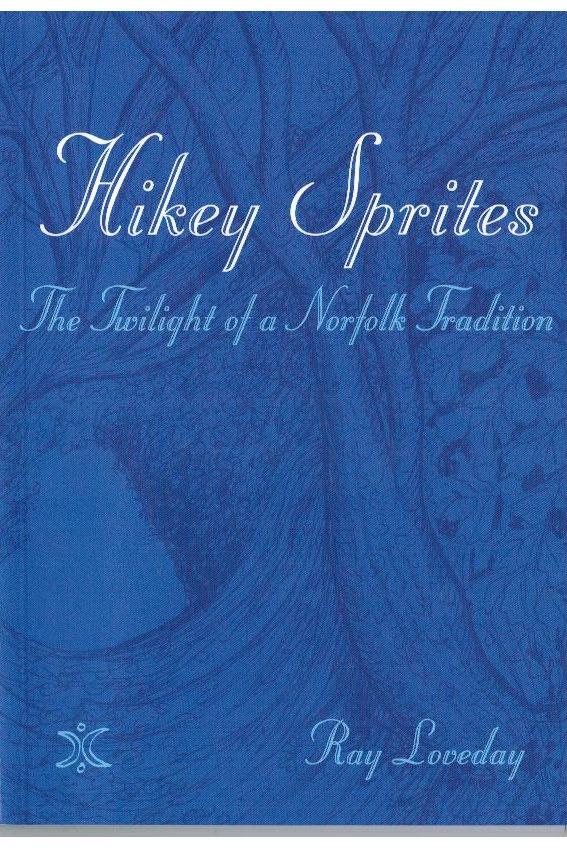 Review of Ray Loveday, The Hikey Sprites: The Twilight of a Norfolk Tradition (Norfolk 2009)
The Hikey Sprites (aka Hyter Sprites) were Norfolk fairies that were summoned up by parents and grandparents to corral children into decency: 'you be good or the Hikeys will get you'; 'get home before dark or the Hikeys will get you' etc etc. Very few people troubled to study the hikeys, in part because the information available was slight, in part because Norfolk, up in deepest, flattest and wettest East Anglia, was and remains one of Britain's most difficult counties for outsiders to penetrate. There were a few mentions in the nineteenth century, in the twentieth century Ruth Tongue (rogue folklorist) hopelessly muddied the water and, in 1984, Folklore published an article about the hikeys, which was well-intentioned and incomplete. Then, as the hikey tradition was shriveling into a raisin, in the 1980s and 1990s and early 2000s, Norfolk looked into itself and summoned from the Fens a hero to bring justice in the last days: 'as heaven and earth were falling', Ray Loveday, rode out of the mist on a marsh pony and his word was law.
Beach has celebrated some pretty unusual fairy writers in the past, not least Evans-Wentz, Morton and the great Marjorie Johnson, whose book Fairy Vision is, btw, now finally moving towards publication. And Ray Loveday quite deserves a place among these greats. In April 2008 RL, a pensioner based in Norwich, began to actively look for information on the Hikeys. Then, in 2009, he published the brief thirty-nine page pamphlet described here, and in 2010, he wrote a small supplement of four pages that has been inserted into Beach's copy. Ray went about the task with a dogged heroism that is never asserted, but that gradually comes out. He wrote to local papers and got letters published. He appeared once on local radio. He set up a stall at a Norwich event ('the Forum') with a picture of a hikey and the question 'do you know about the hikey sprites?' (WtH!!!) There is a reference, at one point, to him being limited in his researches by the public bus route!
Wherever Ray went he asked questions. He would approach men and women and, after gaining, their confidence would slip the hikeys into conversation. He would, then, with great care, record responses. For example, in one of the final sections, there are the memories of seven Norfolk people on the hikeys. Beach won't go into content, but consider how Ray met them. There was: Val (met at Fakenham), Nigel (met at the Royal Norfolk Show), Daphne (met at bus stop in Trowse), Bob (met in the Forum, Norwich), Christine (met in Southrepps), David (met through a newspaper article) and Roland (whose information was supplied through a friend Ann). 'Met at bus stop in Trowse…'  Man shuffles up to lady under purple and black umbrellas and asks as unobstrusively as possible: 'madam, do you know what a hikey sprite is?' There are not many fairy writers who go to these lengths in search of traditions. Beach certainly wouldn't have the courage or the energy. And how many folklorists, paid by the taxpayer, could say that they had 'met [object] at a bus stop'?
The pamphlet might be thought of, by some, as disappointing. It is truly the 'twilight' of a tradition with accounts not of encounters (though there are one and a half), but of parents and other relatives telling their charges about the hikeys. However, that did not detract from the read for this blogger. In fact, it added to the charm because when most traditions get to this level no one is looking. Ray though, to overextend the metaphor begun above, took the hikey raisin and squeezed the very last wine out of it with maps and etymologies and reflections. The book is beautifully put together with evocatively drawn Norfolk woodland scenes. It is also wonderfully written: Ray belonged to that generation of Britons, where 70% learnt to write English that scans when you read it. Beach will give an example that is not typical of the style (it is heightened passage), or even of the content (Ray doesn't strike the reader as a hikey believer), but that stood out and that can perhaps represent the book in this place.
I cannot advise you on how to identify them, not much about their habits, their food, their habitations. Yet for me, at the end of this project, they do feel 'real'. So, at a personal level, I can say there are places in the Norfolk landscape, on heaths where the sun intensifies the scent of gorse bloom, where one gets a glimpse of a shy deer, where lithe birch trees sway in the wind, there I have felt the Hikeys are hiding in the bracken, among the heather. So too, in Autumn woodland when my feet shuffle the dry leaves, the wind swishes in the tree tops and 'plop' marks the fall of an acorn or conker – there they are almost within reach, almost.
Beach is unwilling to put Ray's address online for obvious reasons: ask and it shall be given, drbeachcombing AT yahoo DOT com. However, Ray states that for five pounds he will send the book to anyone: make that eight pounds for anyone outside the UK to cover postage. Beach should say that Ray doesn't do internet, he has no email account, so we ask anyone here who knows anything about the hikeys to send information in and we will make sure that now, or in the future, it will be sent, by post, at our expense, to Ray, for the collation of a second edition (and with your permission put up here). Beach would like to persuade Ray to do an electronic version so this wonderful pamphlet is immortalized (?), but Ray noted in a covering letter that he is tired with the project. God knows, he has a barn full of laurels to rest upon and all Norfolk is in the lane outside with trumpets.
For a Mysterious Britain account of a hikey follow this link.