Author: Beach Combing | in : Modern , trackback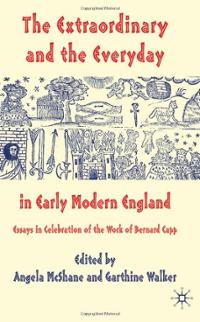 Academia usually shuffles anxiously away from the bizarre, but every so often a historian of note decides to take on something strange – crucifying cats, delusional werewolves… – and produces insights into the past. Imagine, instead, though that a whole soccer team of first-rank historians huddled together and determined to sprint after curious events, instead of taking yet another pass at the decline of the squirearchy or the causes of the First World War. Drum roll, trumpet blast, we welcome onto the stage The Extraordinary and the Everyday in Early Modern England (Palgrave and Macmillan 2010), ed. Angela McShane and Garthine Walker. This book is from an academic publishing house and, perhaps for that reason, seems not to have got the general notice that some of the pieces here deserve. Sceptical? Well, we have essays on cannibalism in Colonial Virginia, on Mother Shipton, on the seventeenth-century gutter press, on  Cornish fairies, on witches in the channel islands and on some buttock eating royalists. The editors seem themselves embarrassed to be presiding over this bacchanalia, but when the apologies die down we can partake of the unbaptised wine and run naked through the undergrowth with them.
Hold on, though, these are academics. Are the essays even vaguely readable? Aren't we just going to be serenaded by a lot of tin-eared wannabes whose idea of English style is learning to spell Derrida correctly? The answer, in brief, is no. The collection was brought together in honour of Bernard Capp (actually the only real disappointment in the book is the lack of a proper biography of the same). And as such we have a goodly part of the aristocracy of the early modern British historical establishment: Keith Thomas, Alexandra Walsham, Angela McShane…  These are the products of a radical tradition that began in Attlee's Britain with Christopher Hill bleating about civil war as revolution; and later saw Keith Thomas attacks on 'conventional history', while unpicking English witchcraft belief with reference to Sub-Saharan African tribal customs. Hill and Thomas may have had some pretty strange historical notions – screw Marxism and yah boo sucks to anthropology – but they were, and it is difficult to say this strongly enough, consummate historians. Forty years later we have the relicts (Thomas is one of the few survivors) and their students who have 'withered into truth'. The ideology, the often tiresome baggage, the political certainties, the bad manners have been almost completely jettisoned. And all that is left are bloody good artisans and craftsmen of the archives and the libraries: the historical equivalent of Venetian glass blowers.
Given the quality of the historians there are, naturally enough, many fine essays in this collection and nothing that could be described as having even a little toe in the lake of generalised twenty-first century mediocrity. But a couple of pieces are particularly worth flagging up. The first is Keith Thomas' 'Bodily Control and Social Unease: The Fart in Seventeenth-Century England'. I know, I know… And yet Thomas somehow manages to say something profound in the twenty pages he gives over to the subject of emissions. Iris Murdoch once opined that we have only to look at our grandparents to see how much humans change and we have only to read the Iliad to see how little. Thomas takes a biological happenstance and, in much the way as Murdoch did, spears the jumping salmon of the human condition: Beach didn't quite have tears in his eyes as he read this, but he had to get up and walk around the room a couple of times. We are and yet we are not those strangely familiar men and women of the past, who are brought closest to us just as they begin to recede. Another very fine essay comes from Alexandra Walsham who promises to be a historian of the stature of Thomas in thirty or forty years, though she still hasn't got the credit she deserves for her early work. (Remember five fruit and veg a day, Alexandra, we want you to make it…) She offers an essay on a well of a Protestant 'saint' who spent much of his time objecting to the paraphernalia of medieval Christianity. You know things like, err, saints and wells.
Beach is always on the look out for bizarre books: drbeachcombing AT yahoo DOT com