Author: Beach Combing | in : Modern, Prehistoric , trackback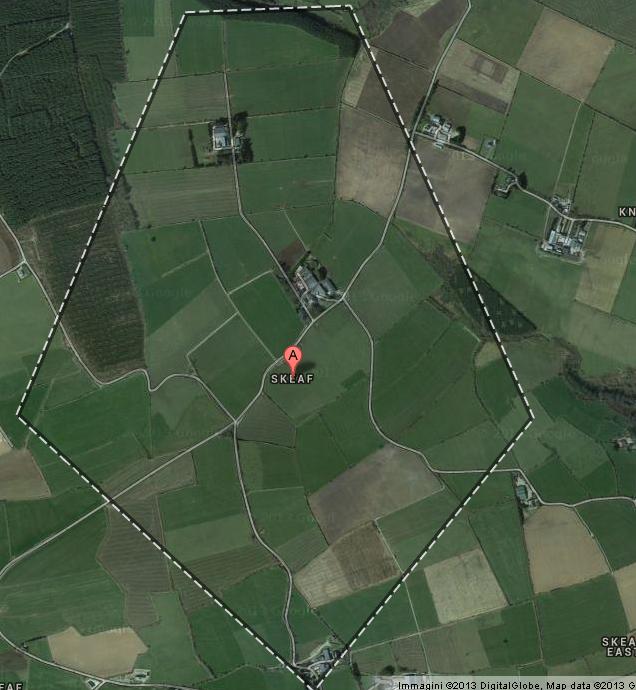 Skeaf is a small townland in County Cork in the wild west of Ireland. Looking for information about this little patch of green on the internet gives almost nothing: there are, for example, no houses for sale in Skeaf and no singles looking for 'hot encounters', no farmers' markets and no entries in Craigs List. But in the late eighteenth and early nineteenth century Skeaf was famous as the place where children were buried. Not just any children, though, but children that were born dead before they could be baptized, that most embarrassing (for Catholic theologians) category of human, in fact: the stillborn.
Among the curiosities of this district is a burying place, at Skeaf, of a round form, in which none but still born children are laid. They are brought here from great distances, and put into graves, at each end of which a large round stone is placed. There is no trace of any building, nor any other account given than that the custom is of immemorial standing. Such places, I believe, are uncommon, but I know another instance of a spot set apart for that purpose [in Co. Cork? drbeachcombing AT yahoo DOT com]. The common people are scrupulously regardful of the purity of sacred ground, into which they will not permit any thing unhallowed to be laid. Self-murderers and unbaptized infants are considered to be of this description, and therefore precluded from the common places of interment.
The medieval Irish were more pragmatic than later 'Rome Rule' priests, who insisted on doctrinal purity. In the Middle Ages, children were on occasion baptized before they were born with the water being shook over their mother's bellies or even immediately that they had exited from the mother, in cases of death or still-birth. The very great injustice that a sinless baby should be consigned to hell or limbo because of malfunctioning genetics or the mother's physiology bothered, of course, everyone who came into contact with the argument. The really interesting question here though is why Skeaf? This townland, which appears to have two houses, really is in the middle of nowhere: perhaps the answer is simply that the middle of nowhere is what parents were looking for. Some peace, and drizzle away from God's ineffable mercy: suffering the children not to come to Him.  Or were the two round stones actually prehistoric monuments with some strange connection to the past? (Thinking of the connection between prehistoric mounds and early modern execution…) It is not clear from the account whether we are dealing with two stones for the cemetery or two stones for each grave. This story remembered Beach of an earlier heartbreaking post on a thirty five centimetre grave from Dark Age Oxfordshire.
29 Nov 2013: Here is Invisible: Your post on the burial-place of still-born children reminded me of a talk (remembered, alas, only in fragments) from a talk on "Paleopathology of Archaic Infants in Abdera, Greece," by Anagnostis Agelarkis given at a 1999 Paleopathology Association conference in Columbus, Ohio. You'll find a link to a broader article on the same site here. 71% of the burials in "Area K" were of infants, mostly very young infants. I don't know if anything new has come to light since I heard the talk, but no specific epidemic or disease could be discovered from the remains. There was also a striking lack of Harris lines and LEH, which indicate stress/trauma to the growing child. I seem to remember that one of the theories given in the talk was that this was a burial ground set aside for babies and still-births, although I can't recall that any reason for this was given. As I say, that was a long time ago and advances in analysing the remains may have solved the question of why such a high percentage of the burials were of babies. Thanks Invisible!
18 Dec 2013: Invisible sends in this article for buried children from across the Atlantic. 'Archaeologists working in the Amazonas region of Peru have discovered 35 sarcophagi belonging to the Chachapoyas culture. Peru21 reports that the find was made this past July with the help of a super long zoom camera. In September, researchers were able to reach the site to confirm the find and discovered that the sarcophagi were only about 70 centimeters tall on average. Researchers believe that the group of sarcophagi may constitute a cemetery in which only children were buried.' Thanks Invisible!