Author: Beach Combing | in : Contemporary , trackback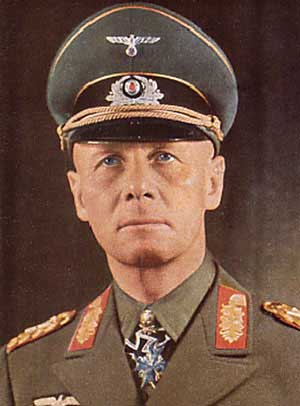 Every so often a reader writes in with a great story told brilliantly where I just cut and paste. Cue the following tale from Michael Dunn. I've put Michael comments/elaboration in italics (tweaking typos etc) and just added a few thoughts of my own in normal text.
This story involves a prominent figure in a totalitarian regime, a motorcycle, and an urban (or at least small town/semi-rural) legend. For years there has been a tradition here in Virginia, centered in the Shenandoah Valley and the mountains to its west, and possibly in parts of Tennessee as well, that in he 1930s (or earlier? before WWII anyway) that the future Field Marshal Rommel took a motorcycle tour of civil war battlefields. In Virginia, this always takes the form of him tracing the 1862 Valley Campaign of Stonewall Jackson. Though I'm sure that I've either seen or been told versions of this in Tennessee as well, Jackson never campaigned there, so perhaps he was studying Grant or Rosecrans or Bragg or Nathan Bedford Forrest. At one time the story was apparently pervasive, with even the detail that the famous Civil War historian Douglas Southall Freeman introduced Rommel to a small gathering of Civil War buffs in Richmond. The motorcycle always seems to figure in the story.
Memories of Mussolini on his bike. But why is the bike needed in the telling?
It's a great story and would be even better if Erwin Rommel had ever set foot in North America. But according to all his biographers, he never did. If there is an epicenter for this apparent legend, though it isn't limited to the place, it is the Highland Inn hotel in Monterey, Virginia. It's a good base for studying Stonewall Jackson's battle at McDowell, and a fine old turn of the last century hostelry. When we stayed there in the early-to-mid-2000s they still had a post on the wall and newspaper clippings (postwar of course) talking about Rommel's tour. Today, however, the Highland Inn ("Pride of the Mountains Since 1904") takes a different approach, relegating the Rommel Story to their "Legends and Ghost Stories" category. Today they say:
However, the guest may have been the German Embassy Military Liaison, Colonel (later Lieutenant General) Friedrich von Boetticher who was known to visit Civil War battle sites with Dr. Douglas Southall Freeman.  The Rommel story appears in L. B. Taylor, Jr.'s "The Ghosts of Virginia" Volume III.  It has been determined by the Virginia Military Institute and Rommel's biographers and researchers that he was never in the United States, but questions remain unanswered.  Who was the German officer that was here secretly in the 1930's that interviewed Dr. Verity Carter?  More important, who is the source of the pipe smoke that guests still occasionally smell on the Inn's balcony?'
Michael adds here the reasonable question: 'Does anyone know if von Boetticher had a motorcycle? If he toured the sites with Dr. Douglas Southall Freeman, Virginia Gentleman of the old school, biographer of Lee and Lee's Lieutenants, Editor of the Richmond newspaper, etc., this requires me to try to imagine Dr. Freeman as a biker. I cannot.'
I'm out of my depth but this story needs an open post on the www: there is already a 1986 novel Rommel and the Rebel by Lawrence Wells describing the fictional trip so why not a myth-busting series of comments. Can anyone contribute to the origins of the legend or will I have to call in snopes? As all legends it has spread because it fulfills a need? Why though do we need the most brilliant German general of WW2 (discuss) rushing around the south on a motorcycle? Also would anyone care to mock up a shot of Rommel on a motorbike? Drbeachcombing AT yahoo DOT com
In writing this I was reminded of De Gaulle and Ike 'visiting' Gettysburg. As the origins of contemporary  warfare the American civil war was fetishized inside and outside the US. Nineteenth century generals from the US visited Waterloo: twentieth century generals from Europe visited the Civil War slaughter grounds. Rommel will certainly have had his opinions on Pickett's charge and Jackson in the valley.
Last thoughts. Did the legend depend on the visit of a now forgotten German officer before WW2? Also apparently Rommel visited the WW1 battlefields in Italy (where he had fought valiantly and effectively) with his wife on a motorbike… Rommel was a keen motorbike rider in his younger years.
28 May 2014: Mike Dash makes the right point here I think 'My 2 cents: I don't think there is too much mystery as to why people in the US might "need the most brilliant German general of WW2" to have been touring Civil War battlefields on his motorbike. It's all about affirmation of the brilliance of American generals. Isn't the implication that Rommel became the most brilliant general by studying the strategies and tactics of Lee and Jackson, Grant and Sherman – and that he wouldn't have been quite so great if he hadn't done so? All of this might well be tied up with the messy realities of what actually happened in the war, when unblooded British, Canadian and American divisions not infrequently received severe maulings from their far more battle-hardened German opposite numbers, who were frequently quite scathing about their qualities (and especially about the qualities of their generals). We don't like to think of it this way, of course, and – of course – the quality of Allied units certainly did improve over time. But the reality is the WW2 was won, on the western front, more by numbers, supplies and air superiority than by great generalship and superior fighting men. As for why Rommel, rather than Keitel, Jodl, Manstein and the rest… that's not so puzzling, either. He was a good German ("they were allowed two," as someone whose name I can't remember observed of the Wehrmacht) – the one we could respect as a soldier, because he was never a Nazi and died trying to put paid to Hitler. So it wasn't as though the gentlemen of the Civil War were aiding and abetting genocide.'SM has overlapping thoughts. 'Rommel and Jackson are equivalent figures. They were brilliant men fighting for the wrong cause.' Thanks SM and Mike!