Author: Beach Combing | in : Contemporary , trackback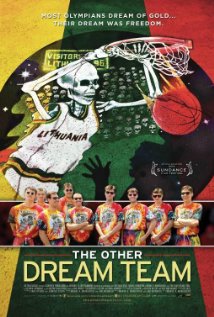 The Other Dream Team is the best history documentary Beach has watched since starting this blog four years ago. As it doesn't seem to have the fame that it deserves here's a shout out: even the almost ahistorical Mrs B. was moved.
Some background. Lithuania is a small Baltic State of three million that has been, again and again, annexed by enemy powers. The most devestating annexation in its history took place in 1940 when the Soviets invaded and murdered free Lithuania. With a short Nazi interlude, Soviet occupation lasted until 1990. One of the great miracles is that the Lithuanians, under one of the most tyrannical and unpleasant regimes yet perpetrated by our species, managed to retain a strong sense of national identity. And what is even more extraordinary they expressed this sense of identity through basketball…
The Other Dream Team does not do a very good job of explaning why a small Baltic nation produced generation after generation of such outstanding basket ball players: but the answer seems to be that from before the Second World War basketball was the only game taken seriously there, 'the second religion of the country'. In Soviet times Lithuanian excellence in basketball allowed proxy wars with the Soviet oppressor. In fact, matches between CSKA Moscow (the Red Army's team) and the major Lithuanian team Kauno Žalgiris brought the country to a standstill and when the Lithuanians returned victorious they were greeted as national heroes.
The Other Dream Team gives this setting, mixes in those heady days in 1990 when Lithuania unilaterally and bravely declared independence from 'the Mother Country', and then spins the events of the 1992 Olympics, where Lithuania beat the Russian team for bronze. The film doesn't suffer from any of that pussy-footing westernism that casts the Soviet system as an honest attempt at another version of civilisation with talk of 'convergence' and 'learning from each other'. It gives a sense of the pettiness, the dishonesty, the cowardice, the greyness and the evil of the Soviet Union, even in the 1980s. The scenes of Soviet tanks  in 1990 and the film of dead children should cure anyone of sentimentalism about Lenin's legacy.
Every trailer for the film includes a celebration of the Grateful Dead's unlikely role in Lithuania's resurgence: it is nice story and watch out for the tie-die. But the real motor of the film are those gently humourous Lithuanian players who in the late 1980s and through 1992 found something to be deadly and uncharacteristically serious about.
Interesting history documentaries are actually few and far between: drbeachcombing AT yahoo DOT com Others?