Author: Beach Combing | in : Modern , trackback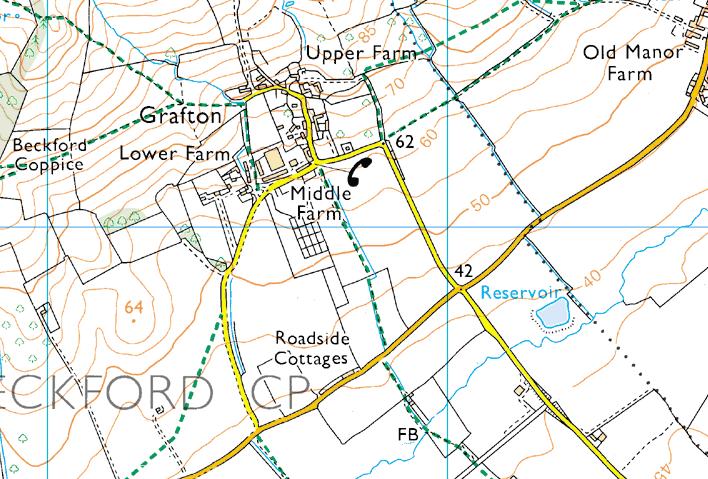 This ghost story is a curiosity, a maverick. It is not that there are not haunted pools or even haunting monks. But no book read by this blogger has ever troubled to put them together and certainly no tradition makes the monk into a nasty piece of work. This is a nineteenth century, which seems to have been largely overlooked.
In the nearby hamlet of Grafton [in Worcestershire] there is a pool of water known as Benedict's pool— a name doubtless given it by a member of this monastic fraternity, or of that which once existed at Beckford. Of this Benedict it is still told by the villagers that he robbed the helpless, was guilty of many terrible misdeeds, and that in a contrite mood he threw both his ill-gotten gains and himself into the deep and bottomless pool, from which the body was never recovered, and as a fact the pool after the lapse of many centuries still bears his name.
Beach would be tempted to call the 'reservoir' on the map Benedict's pool. But reservoir doesn't sound very monastic. In any case, Benedict survived himself, though that name is in itself worryingly generic.
The awesome story of to-day is that Benedict's perturbed spirit walked and was frequently seen by the affrighted country folk. In the course of time the pool became filled up with earth and weeds and many efforts to cleanse it always failed. It is still affirmed that whenever the men attempted the task, extraordinary spiritualistic manifestations took place at an adjacent mansion built on the site of the Monastery. The pictures, china and furniture invariably fell from their places and were damaged or destroyed. Other unpleasant mystic incidents occurred, and finally the assistance of Holy Church was invoked, and after much deliberation twelve priests bearing twelve lighted candles proceeded in stately procession to the haunted pool, where after solemn ceremony Benedict's restless spirit was duly layed, the buried wealth recovered and restored to the people from whom it was taken, and all that remains of the robber monk is the tradition — still fresh in the minds of the old inhabitants of the district — and the dank and withy-darkened ditch still known as Benedict's pool.
There is perhaps a monograph to be written on ghosts, bogies, UFOs and water. There are a lot of them. The laying here, meanwhile, sounds more like a boggart laying in the north than an attempt to get rid of a troublesome ghost. Not a place anyone should go on a dark stormy night. Anything more on Benedict of Beckford: drbeachcombing AT yahoo DOT com
The source for this story was the Cheltenham Looker On, 6 Aug 1910, p. 17.
30 Dec 2014 Southern Man writes in with an 1884 OS map including all local pools, he asks me to note that the 'reservoir' is not there. One of these was presumably the pool in question. If you haven't the patience to click and enlarge there are four in the township, one to the north and one to the south. None are named…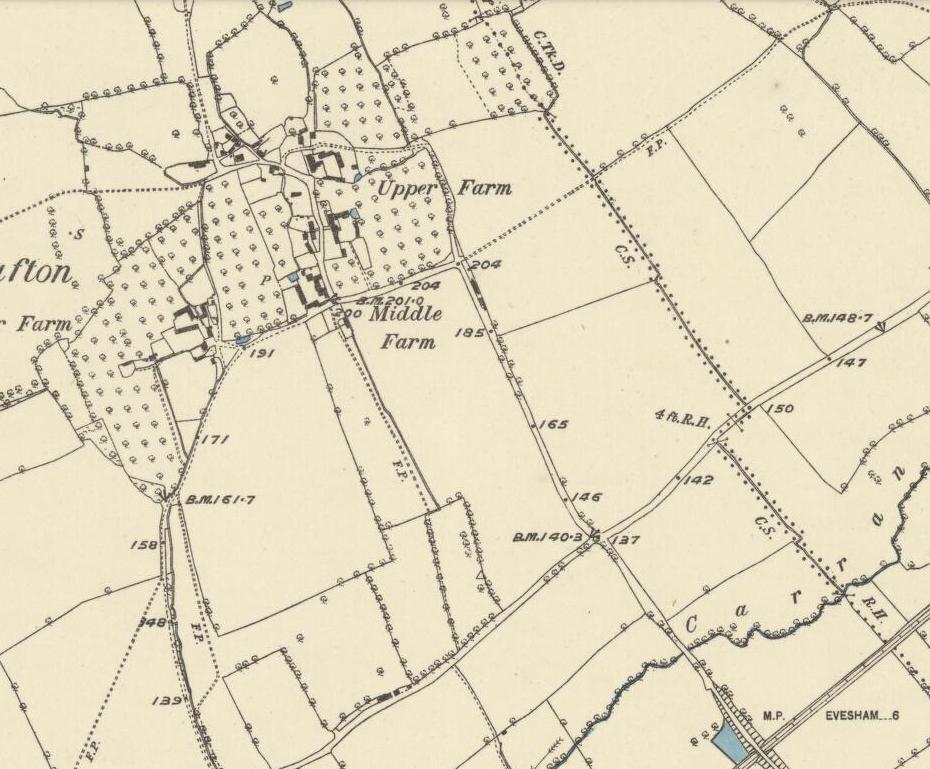 30 Dec 2014: NH also has a couple of possible sources:  The only references I have found are to this book,  from Benedict's Pool by Fred Archer, blurb for which says; "Behind the monastery at the foot of Bredon Hill, enclosed by two copices, lies Benedict's Pool. Few villagers fish from the dark pond, nor will they visit it on moonlit nights, for it is said to be haunted by a mysterious lady in white." Sounds like codswallop to me. I think I have a source for Benedict – not a common name in England. That wonderful resource VCH on BHO has an entry for the parish which mentions two landowners called Benedict in the seventeenth century.  The pool created/owned by Benedict seems a likely explanation.  It also makes the evil monk Benedict much less likely – if the pool was named after him, at the latest by 1399, and the story survived into the seventeenth century the two families who named their sons Benedict much have been unusually insensitive even for English landowners!
5 Jan 2014:  Ray G, an old and dear friend of this blog, writes:  I do have a comparable evil monk for you: Robert de Middlecote, from around these parts, who is supposed to have murdered people and thrown both them and his gains down a holy well (brief details here ). This story dates from the 1300s, but it was popularised in the 19th century poem by RD Barham, The Monk of Haldon: