Author: Beach Combing | in : Modern , trackback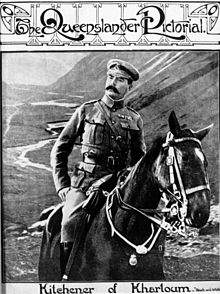 The claim that Lord Kitchener had survived death seems to have been well established by December 1916. By 1917 the story rumbled through the spring and summer building up a head of steam until it quite unexpectedly entered the real world. In early September 1917 Lloyds opened an insurance policy, really a bet, that Kitchener was still alive. What is fascinating is how many people took a flutter.
Lloyd's underwriters' acceptance last week of a Liverpool gentleman's insurance for £10,000 at 5s per cent, on Lord Kitchener being alive on August 31, 1917, the onus of proof to rest on the assured, has had a remarkable sequel, which seems to show the readiness to gamble on almost any pretext however serious. Messrs. Letton, Perceval and Company, marine and insurance brokers, Queen Insurance-buildings, 10, Dale-street, Liverpool, who placed this order with their London brokers, have since received inquiries for considerably over a quarter a million more, and have sent forward for acceptance the London brokers orders for just over £50,000 the 1 same rate of 5s per cent. £25,400 of this already been definitely accepted by the underwriters and intimation that the remainder has been placed at the same rate is expected any moment. The premiums received by the Liverpool brokers to this £50,000 are roughly, £130 and are spread over amounts from 5s, to realise £100, to £25, to realise £10,000. The parties seeking this insurance come from places as far north Fifeshire, as far south as Torquay, and as far west as Waterford, Ireland. They include several local ladies and gentlemen, and comprise captains in the Army and the Navy troopers, professional men and men in humble stations who put forward small premiums. But in no case do they vouchsafe any information regarding their reasons believing that Lord Kitchener is still alive.
There is a lovely coda.
One lady, solicitous for Messrs. Letton and Percival's interest, has written to the firm that she overheard a conversation on the top tramcar between two men who expressed themselves certain Lord Kitchener was still alive: and she concludes her letter with the advice. 'Don't do too much; I'm sure you will have to pay.' It is reported last evening that Lloyds have decided not accept any more 'risks'.
Other Kitchener survival nonsense: drbeachcombing AT yahoo DOT com