Author: Beach Combing | in : Modern , trackback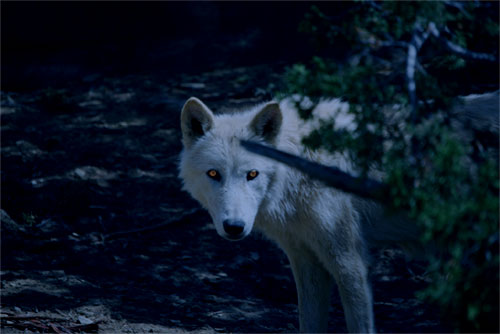 Beach has been messing around with wolves this week and he ran across this reference in relation to the wolf deaths in Dauphiné in the mid eighteenth century. The priest of Primarette wrote a summary of local attitudes to these killings. Enjoy the following: apart obviously from the fact that three kids had been devoured.
Carnivorous wolves  have devoured three children in Primarette. We think they are certainly deer-wolves; and the rabble maintains that they are werewolves authorized by the priests to give their prey to the glass factories. Nothing can erase this stupidity.

Les loups carnassiers ont dévoré trois enfants dans Primarette. On croit plus probablement que c'étaient des loups cerviers, et le vulgaire soutient que ce sont des loups garous à qui les cures donnent permission de faire semblable chasse pour fournir aux verreries. Rien n'est capable de leur tuer cette sotte crédulité.
The text is taken from Julien Alleau and John D. C. Linnell 'The Story of a Man Eating Beast', in A Fairytale in Question: Historical interactions  Between Humans and Wolves (White Horse Press 2015): a cheap and fascinating book from a press with integrity.
The authors have done their best with this. The glass factories date back at  least to the fourteenth century and were based in the forests because they needed firewood, but also where wolves ran. The glass factories were owned by the nobility and restricted peasant rights. It is easy to see how this series of details could lead to some unfortunate associations. But how do we get to priests sponsoring werewolves (why does this ring a bell?) to give dead children to a local industrial complex? For a start why? Alleau and Linnell write (without giving a source) that 'The belief was that human fat was being used in the glass production process.' Beach has come across other examples of human fat being used in industrial processes including the notorious fat factories of WW1 and the French revolution; and the fat on telegraph wires from Spain. Can anyone give any other human fat stories: drbeachcombing At yahoo DOT com
PS Just reading this again, thinking what three children's deaths by wolf pack would do to a village of, say, four hundred. It would have been hysteria.
RoL, 10 Aug 2017:
From what I can see the first person to note the reference was Bordier, A. (1895, Dec) L'état social en Dauphiné avant la Révolution, Bulletins de la Société dauphinoise d'ethnologie et d'anthropologie, 1(3), 197-215 (infra: 214-215)
His source was "Vincendon, instituteur".
There is an article online by Abry and Joisten from 1998
"En commençant par l'hypertrophie du phénomène, voici brièvement résumé ce que nous allons appeler dorénavant, pour fixer les idées, le complexe de Primarette, soit une explication sociale endémique de la peur sur la longue durée, avec au moins le XVIIe siècle pour terminus a quo (cf. infra, les indices d'une situation que Vital Chomel perçoit dès le XVe), jusqu'aux années 80 de notre XXe siècle."
(note here a ref. to pishtaco: Lisa Maccari, spoke of this for a contemporary apparition in the first number of Query)
The passage on the "Verre de Chambarand" should be in: Gaspard, Félix & Piollat, A. (1889). Recherches historiques sur les communes du canton de St-Jean-de-Bournay, en Dauphiné. Vienne: E.-J. Savigné, pp. 89-101. But this doesn't appear to be online.
These articles would be interesting. Joisten, Charles, Chanaud, Robert & Joisten, Alice (1992). Les loups-garous en Savoie et Dauphiné. Le monde alpin et rhodanien ?(1-4), pp. 17-182
Also note the volume Etres fantastiques dans les Alpes that looks like it would be interesting Moyroud, Raymond (2002, 1er-3° trim.)
Loups et loups-garous autour des verreries en Bas-Dauphiné sous l'Ancien Régime Le Monde alpin et rhodanien 30(1-3), 125-134, 280-281
This appears in a volume: Le Fait du loup: de la peur à la passion, le renversement d'une image Edited by a contemporary legend specialist V. Campion-Vincent (who had already spoken of the legend of wolves and glass here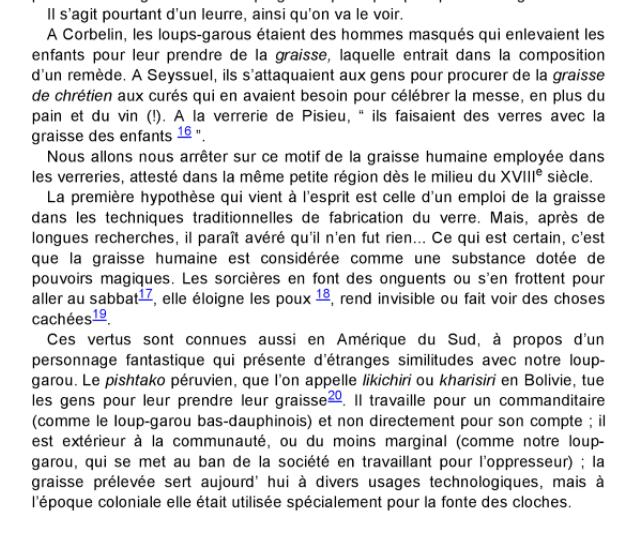 Here is the abstract of the last article.
C'est à l'occasion de recherches sur la fabrication du verre et le monde verrier en Bas-Dauphiné, que le problème du loup et du loup-garou a été mis en évidence et évoqué oralement par des personnes habitant à proximité des anciens sites de production. La tradition orale a été recueillie précieusement et confrontée à des textes qui signalent, eux aussi, le phénomène ; ces seconds témoignages venant en quelque sorte étayer les premiers. Il semble donc, après plus d'une vingtaine d'années d'investigations, que la hantise du loup prédateur et carnassier, et du loup-garou légendaire, a été utilisée par les verriers pour éloigner les indésirables de leurs ateliers, afin de protéger leurs secrets de fabrication. Parmi les textes figure celui du curé de Primarette, petite communauté villageoise qui abrite plusieurs verreries. Ce prêtre, mis en cause par ses paroissiens au sujet du loup-garou, confie ses sentiments à son registre proissial, et se singularise en illustrant de têtes de loups les décès d'enfants emportés par les loups. Un autre texte important est celui qui émane de dix communautés proches de la puissante abbaye de Saint-Antoine. Réunies à l'appel du syndic de l'abbaye afin d'entériner le projet de construction d'une verrerie sur le territoire de la paroisse de Dionay, trois d'entre elles s'opposent à son édification en raison, entre autres, des frayeurs que causera le loup-garou. Si, dans tous les cas, les doléances des populations ne sont pas prises en compte, elles ont pourtant permis de créer un climat social favorable au sein des communautés puisque les habitants s'organisent mais aussi s'unissent lorsqu'un enfant est emporté par le loup. Enfin, ces différents témoignages soulignent la vie rude et parfois difficile que