Author: Beach Combing | in : Modern , trackback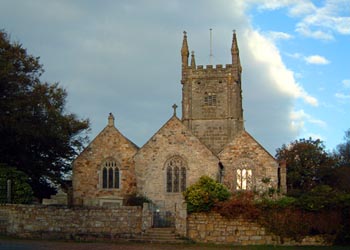 Here is a nice ghost riot story from deepest darkest Cornwall, at Ludgvan near Penzance. This is a rather rare, though not entirely unprecedented thing, a rural ghost riot. Note also that this is a memory: interestingly the great Ludgvan ghost riot of c. 1820 or c. 1830 didn't make it into the press.
My first acknowledgment [of ghosts] dates from Ludgvan. and occurred in the early part of the present century. There may be some persons still living who can remember the circumstance, with exact time, and other attendant particulars.
Beach has failed to track down any trace.
It caused a great stir in the Peninsula, and the spot was visited by thousands. My father [as a boy], amongst others, left Alverne-lane [today Alverton Street, Penzance, an hour's walk to Ludgvan], one Saturday morning, and the following are his experiences:  The rendezvous [!] was at a farm near the church. It was one of those old-fashioned houses that are still seen scattered here and there in our midst. The dwelling thrown back with a capacious walled garden or yard front. Why a devilish ghost should have hit, or lit, upon such a quiet, well-ordered, and respectable habitation as this was very difficult to explain; therefore, it must be put down to the occult dispensations, or grooves, that ghosts of all shades do mostly delight to revel. The Churchtown presented all the appearance of a fair; Lowerquarter was full to overflowing: doctors, divines, beadles, bailiffs were, with the instincts of a John Chinaman, here and poking there, in the evident pursuit of unearthing the devil with most devilish intent.
This is a Cornish-style fair, then.
Whilst father was looking on in the courtyard a fishwoman of Market-Jew, sidled-up to him and said: 'My dear Mr. &, cust Thee see that barl [barrel] there?' It was a flour barrel, or a hutch. 'Yess, Jinny,' said the listener. 'Well, my dear sar, if thee'st believe me, for living sinner, I saw with my own two very eyes that barl come a daancing out like aw theng possest. Down aw com'd through the hale, hoppen ovar the door-step, down the couance jumping and twesten and twerlen like a theng alive yow! When aw com'd theer, axactiy where ee es now, and I was standen theer, I clapt my two hands upon un like that, (going up to the hutch and imitating the stroke) and said 'Stop! thou devil! Stop!' And, surelie, aw ded stop, theer and then, and nevar budged an ench afterwards, as ef aw was clidged to the floor. Aw aw! my deer, et was a dezmal sight! Now what can ee maake of et?' said the storyteller. My father was serious in his ways, and could only shake his head. He remarked a wide confusion about.
The dialect is just about readable. The barrel came bouncing and dancing and Jinny ordered it to stop, by calling it a devil. The father has one last lovely memory of that day.
In and out everything moveable was in a transport of uncertainty, resembling something between a fire, removal, or action for debt.
Other ghost riots: drbeachcombing At yahoo DOT com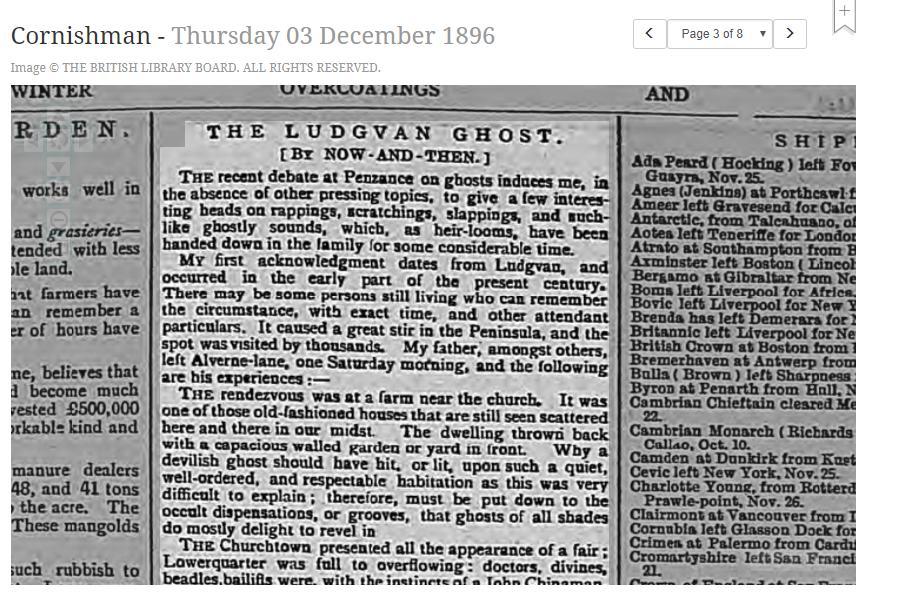 R. Labante, 29 Aug 2017, came up with remarkable list of what was possibly the original event. Hat tip to Roberto.
I wonder if it is the same event related in some attached newspaper articles (I've not properly searched: this is only the result of an hour of light browsing)
– Royal Cornwall Gazette, April 10, 1830, p. 3 (first column, barely readable)
– Durham County Advertiser, April 17, 1830, p. 2
– Hampshire Advertiser, April 17, 1830, p. 2
– Freeman's Journal [Dublin], April 17, 1830, p. 4 (citing as source Falmouth Packet)
– Taunton Courier, and Western Advertiser, April 21, 1830, p. 5 (important piece)
– Brighton Gazette, April 22, 1830, p. 4 (citing as source Falmouth Packet and adding "Intellect does not seem to have marched far in Cornwall)
– Worcester Journal, April 22, 1830, p. 2 (with the "title" "Juvenile Witch!" (!))
– Worcester Herald, April 24, 1830, p. 4 (as above…)
– Staffordshire Advertiser, April 24, 1830, p. 3 (the same title)
– Dorset County Chronicle, December 2, 1830, p. 3  (interesting: "Lugdvan Ghost Revived", citing West Briton as source)
– 
Saunder's News-Letter, April 3, 1830, p. 2 ​
(source Falmouth Packet)​
– Hull Packet, April 6, 1830, p. 4
(source Falmouth Packet)​
with the begin of the story. The Falmouth Packet here and above should be the
Royal Cornwall Gazette, Falmouth Packet & Plymouth Journal
​ but I haven't yet found the time to check page to page that newspaper (with OCR came up only the article of April 10, in the last e-mail)​
– Thomas Hardy, here:

Ludgvan Ghost in the Taunton Courier