Author: Beach Combing | in : Ancient , trackback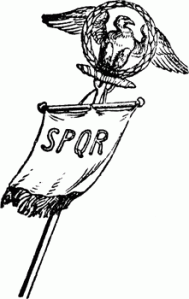 Ahhh… Beachcombing comes running back to the classics, diving into their sparkling clean waters – leaving his rather dirty mark on those tranquil, traced surfaces.
Now Roman Eagles. Each legion had one carried by the aquilifer. The troops would defend their eagle to the death – and if eagles were ever lost then the Empire and neighbouring countries were turned upside looking for them. So after Varus misplaced three legions and their eagles in 9 AD, the Roman general Germanicus was sent into Free Germany to track them down: he got two back… But the modern study of the eagles has been hamstrung by the simple fact that not a single one of these precious birds made it through to the modern world.
Or perhaps one did…
Beachcombing stumbled on the following gem: the article comes from the British newspaper the News Chronicle, 16 Sept, 1958 and Beachcombing implores his readers do what they can to retrieve what may be the only surviving Roman Eagle.
The American's Roman Eagle

'Two Thousand American airmen were asked yesterday: 'Have you bought a metal eagle from a boy in Colchester?

Experts believe that the eagle is a bronze emblem broken off a Roman legion's standard two thousand years ago, and is of great value.

An American bought it for half a crown.

The curator at Colchester and Essex Museum, Mr M. R. Hull said last night that the boy found the eagle in Sheepen Field, off the Colchester by-pass.

It could be the first find of a Roman legionary eagle – the archaeologist's dream. If it is, it will be worth a very large sum of money.'

An 18-year-old labourer, John Withers, of Sussex Road, Colchester, said: 'I only knew the boy, Brian, slightly, but two years ago we found the eagle – about eight inches square – in a trench in the field whle drainage work was going on.'

'He had it in his garden and thought no more about it. Then I saw him again the other day and he told me he sold it to an American air-man for half-a-crown. I told Mr. Francis Jarman.'

Mr. Jarman, an antique dealer in the same road, told the curator.

'From what I can gather this is an authentic eagle's head,' Mr Jarman said. 'It was encrusted with a green patina and I understand the boy put it in vinegar – the worst thing for bronze.'

Mr. Hull added: 'If it is a genuine Roman eagle it would fetch a very large price.'

Meanwhile, the Americans at the Wethersfield air base 20 mils away were looking for an eagle that existed as a symbol long before the United States version came into being' Referenced in Jessup, Curiosities, pp. 147-148
Beachcombing has found no references to this story online. But he would like to think that Mr. Jarman, John Withers and the wretched Brian are all still alive. There might even be an American family somewhere in deepest Arkansas with a legionary eagle hammered onto the front porch swing. It goes without saying that consummate journalist that he is, Beachcombing has already contacted the Colchester and Essex Museum and is waiting for a reply.  You, the reader, will be the first to know if they trip over the remains of Mr Hull in the basement.
So what are the chances that this really is a Roman eagle? Well, its small size is promising: Roman eagles were supposed to be of modest dimensions – one of Caesar's aquilifer hid his eagle in his garments. The reference to it being eight-inches square is also interesting: did it have its wings outstretched? What worries Beachcombing is that the only homegrown witnesses to this 'eagle' were two young men. Of course, they did not lie. (Did you Brian?) But were they able to identify an eagle? Are we sure they had not actually found, say, an Edwardian brass owl or, thinking of some teenagers of Beachcombing's aquaintance, a broken Georgian chamber pot? This story might have died simply because the American serviceman and the 'eagle' were found and all experts had to beat an embarrassed, non-publicised retreat.
But, no, that way madness lies. Let us imagine, instead, that we are in Colchester at the time of Boudicca's revolt, 61 AD. The Romans know that they are finished as the woded-warriors press in, but there is still some hope for the veteran's eagle. Yes! The aquilifer runs through green fields with the painted ones hard on his heels when he sees a bit of swampy land  and, before being caught, he drops the eagle in the bog hoping that when civilisation returns it will be drained and the eagle will return to Rome…
Doesn't sound very credible does it?
Beachcombing would love to hear from Brian – he promises only mild retribution, John, Mr. Jarman or the serviceman's family. And, no, there is no money in this, not from Beachcombing anyway, though he'll offer the finder a pint at his local in Little Snoring (if it really is a Roman eagle)…  You'll probably get a piece in the Telegraph and a snog from Mary Beard too. drbeachcomingATyahooDOTcom
Weird things do sometimes turn up near Colchester, a kind of British Bermuda Triangle. One day Beachcombing hopes to describe the schoolboy fishing trip that ended with the discovery of Claudius' head. And no  Brian was not involved…
***
Beachcombing got many replies for this story, by far the most popular on the site in June. However, the key comment was unquestionably from the Curator of Archaeology for the Colchester and Ipswich Museum Service, Paul Sealey. Paul cast doubt on the whole tale and noted that Rex Hull never mentioned any Roman Eagle, alleged or otherwise, in his writings. He also 'idly wonder[ed]' if the story was not an expression of anti-Americanism from the 1950s. This seems a particularly fruitful avenue for research and Beachcombing can think of several parallel Continental cases. Other writers suggested that the story was an out and out fake and that Beachcombing invented it!! Beachcombing, in fact, took the text from Jessup's Curiosities of British Archaeology as noted in the blog. But Beachcombing has not had a chance to check the newspaper itself yet. If it was a fake then either Jessup was having a bit of fun with his readers, though this would not be in character, or someone had managed to pull the wool over Jessup's eyes, something that is similarly unlikely.