Author: Beach Combing | in : Beachcombed , trackback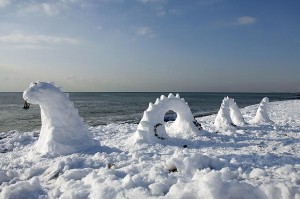 Dear All, 1 Jan 2011
Beachcombing wants to take this opportunity to thank all his readers, regular and irregular, for their visits in the last seven months and the many good wishes he has received for the arrival of Tiny Miss B. Here is a round-up of some of the most interesting emails that arrived in the last thirty days. If your email arrived in the last ten days or so then apologies. With the new born Beachcombing has not managed to process them all successfully yet. Beachcombing has also been encouraged to put in a subscription button on the right-hand margin. This should theoretically – if you sign up – bring you an email with Beachcombing's pieces when they come out. Given that they come out every day, anyway, Beachcombing can't quite see the point. But that's the nature of progress. These are the links to the new readers' comments.
i) Review: Folio Book of Mysteries:
iii) Mayan Sacrificial Victim:
iv) Byron's Skull:
v) Eagle and babies:
vi) The Arabian Unicorn:

vii) Futurist Food:
viii) Last Axe Decapitations in the West:
ix) The Library of Dream:
xi) Sinning St Patrick:
xii) Spanish Vice:
xiii) Homer's Roman Legion:
Beachcombing wishes the best to all in 2011 and hopes to still be around blogging this time next year!