Author: Beach Combing | in : Medieval , trackback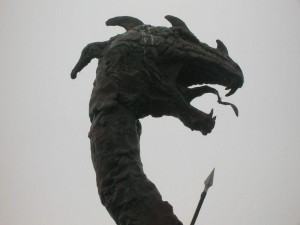 *Post dedicated to Mathias B who inspired it with his readings in Jómsvikinga saga*
Beachcombing is down in the flu doldrums and so apologies for any emails to which he's not yet replied. Several of you though (Ostrich, Swedish Anna, SY) pointed out that yesterday's request about the letter from a Frederick to Ethiopia was a letter from Frederick Barbarossa to Saladin (where Ethiopia is mentioned, the tricks of memory): more on this anon (another post, another day). For now though back to the question of decapitation customs and the possibility that criminals/victims survive the grim blade – at least for a few seconds… Beachcombing is not surprised that others have asked themselves the same question through the centuries, certainly based on his inbox interest is immense. He was surprised though to see that an early experiment was carried out by a group of Norse pirates, the Jómsvikings. The following extracts appears in Jómsvikinga Saga a twelfth or thirteenth century text purporting to retell tenth century events: make of that what you will.
Seventy Jómsvikings – a bunch of psychopathic pirates – have been captured by the Norwegian army and will now be executed one by one… Memories of a recent archaeological dig in Dorset (yet another post another day).
As the first ten are led out they are each asked whether they are happy to die and each of the ten answer in such a way that shows their contempt of death and, when possible, their executioner, Thorkell. One stands out as evidence of early interest in the consciousness debate.
'Then the seventh one was led forward and Thorkell asked him as usual [are you happy to die]. 'I'm quite content to die. But deal me out a speedy blow. I have a dagger here. We Jomsvikings have often discussed whether a man knows anything after he has lost his head if it is cut off speedily. Let us make the following arrangement, that I will hold the dagger up if I know anything, otherwise it will fall down.' Thorkell struck him and his head flew off, and the dagger fell down.'
Viking neo-realism? If this had been the Arabs or the Gaels, even the Anglo-Saxons Beachcombing bets that the hand would have tossed the knife in the air, caught it and then thrown it at the executioner.
A couple more of sea-dogs die bravely:
'Then the ninth man was released and Thorkell asked him as usual [whether he was happy to die]. He said: 'I am well content to die as are all our comrades. But I will not let myself be slaughtered like a sheep: I would rather face the blow. Strike straight at my face and watch carefully if I pale at all, as we have often spoken about that.' He was allowed to face the blow and Thorkell approached him from the front and hewed into his face. He did not pale but his eyes did close as death overtook him.
True, this is consciousness before dying, not after the event, but it shows a similar morbid, if fully understandable, interest in the experience of decapitation.
Beachcombing can't resist also adding a truly bizarre comment of Thorkel the executioner (who incidentally does not survive the executions):
'Thorkell Leira was appointed to act as the Jomsvikings' executioner. Three gravely wounded men were freed from the rope, and slaves were appointed to guard them and twist sticks in their hair. Thorkell Leira then proceeded to cut off their heads. Afterwards he asked, 'Do you think I have changed colour because of this deed, for many say that this happens if a man beheads three men?' Earl Eirikr replied, 'We didn't see you change colour, but yet you don't look the same at all.'
What was that about? Is the point that Thorkell is frightened? Is this an omen that he will soon die? There is probably a study in Fiord Bulletin of Norse Studies from the mid 1960s, next to an article on the erotics of Viking backgammon. But if truth be known – whisper it – Beachcombing is not a great Viking fan and does not know.
While Beachcombing was writing this he found himself wondering about mythical decapitations where the head survives death. It is strange that he didn't think of this before: certainly from Gawain and the Green Knight, to Bran, to several Christian saints including Saint Minias, to Anne Boleyn 'with her head tucked underneath her arm', there is a long catalogue, presumably evidence of the same morbid fascination and perhaps too of 'the cult of the head'? Now Beachcombing is remembering the pig's head scene in Lord of the Flies where Simon faces his nemesis and fails. Any other mythic reflexes or better still explanations: drbeachcombing AT yahoo DOT com