Author: Beach Combing | in : Contemporary, Modern , trackback
Beachcombing is always going on about how he is looking for historic pictures, especially of the lesser known kind. He was most excited then when a correspondent recently opened up a raw and largely unmined vein: what Beachcombing will call 'the best of enemies picture'.  Foes brought together after the event…
Ok three rules.
1) Photographs only, pictures don't count or we'd be swamped with bad textbook inklings of Bismarck and Napoleon III, Lee and Grant…
2) No 'in pain' poses. Its fine if the old enemies clearly still don't like each other. In fact, all the better. But no shots of one side being put upon by the other: German generals being brought into a room to surrender, Bosnian Muslims being led towards a ditch with Serbians loading their machine guns…
3) Shooting is necessary. The foes must have been foes in war, not just in politics, otherwise we'd have old political adversaries pretending to get on, lame stuff.
Beachcombing has spent the last hour in search of qualifiers and, with his usual level of cheating, has come up with several that give him pleasure. However, he's sure that there are plenty more out there – please send them in: drbeachcombing AT yahoo DOT com
Naturally the creme-de-la-creme was sent in by Beach's correspondent Rob who invented the best-of-enemy genre. Here we have the Japanese and Russian high command together after the battle at Port Arthur. Funnily enough, the Japanese seem to be having less fun than the Russians.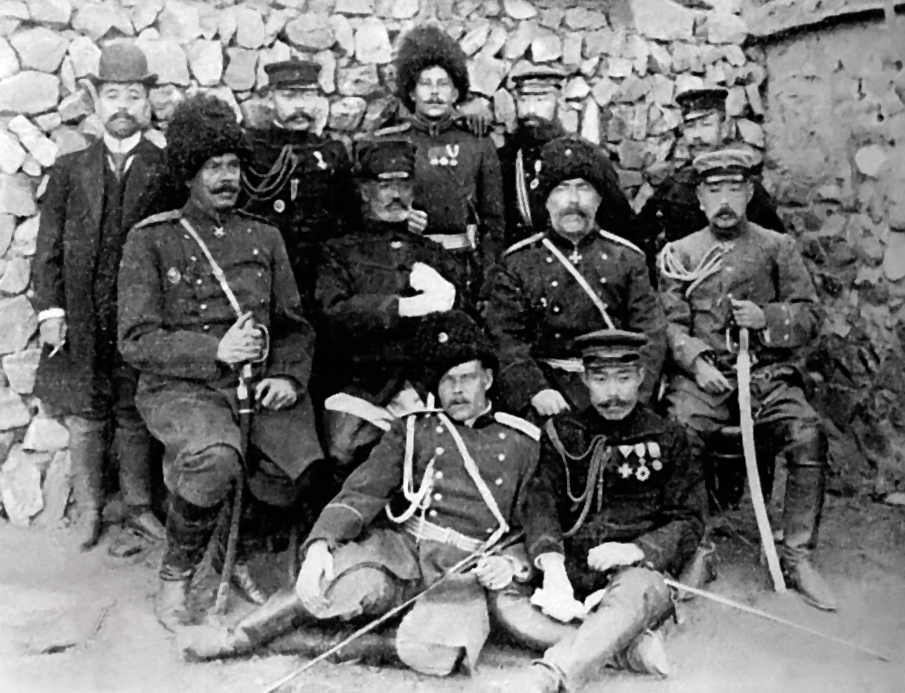 Beachcombing was seriously disappointed by how few American Civil War shots he turned up. But there is this pretty frightening one of Custer (as in bury my heart at LBH) and a lieutenant Washington. Washington has just surrendered, but the two seem to be getting on well enough and Beachcombing could detect no pain in the good Confederate's eyes – just perhaps light boredom.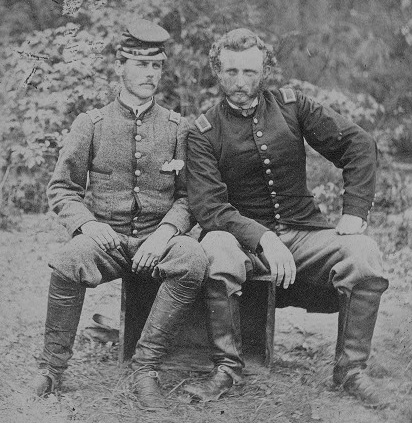 Ok Mugabe and Thatcher never went to war. Though Thatcher certainly will have seen Mugabe – absolutely rightly – as a proxy for the Soviet bloc. And Mugabe – equally rightly – will have seen Thatcher as a secret sympathiser for Ian Smith, first and last Primeminister of an independent Rhodesia. Was there never a photograph taken of Smith and Mugabe in the same room? That would have been a cracker.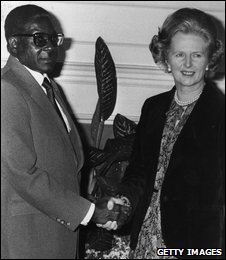 Beachcombing's favourite of the lot. The loveable McNamara shakes hands with ex Vietnamese military commander Vo Nguyen Giap. Perhaps its the first world subservience to the third world in McNamara's eyes that makes the picture. Allegedly they had dinner together afterwards…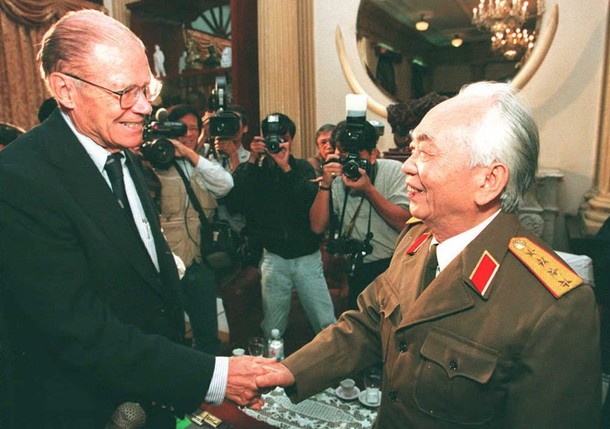 Ok again Carter and Castro didn't fire missiles at each other, but their two regimes had been spitting and snarling for the previous twenty years and service men on both sides had died.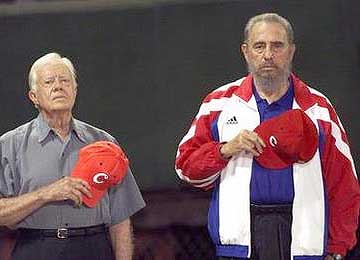 Ah Gold Meir: what's not to like? GM once said that she could forgive the Egyptians (and by implication the pictured Sadat) for killing 'our sons, but not we will never forgive you for making us kill yours'. The wily old bird only kept her word though when necessary: for here she is in forgiving mood.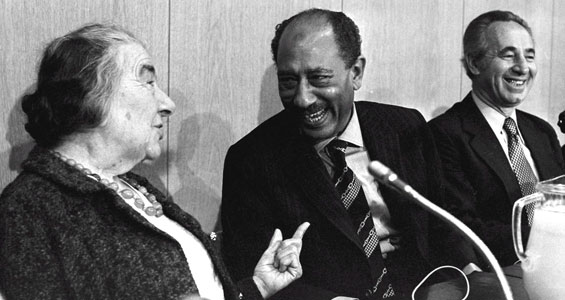 An interesting couple of pictures here. Sadly Stalin and Hitler never met: that would have been a photograph… But Molotov ran into Hitler when signing THAT pact and likewise Ribbentrop shook hands with Stalin so there was an indirect meeting. Beachcoombing particularly liked looking over these photographs. Hitler was so much better at faking than Stalin. Indeed, Hitler seems to be enjoying Molotov's company, while Stalin clearly detests the aristocratic Ribbentrop.
With grey hair and more years than he'd care to remember Beachcombing can authoritatively state that they were all loathsome human toadstools.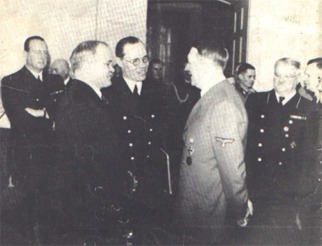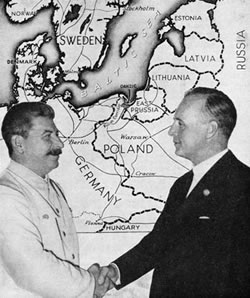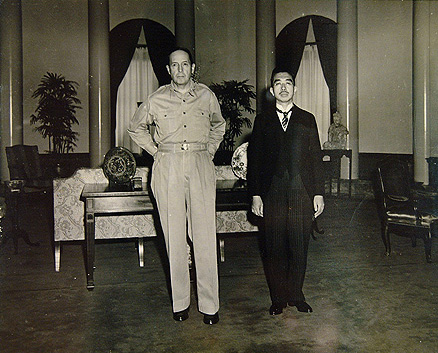 McCarthur and Hirohito neither grin, nor, Beachcombing suspects, could they bear it.
And the most moving of all: British and German soldiers meet in no man's land, Christmas 1914. Tomorrow they'll be enemies again…  'and maybe God shall cause to be, who brought forth sweetness from the strong, out of discords harmony, sweeter than the bird's song'.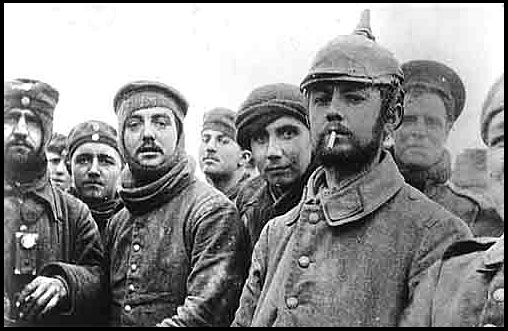 ***
4 April 2011: Thank God that Invisible is there to put Beachcombing right. 'I need to mention that the Lt. James B. Washington in the photo with 2nd Lt. George Custer had been a classmate of his at West Point. Washington (a descendant of George Washington) was captured during the Penninsula campaign 1in 1862 and Custer made sure that he was treated well. There were a number of young men who attended West Point and who fought in the Indian wars of the Southwest together, who then found themselves on opposite sides during the Civil War. So the two young Lieutenants were actually the best of friends–at least before the War.' So friends, then enemies, then friends again… Thanks Invisible!