Author: Beach Combing | in : Contemporary , trackback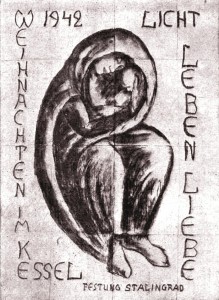 In late 1942 Kurt Reuber (obit 1944) found himself in the Stalingrad Kessel where 300,000 Axis troops awaited almost certain death, surrounded by an understandably vengeful Soviet enemy: only 6000 would survive the war.
As the festivities drew near Reuber – curiously, given his subject a Protestant pastor – sketched this beautiful madonna that became the focus of the Sixth Army's last Christmas: it measured three by four feet and carries on its left margins the words 'light', 'life' and 'love'. It was lifted out of the Kessel in January just before the fall, on the last German transport plane.
Beachcombing wishes his readers a happy Christmas and a better 2012 and leaves them with the words of one of the Wehrmacht survivors, remembering Stalingrad fifty odd years later.
For me that Christmas was heavenly, I felt there was a bridge that stretched over the entire earth, the starry sky and the moon, the same moon that my family could see in Germany.