Posted by Beachcombing in : Beachcombed , trackback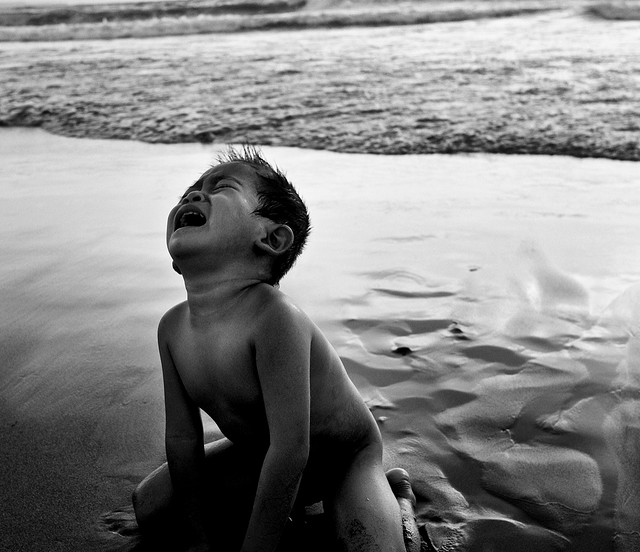 Dear Reader, 1 June
This month has been overshadowed in the Beachcombing household by the illness of Little Miss B, which has taken up most of the last week. The patient (agony was had) is now doing well and yesterday insisted on blowing her sheep whistle and ordering her father around the room: usually a good sign. Sadly, 50 plus emails have gone unanswered from the last days, many that deserve to be put up under their relevant posts. Apologies.
On the subject of posts… The most popular this month was the seventeenth-century English dragons that does not seem to be particularly well known: curious. Beach's favourite was the Babel of History (incidentally see Stephen D.s brilliant reply to that post below). The biggest failure in post terms was the fourteenth century German polt that should have read 'an early medieval German polt'.
News links will now be monthly and have been put up on bottom right. For some reason they won't cut and past properly here. Repeat lower right for links.
A) Amelia Earhart's Freckle Cream Found!
B) Jack the Ripper was a Woman: Again
C) 'Dirty' Medieval Books
D) The Truth about the Melungeons' DNA
E) Omnia Vincit Amor: Love survives the gulag
F) First Century Christian Tomb?
G) Civil War Dead: The Truth
H) Love on the Titanic
I) Genes and Politics
J) Paintings and Dirt
K) Indiana Jones of Graveyards
L) Ancient Tablets in Twin Towers
M) Ancient Curses
N) Body Jars and the Lost Tribe
O) Censoring Erasmus
P) Cold Weather and the Salem Witches
Q) The Lost Codex of Archimedes
R) Was Columbus a Jew?
S) Evolving Borders (link of the month)
T) The Market Value of Freeing Books (Please God)
U) The Secret Before the Rebellion
W) Insane Medieval Cookies
X) The Return of Aramaic
Y) Apocryphal Gospel and the Iranian State
Z) The Fish that Almost Sank Newton's Career
Got to run Mrs B is losing patience and the car engine revving. And so, without further ado, the most important ten thousand words of the last month…
Good June to you all!
B
The Babel of History: This work of art comes from Stephen D: 'A story I heard in Hungary: brilliant young historian, talking to elderly professor, explained that his life's work would be to write the definitive history of the Hapsburg Empire. Ah yes, said the elder, when we are young we all want to do that. Maybe you can, let's see. You speak German and Hungarian from childhood, of course, and of course you learned Latin and French and English at school. As well as those, you'll need Italian – maybe several types of Italian, I don't think you can regard Venetian and Piedmontese as just dialects, they're effectively separate languages, but you can mostly do without Neapolitan and Sicilian. Likewise, if you learn Castilian Spanish you probably won't need much Catalan or Portuguese. But you really will need Romanian. For the Germanic languages, you can't hope to cover the seventeenth and early eighteenth centuries without a good reading knowledge of Dutch, Danish and Swedish. Don't bother learning Norwegian, it's only ungrammatical Danish spoken with a Swedish accent. There were Finnish regiments involved in the Thirty Years' War, but there may not be much relevant written in that language. They tell me it's vaguely related to Hungarian, which might help a little. Were you thinking of covering the Austrian Netherlands as well? Maybe a little Limburgish, then. Oh, and there's some very interesting stuff in the Yiddish newspapers from mid-nineteenth century onwards. Then of course there was, alas, a great deal of Russian influence on our history; and when you've learned Russian you are well on the way to a mastery of Polish, Czech, Slovakian, Ukrainian and Bulgarian. All essential. Lithuanian is of course quite separate, but fortunately the administration of the Lithuanian part of old Poland was mostly conducted in Ruthenian. The southern Slav languages are really quite similar, Serbian and Croatian ridiculously so, Slovenian not so much. Albanian I think you can ignore but there's some material in Greek relevant to the Balkan problems of the last couple of centuries. And Turkish, how could I overlook the language of Austria's greatest enemy? Mind you, to really understand what the Turks were up to you need to need to study the Arabic and Persian documents of the period: and maybe learn something of the language of the Crimean Tatars who made such a nuisance of themselves, it's not quite extinct yet, Chagatai I think it was called …. Hello? Hello? Young man, why are you weeping so?' Thanks Stephen!
Chickpeas: Invisible has some skepticism in relation to the sootikin: Quite unable to resist, I went looking for sootikins online, only to find this site http://unclestinky.wordpress.com/2008/01/25/sootikins/, which claims that the disgusting objects are mentioned in Pepys and Boswell, as well as an account from the reign of Queen Anne. What the site says about hygiene is also open to debate, but that's another post entirely. I have to say, I cannot find any reference to sootikins or anything like them in Pepys or Boswell. Nor, indeed, anywhere else I have looked except in the poem below by Thomas Hood's son, Tom Hood. It seems unlikely that he would have used a smutty word in a poem written for 19th-century children. Can someone quote the original reference to the sweepers in church or at the Thanksgiving service of Queen Anne? Nearly all the references online are identical and seem associated with The Urban Dictionary site. The Naming Of Kittens by Thomas Hood/Our old cat has kittens three/ what do you think their names should be!/ One is tabby with emerald eyes,/ and a tail that's long and slender,/ and into a temper she quickly flies/ if you ever by chance offend her./ I think we shall call her this -/ I think we shall call her that -/ Now, don't you think that pepperpot/ is a nice name for a cat?/ One is black with a frill of white,/ and her feet are all white fur,/ if you stroke her she carries her tail upright/ and quickly begins to purr./ I think we shall call her this -/ I think we shall call her that -/ Now, don't you think that sootikin/ is a nice name for a cat?/ One is tortoiseshell yellow and black,/ with plenty of white about him;/ if you tease him, at once he sets up his back,/ he's a quarrelsome one, ne'er doubt him./ I think we shall call him this -/ I think we shall call him that -/ Now, don't you think that scratchaway/ is a nice name for a cat?' Thanks Invisible!
Sea Apes: Wade writes in 'Your sea ape post instantly reminded me of the aquatic ape theory, first proposed by a German pathologist, Max Westenhofer, in 1942, then proposed again British marine biologist, Alister Hardy, in 1960. It has since been championed by Elaine Morgan, a Welsh writer (per Wikipedia). I saw a special on this years ago. It is a fascinating idea. My impression is that most anthropologists have either actively hated or completely ignored the theory as pseudo-science. Here are two links: Elaine Morgan's  and an anthropologist's view that examines the controversial theory and yields the sceptical response. Thanks Wade!
Debutante: Nathaniel writes in A quibble with your "Nashville Debutant Fights Imperial Japan" post's statement about a radar crew mistaking the incoming Japanese planes for a flock of birds. Per Wikipedia: "As the first wave approached Oahu, a U.S. Army SCR-270 radar at Opana Point near the island's northern tip (a post not yet operational, having been in training mode for months) detected it and called in a warning. Radar had been in use in a training mode by the U.S Army Hawaiian Department for some time, but was not fully operational.[62] Although the operators, Privates George Elliot Jr. and Joseph Lockard,[63] reported a target, a newly assigned officer at the thinly manned Intercept Center, Lieutenant Kermit A. Tyler, presumed it was the scheduled arrival of six [U.S.] B-17 bombers. The direction from which the aircraft were coming was close (only a few degrees separated the two inbound courses),[64] while the operators had never seen a formation as large on radar;[65] they neglected to tell Tyler of its size,[66] while Tyler, for security reasons, could not tell them the B-17s were due[66] (even though it was widely known).[66]" Lt. Tyler was cleared of wrongdoing because he was newly assigned and had not been trained. Somewhat more complicated than your post implies, and one of the many misfortunes of war." thanks Nathaniel
The Slave Free Centuries: Ricardo writes 'I remember of a story about the end of the use of Brazilian indians as slaves. I heard it but cannot attest its veracity. It is said Padre António Vieira was defending his case in an audience, in Europe, with a couple of indians present. These were very serious and not expressive at all. The business was not getting in the right direction until someone entered the room and fell by accident. The indians started laughing, proving they were humans and could not, in the eyes of God, be used as slaves. Well, I like the story but Africans are known to smile and that didn't stop slavery. I think the most probable reason were the physical conditions of the indians and their high attrition in the bad conditions of work, making them not a very good investment for their slave masters. Like when I washed the dishes slowly and badly so to be expelled by my irate mother to do other tasks…'Ricardo
Self Immolation: Sword&Beast writes: 'Suicides are nothing new, not even in order to pass a message to someone else. Just think of a lover who takes his/her own life to make a point or a hunger strike taken to the last consequences.  Self-immolation, though, seemed to be linked to religions that used fire in their funerary ceremonies. With the expansion of the international media, it enetered the general public's immagination to the point of leading to suicides for all kinds perceived unjustices, like an ecologist in Brazil who set himself ablaze during a demonstration in 2005, or protests against Court family decisions, be in in front of a New Hampshire's Courtroom, be it in front of a Romanian government building, without, I would say, any concern about the child's psyche.' Judith of Zenobia fame writes: It's not like you to neglect the distant past (clicking of tongue). The true locus classicus for Buddhist self immolation must be the case reported by Strabo (15,73): [Nicolas of Damascus] states that at Antioch, near Daphne, he met with ambassadors from the Indians, who were sent to Augustus Caesar. It appeared from the letter that several persons were mentioned in it, but three only survived, whom he says he saw. The rest had died chiefly in consequence of the length of the journey. The letter was written in Greek upon a [parchment]; the import of it was, that Porus was the writer, that although he was sovereign of six hundred kings, yet that he highly esteemed the friendship of Caasar; that he was willing to allow him a passage through his country, in whatever part he pleased, and to assist him in any undertaking that was just. Eight naked servants, with girdles round their waists, and fragrant with perfumes, presented the gifts which were brought. The presents were a Hermes (i. e. a man) born without, arms, whom I have seen, large snakes, a serpent ten cubits in length, a river tortoise of three cubits in length, and a partridge (?) larger than a vulture. They were accompanied by the person, it is said, who burnt himself to death at Athens. This is the practice with persons in distress, who seek escape from existing calamities, and with others in prosperous circumstances, as was the case with this man. For as everything hitherto had succeeded with him, he thought it necessary to depart, lest some unexpected calamity should happen to him by continuing to live; with a smile, therefore, naked, anointed, and with the girdle round his waist, he leaped upon the pyre. On his tomb was this inscription, ZARMANOCHEGAS, AN INDIAN, A NATIVE OF BARGOSA, HAVING IMMORTALIZED HIMSELF ACCORDING TO THE CUSTOM OF HIS COUNTRY, HERE LIES. / In Greek, "ΖΑΡΜΑΝΟΧΗΓΑΣ ΙΝΔΟΣ ΑΠΟ ΒΑΡΓΟΣΗΣ" = "The sramana master from Barygaza in India". /Sramana/ being a Buddhist religious group, and /acharya/ a spiritual guide or priest. Yes, I know you did say a contemporary locus classicus, but who can resist quoting Strabo?' Thanks S&B and Judith for this burning gold!
Transvestite President: John M writes in. It seems that the Jeff Davis in a dress story is a spurious legend with no credible evidence to back it up. Cobblers, I think you call it? A most telling paragraph from this article:  The arrival in Washington of the so-called petticoats proved to be a big letdown. When Stanton saw the clothes, he knew instantly that Davis had not disguised  himself in a woman's hoop skirt and bonnet. The "dress" was nothing more than a loose-fitting, waterproof raglan or overcoat, a garment as suited for a man as a woman.  The "bonnet" was a rectangular shawl, a type of wrap President Lincoln himself had worn on chilly evenings.  Stanton dared not allow Barnum to exhibit these relics in his museum.  Public viewing would expose the lie that Davis had worn one of his wife's dresses. Instead Stanton sequestered the disappointing textiles to perpetuate the myth  that the cowardly "rebel chief" had tried to run away in his wife's clothes. The above account seems to originate from a relatively neutral source, but I'm sure you could suss that out more adequately than I.  more on the story, can be found on the lost museum and memory  (scroll down a bit). thanks John M!
Brahms and Cat Fishing: Radko writes 'I've just came across your article on Brahms killing cats and since you asked I thought I'd answer. I don't know whether Brahms disliked felines to the point of killing them for fun but the part about him killing them with an instrument from Bohemia called in native tongue " Slugj hym inye nech " is certainly made up. I come from Southern Bohemia and speak the native tongue – Czech. The name of the instrument doesn't even sound close to any words in Czech language. There are various regional dialects but they are not as varied as to cause any confusion. The Czech language had not changed much and I can read texts 200 – 300 years old without much ciphering. I've never heard of a sparrow hunting weapon but I shall try to find one and if I can I shall forward what I learned to you.' Radko continues a day later 'I've done many searches with various search terms and could not find any references to any bow and arrow like weapon for hunting in Bohemia. My mother has an old, very old cookbook containing a recipe for a soup from a flock of sparrows. It would be highly impractical to hunt sparrows one at a time for a soup or any other dish. The common method as I was I knew was to trap them using a lure (grain) under a large sieve generally used for sifting – once again – grain.' Thanks Radko!
Marco Polo and Pasta: John G writes in with this link that contains the Marco Polo link at about twelve minutes. Beach does not have a media player on this computer so he has not been able to check the exact seconds. Thanks John!
The Postures: Angel W from robertstephenhawker writes 'Hope this isn't too lowbrow but I'm rather fond of Sarah Dunant's novel In the Company of the Courtesan and the name Aretino rang a bell. Dunant structures her story (which begins in 1527) around a surviving copy of 'Giulio's Positions' with Marcantonio's original engravings and with 'The Licentious Sonnets' attached. If you haven't come across it already and like that kind of thing it's an entertaining romp, better than The Birth of Venus which I seem to remember receiving more attention.' Thanks Angela!
Pre-Marital Sex in Wales: Akauma writes in: 'Well… here I am with more stories than I have time to write re: premarital intimacy (if you will). Half of my family has been in the states from, let's see… the wheel had been invented… but Moses was still a pup… actually, some of my paternal relatives really did come 'over on the Mayflower' though most wound up in Rhode Island since they weren't exactly 'Puritan material'…    …having followed in my father's footsteps and taken an interest in family history (read that genealogy), I have to say that although marriage due to pregnancy was hardly the norm, it was quite common and although families tried to 'fudge' records (including Bible records!) rather often in such cases, it's  usually not all that hard to find actual birth &/or marriage dates. One such alteration was a family Bible  entry which read 21 March ALN… I scratched my head a long time over this one but finally discovered  the marriage record from the town of Alna, Maine in the year 1815. What is really odd about this one is  that their 1st child was born on 15 Nov 1815 and, really, who would even suspect what with so many  babies conceived within the 1st days of marriage? But they knew that the not quite 9 month pregnancy  was really full term, I suppose…  My maternal family is German and there are several early babies on this side of the pond in the 19th  century, but the case that interests me most occurred in Germany in the mid-18th century and was  certainly over a year (if memory serves) between birth & marriage and simply too hard to hide and so was recorded as it happened sans whitewash. I've been told that primogeniture & a law disallowing  marriage for those who did not own property caused quite a number of 'late' marriages. If this is the  reason it certainly explains the large German/American population!  I could go on but will end with an observation; it seems that in America at least the late 19th century brought about some highly imaginative forms of marriage &/or 'utopian communities'. In at least one neighborhood in Rhode Island where my family lived (small cough here) marriage seemed to be looked upon as optional and procreation with a number of ones neighbors appears to have been a hobby that  some engaged in rather often. Oh… one more! from the same general area which is my 'fave' example  of a creative sense of morality.   Seems a gentleman married a widow who had children by her 1st marriage, at least one of  whom was a girl. The gentleman & his formerly widowed wife proceeded to have a number of children as time went by and as time went by earlier mentioned daughter of the widow grew to young  womanhood and before one can say 'bigamous cad' the gentleman, if we can call him that, had set up  a second household across town replete with a common-law-stepdaughter-wife & children. Least you  think I am simply intrigued by titillating tales, I find this example particularly interesting because the children/step-grand children's births were all duly recorded with both parents named and, this being  the case, everyone in town must have known, including earlier mentioned formerly widowed wife, who as it would happen, was still mothering children by said "gentleman" who (the children, not the gent)  would then have been the gent's common-law-stepdaughter-wife's half brothers & sisters and technically  I imagine her step-grandchildren to boot.' Wade has a link to a fascinating article on Courtship, Sex and the Single Colonist. Then Chris: 'Well, there's the whole tradition of "bundling", which Lawrence Stone argues can be traced to the 17th century at least in England. But contra Philip Larkin, sexual intercourse wasn't actually invented in 1963, so I'm sure there are other examples if you can find them.' And in case you are wondering about bundling but don't have time to click Kate writes in to explain: 'Bundling was an old Yankee and Pennsylvania custom. A courting couple would spend the night together in bed, wrapped in blankets and sometimes separated by a board running the length of the bed. Traditionally, they were to spend the time talking, presumably about future plans, but this didn't always happen. It occurred only during the winter months and was done with the full knowledge and approval of both sets of parents. It sounded like a sort of pre-marriage try-out. My understanding is that if a pregnancy resulted, no great shame was attached to the circumstances and the couple married.' John G. writes 'Should one ever wish to go on mastermind can you think of a better specialist subject "and your subject tonight is Welsh Pre-Marital Sex". More seriously in a time and place where your "pension plan" was your family it seems remarkable common sense to make sure that any binding union was going to be fruitful, making sure that the Bride and Groom could reproduce together would be to the advantage not only to the happy couple but also to their parents. On the subject of reproduction, I was told years ago of an interesting custom in Malta, if a bride had not conceived within a year of marriage the local priest would go to the family home to "pray" with the girl that she might be fertile, to ensure that the "prayer" session was not interrupted by the husband the priest would hang his umbrella over the front door handle as a form of "do not disturb" notice.' SY sends this in from a late eighteenth century English work. 'And here amongst the usages and customs, I must not omit to inform you, that what you have, perhaps, often heard without believing, respecting the mode of courtship amongst the Welch peasants, is true. The lower order of people do actually carry on their love affairs in bed, and what would extremely astonish more polished lovers, they are carried on honourably, it being, at least, as usual for the Pastoras of the mountains to go from the bed of courtship to the bed of marriage, as unpolluted and maidenly as the Chloes of fashion; and yet, you are not to conclude that this proceeds from their being less susceptible of the belle passion than their betters: or that the cold air, which they breathe, has 'froze the genial current of their souls'. By no means; if they cannot boast the voluptuous languors of an Italian sky, they glow with the bracing spirit of a more invigorating atmosphere. I really took some pains to investigate this curious custom, and after bing assured, by many, of its veracity, had an opportunity of attesting its existence with my own eyes. The servant-maid of the family I visited in Caernarvonshire happened to be the object of a young peasant, who walked eleven long miles every Sunday morning to favour his suit, and regularly returned the same night through all weathers, to be ready for Monday's employment in the fields, being simply a day labourer. He arrived in time for the morning service, which he constantly attended, after which he escorted his Dulcinea home to the house of her master, by whose permission they as constantly passed the succeeding hour in bed, according to the custom of the country. These tender sabbatical preliminaries continued without any interruption near two years, when the treaty of alliance was solemnized: and so far from any breach of articles happening in the intermediate time, it is most likely that it was considered by both parties as a matter of course, without exciting any other idea. On speaking to my friend on the subject, he observed that, though it certainly appeared a dangerous mode of making love, he had seen so few living abuses of it, during six and thirty years residence…  in that county, where it, nevertheless, had always, more or less, prevailed, he must conclude it was as innocent as any other. One proof of its being thought so by the parties, is the perfect ease and freedom with which it is done; no awkwardness or confusion appearing on either side; the most well-behaved and decent young women going into it without a blush, and they are by no means deficient in modesty. What is pure in idea is always so in conduct, since bad actions are the common consequences of ill thoughts; and though the better sort of people treat this ceremony as a barbarism, it is very much to be doubted whether more faux pas have been committed by the Cambrian boors in these free access to the bed-chambers of their mistresses, than by more fashionable Strephons and their nymphs in groves and shady bowers. The power of habit is, perhaps, stronger than the power of passion, or even of the charms which inspire it; and it is sufficient, almost, to say a thing is the custom of a country to clear it from any reproach that would attach to an innovation. Were it the practice of a few only, and to be gratified by stealth, there would, from the strange construction of human nature, be more cause for suspicion; but being ancient, general, and carried on without difficulty, it is probably as little dangerous as a tete-a-tete in a drawing room, or in any other full-dress place, where young people meet to say soft things to each other. A moon-light walk in Papa's garden, where Miss steals out to meet her lover against the consent of her parents, and, of course, extremely agreeable to the young people, has ten times the peril' Thanks SY, John, Akauma, Wade, Chris and Kate!
Nero's Rotating Dining Room: First up is Mark who bats away the coin theory: Doc, I'm very curious about the origin of a speculation voiced in today's blog entry and what it might have been based upon.  Specifically this would be the inference that the central portion of the reverse of Nero's Macellum Magnum Dupondius might be portraying something related to revolving dining room(s) in the Domus Aurea.  It has been accepted for centuries that this coin's reverse shows a frontal elevation of the Macellum on the Caelian Hill.  The Romans' tentative grasp of perspective would have to be at fault if the column supporting the front of the central dome of this building is being seen, somehow, as a vertical hub.  Any interpretation of this feature as a portrayal of a rotating structure would certainly be revolutionary.  It is definitely not a theory for which any support is currently widely held.  To the best of my knowledge, this theory is not one about which anyone known to me sho studies coins or the history of the era has ever heard.' For what it is worth Beach shares the scepticism and here is the (Italian language) reference to that coin and the rotating tower. And the relevant passage  ' La Villedieu [the leader of the excavation] mette sul tavolo anche una moneta d'età neroriana in cui appare un edificio particolare. «Le lettere MAC secondo alcuni vogliono dire Macellum ma per altri Machina. E Machina Augusti potrebbe essere la "nostra" coenatio. Nella moneta si vede un corpo centrale ed è possibile che sopra ci fosse il piano rotante». Villedieu  [the excavation head] has also brought up a Neronian coin on which a peculiar building appears. 'The letters MAC mean, according to some, Macellum, but for others mean Machina and Machina Augusti could be 'our' dining room. On the coin you see a central body and it is possible that above that there is the rotating plane.'  SY meanwhile offers this site and its excellent photographs for anyone who wants to get down and dirty with the engineering. Thanks Mark and SY
Galivanting Geologists: With characteristic kindness Wade writes in with the source. 'Here' s Beaumont's treatise: It must be the same person even though the date of death as 1731.' No references to Beaumont's wife unfortunately. Invisible speculates: 'On John Beaumont's fairy visitations, I wonder if it is possible that he was suffering from Charles Bonnet Syndrome, which is characterized by elaborate visual hallucinations. Some sufferers also report auditory hallucinations, although the music and bell sounds Beaumont reports sound more like tinnitus. So many fairy/spirit appearances; so little chance of matching them with modern medical diagnoses…. Then JK writes 'I just read your latest article and found it fascinating. I also looked for the book and was rather surprised to find it (if real) on iTunes! Such books are usually buried in the Gutenberg Project or Archive.org. Such a panoply of subjective experiences would tend to make me suspect psychological issues. His self-described 'ecstatic state of mind' may have been symptoms of something akin to Bipolar Disorder; sleep disorder and visual/auditory  hallucinations would go hand-in-hand. I've suspended judgement when it comes to apparently *supernatural* mischief and incidents. Over the years, my parents' home has been scene to a range of incidents not easily explainable. These peculiar incidents have been experienced by friends, family and visitors despite occurring infrequently. I say this so as not to give the impression of knee-jerk scepticism when faced with the unknown. It's simply the extent and variety of Beaumont's experiences that causes me to doubt their objective spookiness (technical jargon). The amount of his experiences reminds me of Reverend Edmund Jones and the carnival of horrors he placed in Monmouth.  What a character he must have been!' More on EJ another day. For now thanks to Wade, JK and Invisible!!
Celtic and English: Tony writes: 'I think you probably meant " mattock " rather than " Matlock "… perhaps you were thinking of Derbyshire, or even ( yum yum ) subconciously imagining Bakewell tarts…..something I do all the time. The replacement of Celtic language by Anglo-Saxon is a great mystery , especially in the light of the most modern thinking about the whole A/S invasion. Might I recommend Oppenheimer's  " The Origins of the British " , which explains that genetically , the A/S left a very small trace indeed , suggesting a very small invasion ; and Francis Pryor's "Britain AD", which concurs that archaeologically the "invasion " is almost undetectable. They also both incline to the idea that there was already a Germanic element settled in SE England well before the Romans leave. They both conclude that Gildas , on whom the whole A/S Fire and Slaughter invasion hypothesis is based , is unreliable as history , and far too much has been made of his remarks, if only because they are the only remarks we have. But that makes the almost total evaporation of the British language even more startling….' Then Stephen D: 'The first, at least, does rather alter your landsacpe. Welsh tad, father: English dad. Pwsig, a cat: puss Neither of these are Germanic at all Also: Cors, a marsh: causeway, Trwll, a spinningwheel: trolling, spinning for fish Corwgl: coracle Craig: crag Gwylan: gull Cwm: coombe Glyder: clitter, tumbled rocks Pen gwyn, white head: penguin (possibly at first a name for the great auk) Scadan, a herring: shad (a sort of herring that spawns in fresh water) There may be others: I have my doubts about punt (the boat) and quagmire.' [Beach replies] Dad seems to appear at the end of the Middle Ages in English and others here would appear to be late borrowings too. At that point their appearance in English is a little like the appearance of, say, Irish words. Others are more difficult to dismiss though in this way. Thanks! Stephen and Tony!
Dried Cats: Philip W got in touch: 'Recently while helping in a renovation of a home built in 1832 – we came across a mummified cat.  The owner was going to toss it out – but intrigued I decided to keep it. The home is located in Charlottetown, Prince Edward Island Canada.  It has been modified many times over the years and finally converted into apartments – so it would be hard to pinpoint when the cat was placed there.  The home does have a n extensive history tho – which I am trying to get more info on. I have never heard of the practice of mummifying cats on PEI before – I have spent a lot of time in old buildings and this is the first I have ever found.  Most people I talk to have never heard of the practice either. I have attached some pictures.  I am unsure what I will do with the cat – tho it is in my mind to frame it and display it. Thanks Philip!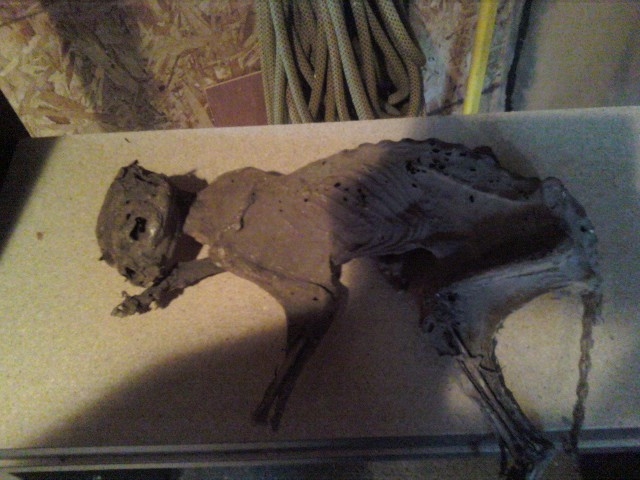 Zombie Planes: Southern Man writes in: Beach you forgot one of your earlier posts: the watery grave of Brian Lane. Jonathan Jarret from A Corner confesses: 'you hit on a child's interest of mine with this one [always a good sign!]. Deep water appears to be the thing; the Norwegian fjords have turned up a number of German WWII fighters in the last decade, and this YouTube video and its attached links are quite evocative. (The pilot seems to have got out, don't worry.)   The other place that I wish someone would mount some salvage in is Loch Ryan in south-western Scotland, where there was during the war a flying boat base. At the end of 1946, with the mighty `Flying Porcupine', the Short Sunderland, leaving service as land-based aircraft finally matched its range and warload, the half-squadron of them that remained on the Loch were scuttled rather than waste time scrapping them, and they're still down there. Divers report that they're deep enough that there's very little oxygen in the water and so their preservation is allegedly marvellous. There are some Sunderlands in museums but no flying ones and I for one would put up more than the usual airshow ticket price if one could be got into the air again. I can't find any footage of those, but a similar thing occurred at Pembroke Dock and there there is dive video: The other place that has turned out to be surprisingly good for warbird preservation is Siberia: a fair few little Russian warbirds have made their way west ever since the locals realised that mad Westerners would pay for them in sufficiently good condition. I can't find a good webpage on that process exactly, but if you will take my word for it that this is the story behind this machine. You will see that some of these `zombies', like the Focke Wulf in first link, may well live twice.     Googling for the Siberian stuff, by the way, also brought me this on abandoned fields which seems as if it might catch your attention.' Next up is Wade: 'You may have already seen this, but if not…in recent news, an American has researched and located a dozen to as many as twenty Spitfire Mark XIV planes with the more powerful Rolls Royce Griffon engines, still crated as they were originally shipped to Burma just at the end of WWII. Rather than having them returned to Great Britain, the decision was made to bury them at the Burmese airfield. Tacitus from Debris writes in: Look at this now on display at Chicago OHare and in swell shape.  Remarkable details of preservation, and I like the story of the faux aircraft carriers on Lake Michigan.   Then Invisible: 'You'll find many tales of zombie planes  here including the 20 Spitfires found buried in Burma [see Wade above] and the remains of an RAF pilot discovered with his Spitfire 5 metres under a French farm. Here at the National Museum of the United States Air Force, there is a poignant display, with some parts of the plane, about Lady Be Good, a B-24D Liberator (wikipedia), lost in the Libyan desert during the Second World War. Tragically, the crew thought they were bailing out over the Mediterranean instead of the desert and walked in the wrong direction, not knowing that the plane, with a working radio and some supplies, could have been reached. When found, the plane was incredibly well-preserved. The remains of the crew were not recovered until the 1960s. Judith W (aka Zenobia) writes in: This just appeared, with a wee bit more information and the pilot's name….: You might well also be interested in some of the extraordinary pictures of the Kittyhawk P-40 crashlanded in the Egyptian desert  (via CassandraVivien).  They were taken by Jakub Perka, the Polish oil worker who discovered the plane.  Sadly, that was a month ago and the plane is now being stripped of its parts by locals for scrap. While this is obviously a remarkable find, I remember horseriding in the desert many years ago, not quite as far as el-Alamien, and the horse kicking up all sorts of army kit, empty food tins, spent ammunition, an amazing collection all lying under a few centimetres of sand.  I'm sure it's all still there, untarnished by time.' Thanks Judith, Wade, Tacitus, JJ, Invisible and Southern Man!!
I'm the Teacher: KMH has a radical suggestion. 'The university concept must continue to change and change profoundly. Here is one future change I think will eventually happen at the undergraduate level: separating the teacher from the tester. Real learning occurs in an environment friendly to learning. This is where the teacher is the 'friend,' mentor, and advisor for his students, rather than also acting as a final judge in assigning grades to those in his courses. Imagine a separate testing facility for each university where students go to be given the standard tests (several per course)  appropriate to the courses they are taking. The testing faculty does not teach these courses but it does make up the tests (or acquires them from outside sources) and grades the papers. The standards for grading are set in advance and there is no grading "on the curve." It is then possible for everyone in a class to get a higher grade. This separation allows the teacher to gain better rapport with his students, and because grading on the curve is not allowed, students can also be more helpful  each other. The final grade is based on testing results with accompanying remarks by the teacher attached to the grade itself describing classroom participation, general attitude, the student's potential, etc. I hope I am making the grade.' Thanks KMH!
Heaving: Southern Man wonders aloud about whether lifting and heaving could have something to do with various wedding customs including chairing. Wade meanwhile ties heaving and lifting to the very similar and old Dorset custom of hocking or hock-tide, 'neither of which I was familiar with before your post'. Thanks Wade and SM!!
German Polt: Invisible puts this polt in a wider context: What a wonderful poltergeist story! Quite new to me! The "stages" of this particular poltergeist reminded me of the escalating violence of the Bell Witch case, which, in spite of the name, is a famous American poltergeist story.    The Bell Witch ordeal began with knockings and scratchings, progressed to human-like noises, then to speech. The entity also threw stones. Like the German manifestation, it focused its worst violence on one man: the father of the Bell family, John Bell, whom, it is claimed, the "witch" murdered, although other persons in the family were scratched and slapped. It also (like Gef, the Talking Mongoose of the Isle of Man) knew gossip and scandalous tittle-tattle from neighboring communities.  General Andrew Jackson was said to have been a witness to some of its antics. The one thing missing from the Bell Witch case, which is found in the German story and many other poltergeist tales, is the setting of fires. There seems to be a sub-species of incendiary poltergeists–I've got a number of cases in my files like this more recent one.    The stone-throwing feature is also reminiscent of this "stone-throwing devil" case:    It is curious that the narrator of the German story does not suggest the identity of any perpetrators, other than the targeted man who cleared himself by ordeal.    The detail of the German creature taking human shape is very unusual, although in the Bell Witch case, events started with a sighting of a "strange animal" and the entity eventually called itself "Kate".  One wonders if eventually it would have manifested itself as a human figure.  Poltergeists usually "wear out" before they can become visible apparitions and mostly confine themselves to making noises and hurling objects about. It is also very common for the clergy to be called in to deal with or exorcise the poltergeist. Inevitably this makes things worse, just as in the German story. Strange to think that poltergeists (or is it the folklore of poltergeists?)  follow the same patterns today as they did in 16th-century Germany.   Sceptics maintain that poltergeist activity is all faked by mischievous adolescents. The late Dr. William G. Roll, who studied poltergeist phenomena extensively, proposed that people plagued by poltergeists have a unique pattern of brain activity.   No matter what the reason for such occurrences, it is striking that poltergeist stories from many different countries and time periods relate similar incidents and follow similar arcs.' Invisible subsequently writes in: 'The day after your post on the German stone-throwing poltergeist my copy of Poltergeists: A History of Violent Ghostly Phenomena by P G Maxwell-Stuart arrived. [just apported right onto the seance room table!] On page 17-18 is the same German polt account attributed to the Fulda Annals, under the year 858 [Citation: Annales Fuldenses, ed. G. Pertz, Hannover: Hahn 1891 51-53.] It contains all the same details: a house near Bingen, the knockings, stones thrown, the fires, the man accused by his neighbors and undergoing the red-hot iron ordeal, the priests arriving to sort things out, the evil spirit claiming that a particular priest had slept with the daughter of the town proctor. The only detail lacking is the spirit taking human form. Happy to send a scan or transcription if you like. I think you would like this book (can't recall if you already recommended it). Excellent primary sources although he inexplicably omits Caesarius of Heisterbach and his Dialogue on Miracles and Foissart's Chronicle, with the wonderful story of "Orton", a familiar spirit, who, like Gef, the Talking Mongoose, reports the news from all over.' Something doesn't add up here. Either Beach's source misunderstood the origins (most likely) or Invisible's source has got it wrong. Likely the first. More, we hope, to follow.' Thanks Invisible! PS same day. It is in the Annals. Here is the Latin: Villa quaedam haud procul ab urbe Pinguia sita est, Caput-montium vocata, eo quod ibi montes per alveum Rheni fluminis tendentes initium habeant, quam vulgus corrupte Capmunti nominare solet; nbi malignns spiritus evidens nequitiae suae ostendit indicium. Nam primum quidem lapides iaciendo et parietes domorum quasi malleo pulsando hominibus loci illius infestus efficitur; deinde vero manifeste loqui et furtim sublata quibusdam prodere, post haec discordias inter habitatores eiusdem loci seminare; denique omnium animos contra unum hominem concitavit, quasi peccatis illius exigentibus ceteri talia paterentur: et ut maius odium adversus eum excitaret, in quamcumque domum idem homo intravit, statim malignus spiritus illam exussit. Igitur ex necessitate coactus cum uxore et filiis foris mansit in agris, omnibus propinquis suis sub tectum suum illum suscipere timentibus. Sed nec ibi tutus fuisse permissus est; nam cum universas fruges suas congregasset et in acervos collegisset, spiritus nequam ex inproviso veniens cunctas incendit. Ut autem animos vicinorum illum interficere cupientium placare potuisset, idem ipse ferro fervente de omnibus, quae ei obiciebantur, criminibus se ostendit immunem. Missi sunt itaque ab urbe Mogontiaca presbyteri atque diacones cum reliquiis et crucibus, qui malignum spiritum ab eo loco expellerent. Sed illis in quadam domo, ubi maxime saeviebat, letanias agentibus et aquam benedictam spargentibus antiquus hostis nonnullos ex eadem villa illuc convenientes iactando lapides cruentavit; tamen modicum temporis a sua infestatione quievit. Postquam vero inde discesserunt, qui missi fuerant, idem hostis multis audientibus lugubres edidit sermones; nam presbyterum quendam nominatim exprimens se sub cappa illius stetisse professus est ea hora, quando aqua benedicta aspergebatur in domo. Quibus se prae timore signantibus idem hostis de eodem presbytero: 'Meus', inquit, 'proprius est servus; a quo enim quis superatur, huius et servus est; quia nuper me suadente cum filia procuratoris istius villae concubuit'. Quod factum nullus mortalium antea sciebat exceptis his, qui hoc crimen perpetraverant. Patet ergo, quia iuxta veritatis sententiam nihil opertum est, quod non reveletur. His et huiusmodi malis apostata spiritus in loco supra dicto per tria annorum curricula infestus non ante cessavit, donec universa pene aedificia ibidem succendendo consumeret.
Victorian Osiris:  Fairy Avenger writes: Beach, liked very much this piece though you had not taken into account the latest scholarship, namely Patricia Allderidge's excellent biography of Dadd in the Oxford DNB. I've copied out some of the relevant bits for you. I have some other fairy mistakes that you've made in your posts that I'll include in the next months [!!]. Note, for example, that Dadd did not – contrary to earlier biographical sketches – believe that he was Osiris but that he was serving Osiris. 'To those who knew him, Dadd's character appeared to have changed. He had become watchful, suspicious, and unpredictable, concealing the fact that he was receiving messages and instructions from unknown sources (probably in the form of voices), but occasionally dropping hints that he was pursued by evil spirits, and was himself searching for the devil. Eventually he came to believe that the Egyptian god Osiris was the supreme being controlling all his actions, and the source of his 'secret admonitions'. However, for much of the time Dadd still behaved normally… After a period of apparent recovery Dadd's condition worsened again, and on 28 August 1843 he persuaded his father to accompany him to Cobham Park in Kent, near to his childhood home of Chatham, where he stabbed him to death with a knife bought specifically for the purpose. Dadd later explained that he had killed the devil in disguise, and seems to have retained this belief throughout his life, talking objectively about the murder as an event for which he held no personal responsibility. He made his way to France, but was arrested after trying to cut the throat of a stranger who was travelling with him in a carriage. Dadd was confined in a French asylum for ten months, and extradited in July 1844 to appear before the magistrates at Rochester. Though formally committed for trial, he was certified insane and was admitted on 22 August to the state criminal lunatic asylum attached to Bethlem Hospital at St George's Fields in Southwark, south London. He was never to know freedom again. The 'government wing', where Dadd was first confined, had been built in 1816 to house patients sent by the courts and later through other legal channels. It was a prison-like block with heavily barred windows at the back of the main building, largely untouched by reforms which were taking place in the rest of the hospital. The internal environment was dark, cramped, and dismal, the outer world restricted to a bleak, high-walled exercise yard, and many of his companions were hardened criminals who had become insane while in prison. Dadd's living conditions were much improved in 1857, when he and some of the 'better class' of criminal patients were moved to a specially converted ward in the main hospital, but far greater improvements occurred in 1864, when all the criminal patients were transferred from Bethlem to the new state asylum of Broadmoor in Berkshire… For some years Dadd was considered a dangerous patient, being unpredictable and sometimes violent, his conversation being rambling and incoherent when touching on the subject of his delusions. However, he soon began to work again in Bethlem, and effectively maintained his career as a painter for the rest of his life, though his pictures were rarely seen outside the asylums. A visitor in 1845 wrote of some recent drawings that they In Broadmoor Dadd's talents found additional outlets, in painting scenery and a drop curtain for the theatre (now des.), as well as murals, furniture, and other decorative items, and in more ephemeral activities such as the production of comic cartoon figures at Christmas, and diagrams and illustrations for lectures and entertainments. Interviewed at the age of sixty, he appeared by this time to have accepted his fate, but still considered it unjust, feeling that society did not understand him. Dark and handsome in his youth, with expressive features, in later years he gave the impression of a scholarly recluse, with a snow-white beard and mild blue eyes gazing benignly from behind spectacles. Throughout the desolate circumstances of his later life he had clung to his identity as an artist, and although his personality was radically changed, insanity had not destroyed his intellect. He retained the delusion that he was subject to the will of Osiris, but after three decades in an asylum he still talked with intelligent interest about painting and the art world, read the Satires of Juvenal, and played the violin.' Thanks FA!
Selling Wives: For wife selling Wade writes: Wikipedia has a good survey on wife-selling:  Interestingly enough, while the French criticized the English for this custom, they too have "scattered records" of this happening in western France. Then Wade also gives a reference from modern India. Invisible, meanwhile, (as is her wont) has the States covered.    Charley McCartney, "The Goat Man" is said to have sold his wife in 1939 to a farmer for $1000. Other accounts say she just up and left him.    A spate of detailed accounts of wife selling.   SOLD HIS WIFE TOO CHEAPLY Man Who Sold His Wife for $80 Tried to Get More Money for Her After the Deal. Richard D. McMillan UP Staff Correspondent. Paris, Mar. 9 (UP) Business being slack for Mikkel Leppik, an Esthonian fur-dealer who has worked in Paris since he left the colder climes of his native land some seven years ago, he decided to branch out in a new line of business. So he sold his wife. Mikkel appeared before the twelfth correctional chamber at the Palais de Justice to answer to his crime which, however, was not that he had put his wife on the auction block. In the eyes of French justice he had every right to sell his wife if he wished, but he had not the right, afterwards, to threaten the man who succeeded him as husband with all kinds of tortures if more money were not forthcoming. The enterprising Esthonian sold his wife, Irma Ivanoff, to a Ukranian, Alexandre Minckh. The price was 2,101 francs or approximately $80, and the Ukranian thought the transaction a bargain. Minckh told mutual friends how well he had done and how pleased he was with his own good fortune. The mutual friends went and told the ex-husband. What happened afterward might have been described by Dostoievsky. The Esthonian who had once been the husband of Irma Ivanoff was consumed with regrets—not that he had sold the wife, but that he had sold her so cheaply. He decided that more money should be paid by the Ukranian. Mikkel began to write letters to the husband who had succeeded him. Letters couched in charming yet coercive phrases and as they did not attain their object, the  angry Esthonian resorted to threats. He said if he did not receive an additional 500 francs he would become "a savage beast" for his ex-wife and her new spouse. The court heard the whole story and then sentenced Mikkel to a month in jail in spite of his protests that he had only loaned his wife to the Ukranian. The wife said that her ex-husband had wished to find enough money to enable him to go to America, but when he got the proceeds of the transaction in to his hands he went off and had a hectic week-end at Brussels. While Mikkel Leppik marched off to the cells his ex-wife walked away arm-in-arm with her purchaser.    Oelwein [IA] Daily Register, 3-8-1930   RECANTS HIS BARGAIN. Manchester Man Finds He Had Sold His Wife Too Cheaply. Manchester, Ia., March 16—Several months ago a young man and another man's wife arranged with the woman's husband to give him $50 and in consideration therefore he was to release, relinquish and forever quit claim all his right, title and interest in and to his aforesaid wife. The money was paid and the young fellow and the woman packed up their baggage and came to this city, where they have since been living as husband and wife. A few days ago the husband put in an appearance here, and it is said he claims he sold out too cheap and now demands $800 more and proposes to make trouble unless his demands are satisfied. Cedar Rapids [IA] Evening Gazette 3-16-1898 p. 7. Thanks Wade and Invisible!!!
Lost in Transmission: Patty writes:  one that gets me here in the states having grown up hearing the full? version:  "The proof is in the pudding" from "The proof of the pudding is in the eating". One that I did hear a lot growing up was "Waste not, want not", which makes perfect sense as is, but my grandmother would add "the old lady said as she piddled in the sea".  I'm sure there were many colourful variants to the first quote!' Then Wade: In further searching for phrases that have lost their original meeting, I found this blog site. I included a couple of interesting posts. It struck me that it is somewhat similar to Bizarre History, but focused on language. Seems pretty interesting, and I thought you might like to bookmark it. Rayg writes: 'What zeal! What zeal is in all our town! The cup is white and the ale is brown'. To middle-aged folkies, that's instantly recognisable as what's generally known as the Gower Wassail (from its 1947 collection by A.L.Lloyd) or the Somerset Wassail (from its 1895 collection by Baring-Gould). It's kind of hard to believe "wassail" could drop out of use in Devon; it being cider country, there are wassail traditions all over. More likely the folklorist just didn't "get" the accent: I've heard elderly local people here pronounce "s" in exactly a way – "s" as "z", with a slight glottal stop in front – that could make "wassail" sounds like "what zeal",. I hesitate to mention a classically-cited example: the one that the Hokey-Cokey is a parody of Catholic mass ("Hoc est corpus"). It's just too damn pat, and I don't think the attribution trail is terribly convincing. The ones I always like are Billy Ruffianisms – the rendering of foreign names into Anglicized soundalikes, as classically done by Nelson-era sailors: the Bellerophon becoming the Billy Ruffian, Amphitrite – 'Am and Tripe, Iphigenia – Niffy Jane, etc.' Word Angel writes in with this quotation from Rustic Speech by Wright. 'A few Latin phrases have made their way into the dialects, where they have assumed curious forms and meanings. For example : hizy-prizy (Nhb. Yks. Chs. Der. Som. Dev.), a corruption of Nisi prius, a law-term. It is used to signify any kind of chicanery or sharp practice, or, used as an adjective, it means litigious, tricky ; and in the phrase to be at hizy-prizy, it means to be quarrelsome, disagreeable. The plural form momenty-morries (Nhb.), skeletons, stands for memento mori, remember that thou must die, the name given to a small decorative object containing a skeleton or other emblem of death, cp. ' I make as good use of it as many a man doth of a Death's-head or a memento mori,' 1 Hen. IV, in. iii. 35. The Latin nolens volens appears as nolus-bolus (Wil.), nolum-wolum (Wil. Dev.), hoylens-voylens, oilins-boilins (Cum.). A mother sending off an unwilling child to school will say : Oilins-boilins, but thee shall go. Nominy (Nhb. Dur. Yks. Lan. Chs. Der. Nhp.) represents the Latin nomine in the formula In Nomine Patris, &c., the invocation used by the preacher before the sermon. It means : (1) a rigmarole, a long rambling tale, a wordy, tiresome speech; (2) a rhyming formula or folk-rhyme. Stan over at Cowpath writes meanwhile: One that comes to mind is Riding, Farthing, Reeve & Sherriff  Related to this phenomena is true folk etymology – where a foreign sounding word is changed to familiar sounding words even if they make no sense. I wrote about them August 10. John writes in: 'I think we could find a lot of these words in the way people communicate with farm animals — the 'sounds' that we make to soothe/call cattle and horses might have their roots in older languages with the sound form lingering on past the meaning… I remember my mother telling me the proper way to call cattle, and thinking it made no sense at the time.  This is from rural Ontario, from a family seven generations from Northern Ireland, but the words still remained. The approved cattle call was: ko boss…….    I know that bos is an old Indo-European root of the word cow (hence bovine …).  What other forms of addressing farm animals might hold ancient roots?' Thanks Rayg and thanks Wade and Patty, Stan and Word Angel!
Leprechauns in Liverpool: Southern Man quotes direct from the great Janet Bord, The Traveller's Guide to Fairy Sites on the Liverpool episode.  'The city was an unlikely setting for a series of reported fairy sightings in the summer of 1964. Little green people, varying from 3 inches tall to garden gnome-sized, were being seen at night in the city's parks and golf courses, as well as at people's houses and flats. The excitement grew so intense when the reports were widely publicised, that on one occasion a crowd of people gathered near the bowling green in Edge Hill in August 1964 hoping to see fairies (or whatever they were) and had to be restrained by the police. Later the same year, a woman living in Wavertree claimed that three little men in green clothes had been sitting on her backyard wall, throwing stones at her dog, and other women saw them climbing a tree in Wavetree Park. These events demonstrate the difficulty the researches sometimes has of easily distinguishing between reports of fairies, aliens and other non-human beings…' Invisible coincidentally points to the report 'Janet Bord's Fairies, Real Encounters with Little People for the Wollaton little people sighting–also in a park-like setting, also by children. This was in 1979 and reminded me very much of the Liverpool case you cited, except it was kept much quieter so there was no crowd hysteria and there are no mention of jam jars.' Larry writes 'In 1989 when the USSR started being more open about themselves, some Moscow children reported seeing robot aliens in a nearby park.  At the time the Western press ate this up because the Soviets usually never reported such things. If these little green men are aliens, I hope their taxpayers never find out that they came countless light years to Earth just to throw rocks at dogs and goof off in various parks. For what this is worth, there was an experiment done circa 1982 in a local radio station where someone pretended to report seeing a UFO.  Nothing fancy, just a disk shaped light zipping across the night sky.  In a matter of hours the station got over 300 calls from people who also swore they saw it.  And the stories ramped up to where some were reporting seeing the ship land and aliens coming out to abduct them.  Yes, separating the wheat from the chaff when it comes to UFO reports has always been very difficult.' Thanks Larry, SM and Invisible!
Salamander and Cellini: Wade writes: As you mentioned previously, Wikipedia has come a long way. Here is an excellent summary of the mythical salamander. Because of its specificity, Talmudic scholar Rashi's assertion that salamanders are created when a fire Is kept in the same place for seven years appeals to me. I wonder how long the Cellini family kept a fire In their basement? And here is an interesting speculation  that salamanders are brought in with logs from the woodpile, then seen to escape from the fire and fireplace.  Thanks Wade!
Last Invasion of Britain? Very quick is Southern Man this morning who writes: 'I know this story and would like to share with you a passage from an anti-Jones publication. This describes how one of the officers at the castle was polite and the other rude. It also gives more details of the plate's return. 'Several years elapsed without [lady Selkirk] hearing from jones, and all hope of the realizement of his promise had vanished; but, in the spring of the year 1783, to the great and agreeable surprise of her ladyship, the whole of the plate was returned, carriage, paid, precisely in the same condition in which it had been taken away, the tea-leaves remaining in the tea-pot as they were left after the breakfast on the morning of their visit to the castle.' I love the detail of the tea-leaves. Seriously though I think the elapse of years speaks strongly in favour of Jones the gentleman rather than Jones the flogger or (supposed) rapist.' Thanks SM!